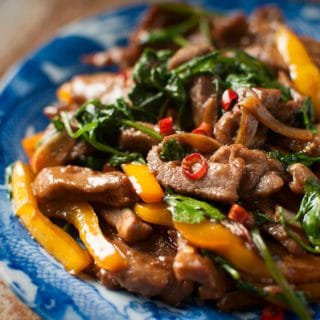 Print Recipe
Venison Stir-Fry
Consider this a master recipe for any stir-fry you might want to throw together on a Wednesday night. The most important thing is to remember the ingredients and the proportions of the velvet marinade. Everything else is your choice. When making any stir-fry, the work is in the chopping, so do everything before you heat up the wok. Speaking of which, if you don't have a wok and you like Chinese food, you really ought to get one. But a large saute pan will work in a pinch. Also make sure to use your most powerful burner for stir-frying. If you really want to do it right, use one of those outdoor burners that can kick up to 40,000 BTUs.
MARINADE

2

tablespoons

Shaoxing wine or dry sherry

1/2

teaspoon

salt

3

tablespoons

soy sauce

1

tablespoon

potato or corn starch mixed with 2 tablespoons water

STIR FRY

1

pound

venison, trimmed of fat

1 1/2

cups

peanut or other cooking oil

1

to 4 fresh red chiles

1

red or yellow bell pepper,

sliced

3

garlic cloves,

slivered

1

bunch cilantro,

roughly chopped

1

tablespoon

soy sauce

2

teaspoons

sesame oil
Slice the venison into thin slivers of about 1/4 inch or less and anywhere from 1 to 3 inches long. Mix with the marinade and set aside while you cut all the other ingredients.

Heat the peanut oil in the wok or a large, heavy pot until it reaches 275°F to 290°F. Don't let it get too hot. Add about 1/3 of the venison to the hot oil and use a chopstick or butter knife to separate the meat slices the second they hit the hot oil. Let them sizzle for 30 seconds to 1 minute. Remove with a Chinese spider skimmer or a slotted spoon. Set aside and cook the remaining venison one-third at a time.

Pour out all but about 3 tablespoons of the oil. Save the oil for the next time you cook Chinese food.

Get the remaining oil hot over high heat on your hottest burner. The moment it begins to smoke, add the chiles and bell peppers and stir-fry for 90 seconds. Add the garlic and cook another 30 seconds. Add the venison and stir fry 90 seconds.

Add the cilantro and soy sauce and stir fry a final 30 seconds, just until the cilantro wilts. Turn off the heat and stir in the sesame oil. Serve at once with steamed rice.