Print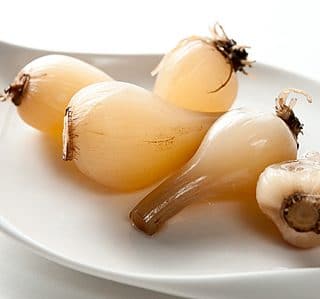 Twice Cooked Blue Camas Bulbs
Camas bulbs are native to North America, and there are several varieties -- all blue. The plant is most common in the Mountain West, where there can be whole fields full of it. Be very sure of your identification, as there is a similar plant, the death camas, that looks close enough to a blue camas to keep you on your toes. Camas needs to be cooked slowly and for a long time before you do anything else with it. If you skip this step, all the inulin in the bulb will still be present when you serve them, and you will all be farting like crazy in a few hours. Slow, moist cooking breaks the inulin down into fructose. I cooked the bulbs at 220 degrees for 12 hours to get to a point where the bulbs were still savory, but with a hint of sweetness like a parsnip. You could try cooking longer or hotter for different effects.
Remove the papery sheath off the bulbs and put them in an ovenproof container with a lid. Pour in just enough water to cover the bottom of the container by about 1/4 inch or so. Cover the container and bake the camas bulbs at 220-230 degrees for 12 hours. Check on them after 8 hours or so. You want them to look anything from pale gold to full golden.

Slice the bulbs into rings and lightly dust them with fine salt. Saute them in olive oil, butter or some other fat until they brown. They will be a little sticky, so keep the pan moving for the first minute or so to prevent the bulbs from sticking to the pan. Keep an eye on them, as the sugars in the camas will caramelize fast.

To finish, toss with the verjus and dust with the smoked salt. Eat at once.
Note that cook time does not include the long, initial slow-cook.