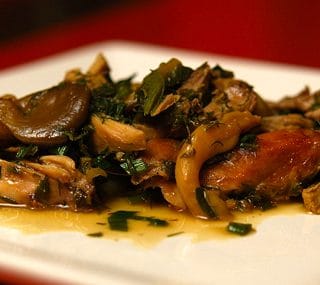 Print Recipe
Winter into Spring, a Braised Rabbit Dish
This is recipe is a play off the rebirth of spring, when it is still unsure of itself. What do I mean? The recipe uses both regular garlic and fresh green garlic shoots; a storage onion and some spring onions; fresh and dried oregano; and fresh and dried mushrooms. To me, this reflects the fickle nature of springtime: Sun one day, snow the next. Please do your best to get at least a few of the "doubles" I mention above, as this is what makes this recipe special. Can you use a domestic rabbit? Sure, but you'll only need one. You could also use stewing chickens, turkey (domestic or wild), a brace of pheasants, or maybe a quartet of chukars. Don't use anything with red meat here.
2

rabbits,

cut into serving pieces

1/4

pound

guanciale, pancetta or bacon

3

tablespoons

olive oil

1

medium onion,

sliced into half-moons

1

head

garlic,

cloves peeled but not chopped

White part of a fennel bulb,

chopped roughly

A handful of dried mushrooms,

about 1/2 cup

1/2

pound

fresh mushrooms

3

bay leaves

1

tablespoon

dried oregano

1

teaspoon

fennel seeds

1/4

cup

brandy

2

cups

white wine

3

cups

good stock

(duck, rabbit, chicken or vegetable)

5

green garlic shoots

(optional)

5

spring onions

1

cup

finely chopped fennel fronds

2

tablespoons

fresh chopped oregano

Salt
Reconstitute the dried mushrooms in 2 cups of hot water. Let them sit, covered, for at least 1 hour.

Heat the olive oil in a Dutch oven or other lidded, heavy pot and slowly cook the guanciale, pancetta or bacon until crispy. (Guanciale is cured hog jowl (the Romans use it like bacon), and pancetta is unsmoked, Italian-style bacon.) Remove the guanciale and turn the heat up to medium-high. Salt the rabbit pieces and brown them well. Take your time and do it in batches if need be. Remove and set aside when nicely browned.

Add the chopped onion, fennel bulb and the dried mushrooms and saute until they begin to brown. Add the fresh mushrooms and garlic and saute until they begin to brown. Add some salt.

Add the Armagnac and stir well to combine. It should cook away quickly.

Turn the heat all the way up and add back the rabbit, the guanciale, and add the bay leaves, fennel seeds and dried oregano and mix well. Add the white wine and bring to a raging boil. Let this cook down, stirring occasionally, until the wine is reduced by half. Pour in just enough stock just to cover the rabbit. Do not totally submerge it. Bring to a simmer, taste for salt (add more if need be), cover and set over low heat for an hour, or 45 minutes if you are using chicken or domestic rabbit.

After an hour, test to see if the meat is tender. You want it to be practically falling off the bone. If it's not there yet, cover and continue to cook. If it is, you have two choices: Finish the dish as-is, or remove the rabbit and pull the meat from the bones. I typically do the latter. If you pull the meat, return it to the pot.

Add the green onions, green garlic and fennel fronds and stir to combine. Simmer uncovered for 3 minutes. You want them all to remain bright green. Serve with crusty bread and a heady white wine, such as a California Chardonnay or Rhone blend.