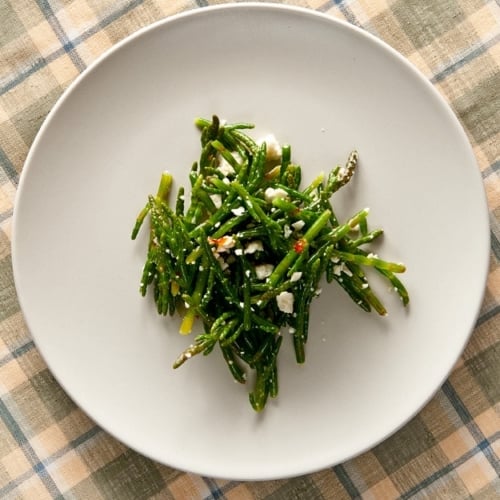 Print Recipe
Sea Bean Salad
Salicornia, sea beans, samphire, whatever, are a perfect salad green. Mostly gathered along salt marshes, this plant is naturally salty and very crunchy. It can be bought from March to September, depending on where you are, but early summer is the best time to play with this veggie. Most people don't like raw salicornia, and I prefer it boiled for 30 to seconds, then shocked in ice water: This removes some of the salt, and sets that pretty jade color. You can then eat the sea beans as-is, or quickly stir-fry or pickle them. This is a simple sea bean salad, dressed with really good olive oil, chile, garlic and a little lemon juice. A crumbly cheese like feta or a Mexican cotija adds some richness.
1

pound

sea beans

1

large garlic clove,

minced

3

tablespoons

olive oil,

use high quality oil here

1/2

teaspoon

red pepper flakes,

or to taste

Black pepper to taste

1/4

cup

crumbled feta or Mexican cotija cheese

Lemon or lime juice to taste
Bring a large pot of water to a boil and cook the sea beans for 1 minute. Transfer them to a bowl of ice water to cool. Let them rest a few minutes. Lay out a tea towel or other cloth towel. Pick through the sea beans to remove any stray bits of seaweed, and to remove any discolored bits or woody bottoms. Use only the top 2-5 inches of the plant. Lay the cleaned sea beans on the towel to dry.

Pat the sea beans dry and toss with everything but the lemon juice. Add lemon juice until the salad is as tangy as you like it. Serve cold or at room temperature. This will keep in the fridge for a couple days.