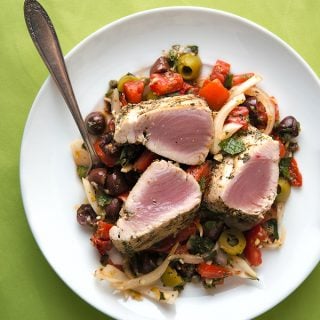 Print Recipe
Grilled Tuna with Sicilian Salad
You definitely want good bread to serve with this, but grilled potatoes would be another option, as would steamed rice. To drink, a big white wine like a Chardonnay would be good, as would the hot-weather whites from the Rhone, like Viognier. Obviously Sicilian whites are a great choice if you can get them, as would a Spanish verdelho or albarino. A dry rosé is another great choice. As for beer, this is lager or pilsner food, but a lighter bodied pale ale would be another good choice.
TUNA
1

to 2 pounds tuna steaks

Salt

Olive oil to coat fish
SICILIAN SALAD
1

small onion,

sliced thinly from root to tip

1

minced garlic clove

2

or 3 Roma or plum tomatoes,

diced

10

to 15 black olives,

pitted and halved

10

to 15 green olives,

pitted and halved

2

or 3 roasted red peppers,

diced

1

tablespoon

capers

1/4

cup

olive oil

1

teaspoon

dried oregano,

chopped, or 2 teaspoons fresh

2

tablespoons

chopped fresh basil

2

tablespoons

chopped fresh mint

(optional)
Salt the tuna steaks and set aside while you chop the vegetables for the salad.

To make the salad, saute the sliced onion in 2 tablespoons of olive oil over high heat until they blacken a bit on the edges, about 4 minutes or so. Add the garlic, cook another 30 seconds or so, then turn off the heat. Add the tomatoes, olives, capers and roasted red pepper to the pan and toss to combine. Add the remaining olive oil and salt and pepper to taste; you might not need more salt, as the olives and capers are salty. When the salad has cooled a bit toss in the oregano, basil and mint.

When you're ready to cook the fish, get your grill nice and hot, and clean the grates well. Pat the tuna dry and coat with oil. Grind some black pepper over the fish. Using tongs, grab a crumpled piece of paper towel you have dipped in some vegetable oil and wipe down the grill grates.

Grill the tuna for at least 2 minutes per side, depending on how thick the pieces are and how well-done you like your tuna. Slice it crosswise and serve atop the salad with some crusty bread and a good white or rosé wine.