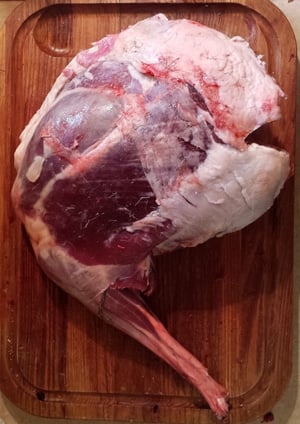 This is a dish I am adapting from that most famous of cookbooks from Ancient Rome: Apicius. The translation I am using oddly includes corn starch (!), which was not discovered until long after the discovery of the New World, so I am omitting it here.
Roast Venison, Ancient Roman Style
This venison roast is typical of Roman meats: Sweet, salty, herby. Since this dish is essentially a roast with sauce, I'd serve it with polenta or mashed potatoes. Too New World for you? Then eat it with farro. Just substitute farro for rice in your favorite risotto recipe.
Ingredients
2

pounds

venison roast

1

teaspoon

rue,

minced (If you can't find rue, use rosemary)

1

tablespoon

lovage,

minced (If you can't find lovage, use celery leaves)

1

tablespoon

oregano,

minced

1

tablespoon

mint,

minced

1

tablespoon

, parsley, minced

2

cloves

of garlic

1

minced medium white or yellow onion

1

teaspoon

Thai fish sauce

1

teaspoon

honey

1

cup

sweet wine

3

tablespoons

olive oil

2

tablespoons

flour

salt and pepper
Instructions
Salt venison roast about 12 hours. Take it out of the fridge 30 minutes before cooking. Preheat oven to 325°F.

In a pan, add olive oil, then brown venison on all sides. When browned, place in an ovenproof roasting pan in oven. Cook for about 30 minutes, then check internal temperature. You are looking for about 140°F. This could take as long as 90 minutes, but after the first half-hour, check every 15 minutes. Different shapes of a roast cook at different rates, so this is why I am suggesting the constant checking.

In a mortar and pestle, mash all the herbs together with the garlic and a pinch of salt until it's a paste.

Once the roast is done, let it rest and tent it under foil.

Add flour to pan to make a roux. Stir and cook over medium heat until its tan-to-brown. Add onion and cook it until it's translucent. Add sweet wine to deglaze, let this reduce over high heat by half. Reduce heat to medium, add fish sauce, honey, then the herb-garlic mixture. The sauce should be thicker than water, thinner than syrup. Think turkey gravy. Taste to adjust for seasoning; fish sauce is very salty, so you will probably not need more salt.

Slice the roast thinly, lay down sauce, and serve.
Nutrition
Calories:
301
kcal
|
Carbohydrates:
8
g
|
Protein:
35
g
|
Fat:
11
g
|
Saturated Fat:
2
g
|
Cholesterol:
129
mg
|
Sodium:
158
mg
|
Potassium:
540
mg
|
Fiber:
1
g
|
Sugar:
2
g
|
Vitamin A:
162
IU
|
Vitamin C:
4
mg
|
Calcium:
32
mg
|
Iron:
6
mg