Smoked venison sausage is a ritual of winter for me. I normally bring home at least one deer a year, and often more than that, so I grind a lot of of venison sausage.
This particular recipe links the venison with its surroundings. Venison and woodland mushrooms like porcini are natural complements — and sage is another natural pairing with venison, and grows wild here in California. So there you go.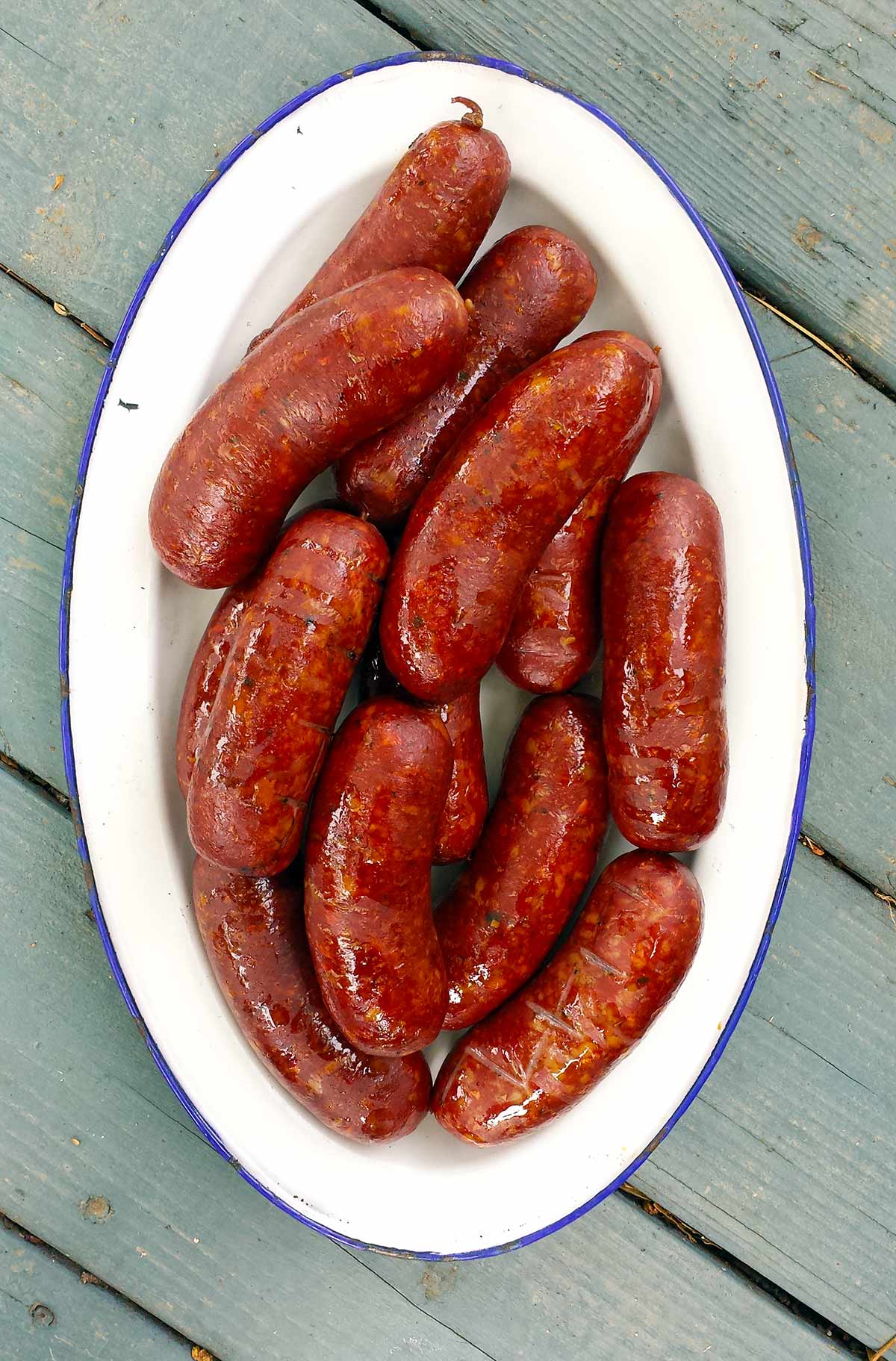 I also wanted this to be a little more refined than my typical country sausages, so I used red wine and ground the meat and fat through the fine die of my meat grinder; this results in a smoother texture in the finished sausage.
I'm generally going to use trim for my smoked venison sausage: Meat between the ribs, trim from roasts and steaks, hunks from the front or hind legs. I also cut the lean with two kinds of fat.
A note on this: If your deer is fat, cut off some of it, chop it small and render it out slowly in a little pan with some water. Once the fat is clear and rendered, smell it: Does it smell good? Taste it on some bread: Does it taste good? Then use a little venison fat in this sausage. If not, use 100 percent pork fat or beef fat.
The reason is because using just a bit of venison fat makes a venison sausage taste more like venison — without using so much fat that it coats your mouth when you eat them. (More on deer fat here.)
(If you are not a hunter, substitute in lamb or beef.)
The only possibly hard-to-find ingredient in this recipe are the dried mushrooms. If you are having trouble finding dried porcini, you can often find it in supermarkets in little packets, or just use any dried mushroom you can find. I make my own porcini powder at home during mushroom season. You can also buy porcini powder.
Why use it? Flavor, man, flavor. Woodland mushrooms add a powerful savory hit to an already savory sausage.
What wood do I use for my smoked venison sausage? Typically oak or cherry or apple wood, but honestly? Any wood that makes you happy will do. I am sure these links would be good over hickory or pecan, too.
You want to smoke low, around 225°F or even a little lower. This cooks the sausages slowly and gets them good smoke time for flavor. Afterwards, you will want to plunge them into a basin of ice water to cool — this prevents the links from shrinking.
You can also add about 1/2 cup of dry milk powder to the mixture, too. This will help the sausages retain moisture.
Looking for other good venison sausages? Try my venison garlic sausage, British bangers, or Moroccan venison merguez sausage. I have dozens and dozens of other sausage recipes here.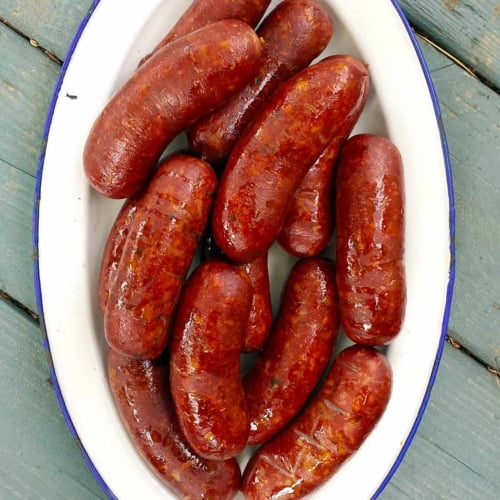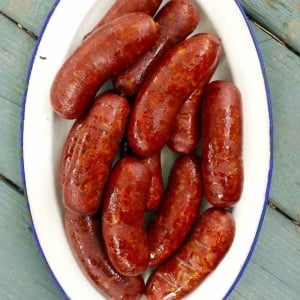 Smoked Venison Sausage
This is a basic recipe for smoked venison sausage that you can modify as you will. The only things to keep constant as you experiment are the salt and curing salt. That's for safety.
Ingredients
3

pounds

venison,

lamb or beef

1/2

pound

venison,

lamb or beef fat (see Notes below)

1 1/2

pounds

fatty pork shoulder or belly

33

grams

about 2 tablespoons Kosher salt

4

grams

1/2 teaspoon Instacure No. 1 (optional)

1

tablespoon

butter or olive oil

1

cup

minced shallot,

about 3 shallots

6

cloves

chopped fresh garlic

1

tablespoon

ground black pepper

2

tablespoons

ground dried mushrooms

(optional)

3

tablespoons

minced sage

1/4

cup

cold water

1/4

cup

red wine

hog casings
Instructions
Chop the meat and fat into chunks of about that will fit into your grinder. (Optional expert step: Mix the salt and curing salt with just the meat and refrigerate overnight. This helps make a tighter bind by developing myosin in the meat.) 

Heat the butter or oil in a small pan and cook the shallots until soft. Don't brown them. Move them to a bowl to cool.

Take out some hog casings and set in a bowl of warm water.

Make sure the meat and fat are very cold, about 34°F or thereabouts. If it's not, freeze the meat and fat for an hour or so. When you are ready to grind, mix the garlic, shallots, herbs and spices together and toss with the meat and fat. Grind the meat and fat through your coarse die, anywhere from 10 mm to 7 mm. If the mixture is still nice and cold, grind immediately again through a finer die, say 4.5 mm. If the mixture's temperature has climbed beyond about 38°F, chill it in the freezer until it's cold enough.

After grinding, put the mixture back in the freezer until it's very cold -- about 30°F. It won't freeze solid because of the salt. When it's cold, take it out and add the red wine and water and mix thoroughly either using a Kitchenaid on low for 60 to 90 seconds or with your (very clean) hands for 2 minutes. This is important to get the sausage to bind properly.

Stuff the sausage into the casings all at once. Twist off links by pinching the sausage down and twisting it, first in one direction, and then with the next link, the other direction. Or you could tie them off with butcher's string.

Hang the sausages in a cool place for at least an hour; the colder it is, the longer you can hang them. If it is warm out, hang for one hour. If it's colder than about 45°F, you can hang up to overnight. Once they have dried a bit, put in the fridge until needed. They will keep for at least a week in the fridge. 

Smoke your sausages at about 225°F until they hit an internal temperature of about 150°F. This should take about 2 to 3 hours. When you're getting close to done, get a large basin of ice water ready. When your links are done, plunge them into the ice water until totally cool, about 15 minutes. This helps prevent shrinkage... and no one likes shrinkage.

If you are freezing the sausages, wait a day before doing so. This will tighten up the sausages and help them keep their shape in the deep-freeze.
Notes
I typically use oak or fruit woods to smoke venison, but really any wood you like will work. 
Keys to Success
Make sure you work cold! Once meat and fat gets much above 40°F, it can mess with the bind of the sausage. When in doubt, chill more. Good life advice there...
Other options for herbs and spices would be rosemary, parsley, savory, or oregano. 
I prefer dried morels or porcini here, but you can use what you have, or skip the dried mushrooms altogether. I normally go right for homemade porcini powder. 
If you are using venison fat, use only a little. It will add great flavor, but too much will cause the fat to coat your mouth when the links cool. I do use it, though, because I want my venison sausage to taste like venison. 
Nutrition
Calories:
150
kcal
|
Carbohydrates:
4
g
|
Protein:
23
g
|
Fat:
4
g
|
Saturated Fat:
2
g
|
Polyunsaturated Fat:
1
g
|
Monounsaturated Fat:
1
g
|
Trans Fat:
1
g
|
Cholesterol:
83
mg
|
Sodium:
703
mg
|
Potassium:
401
mg
|
Fiber:
1
g
|
Sugar:
1
g
|
Vitamin A:
21
IU
|
Vitamin C:
1
mg
|
Calcium:
21
mg
|
Iron:
3
mg
Nutrition information is automatically calculated, so should only be used as an approximation.