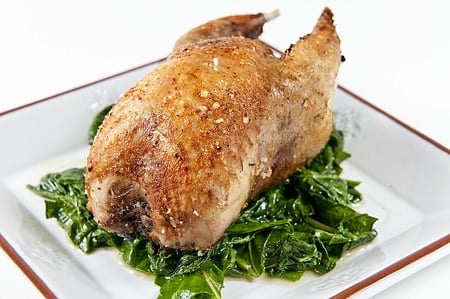 I'd always been leery about baking things in salt. It seems like such an extravagant waste of salt, and the few times I tried it the meat or fish I'd baked tasted ridiculously salty.
Then I read Mark Bitterman's Salted, which is by far the best work I've ever read about this most important ingredient. In his book, Bitterman explains why salt crusts are typically terrible: Using kosher salt or, God forbid, regular table salt, destroys the texture of the meat underneath because these salts are absolutely dry — so when they touch moist meat they suck the moisture right out of it.
The answer, Bitterman says, is sel gris, a French sea salt that contains a fair amount of moisture. Isn't that expensive? Sorta. It is more expensive than using kosher salt, but using several pounds of sel gris for this recipe will still only cost you about $10; kosher will cost you about $4.
I tried this recipe with both kinds of salt, and I have to say that it was worth the money. The sel gris really does keep the partridges moister, and the residual salt just tastes better on the bird; sel gris is not pure sodium chloride, so it does have a different taste than regular salt. Could you do this with kosher salt? Yeah, but it will not be sublime the way the sel gris was.
If you don't have access to partridges, do this recipe with another small bird. Cornish game hens will need an extra 5 minutes baking time, quail will need 10 minutes less, and pheasants will need to be in the oven a full 45 minutes.
Serves 2
3 tablespoons olive oil
2 partridges, chukars or Cornish game hens
2 sprigs of fresh rosemary or sage
1 teaspoon dried thyme
1 teaspoon black pepper
2 teaspoons sweet paprika
2 pounds of sel gris or kosher salt
Take the birds out of the fridge and let them sit at room temperature for 30 minutes.
Heat the olive oil in a large frying pan over medium-high heat. Pat the partridges dry and brown them on all sides. When they are good and browned, take the birds off the heat and let them cool for 10 minutes or so.
Stuff the rosemary inside the birds' cavities, and dust the thyme, paprika and pepper on them.
Preheat the oven to 400 degrees.
Find a container just about large enough to hold both birds; I used a large saucier. Lay down a layer of salt on the bottom and put the partridges in. Bury the birds in the salt, patting it down at the end. The partridges should be covered by at least 1/2 inch of salt.
Bake the birds for 30 minutes.
Take the partridges out of the oven and let them cool for 5 minutes. Remove all the salt, brushing excess off with a basting brush or your fingers. Serve at once with a bold white wine or a hoppy beer.