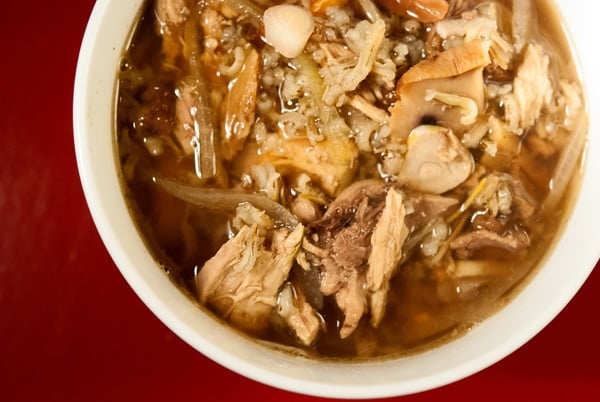 This is a dish I came up with as a use for two skinned grouse I had from a trip to Minnesota. Sometimes birds are shot up, or you have so many you don't feel like plucking them all — I should be so lucky. Skinned birds will not have the strength of grouse flavor that skinned ones will, but simmering them in a soup is a good way to concentrate it.
I just love the combination of ruffed grouse and wild rice, too. A friend gave me some real wild rice — not cultivated, but foraged — so I wanted to highlight it with this soup. Just to add to the forest theme, there are acorns and porcini mushrooms in this soup, too.
One problem with a grouse soup would be getting enough carcasses to make a proper stock. If you are a big grouse hunter, this won't be a problem, but for the rest of us, you will need to bulk up your broth. Start with a good game broth if you have it, or chicken broth in a pinch. Add in whatever grouse carcasses you have and simmer it for an hour or more to get that grouse-y flavor.
If you are not a hunter but want to approximate the flavors of this soup, use turkey or chicken thighs for the meat, cultivated wild rice for the foraged variety, and chestnuts for the acorns.
Serves 6 to 8 as a main course, or up to 12 as a soup course in a larger meal.
Prep Time: [preptime time=20M] 20 minutes [/preptime]
Cook Time: [cooktime time=2H] 2 hours [/cooktime]
2 to 3 skinned whole grouse

Any saved grouse carcasses you have, up to 4

1 handful dried porcini mushrooms

1 bay leaf

1 sprig rosemary

2 tablespoons unsalted butter

1/2 pound fresh oyster mushrooms (or button mushrooms)

1 onion, sliced into thin half moons

4 chopped garlic cloves

2 carrots, cut into disks

1 cup roughly chopped chestnut pieces (optional)

1 cup wild rice

Salt

3 cups (loosely packed) chopped chard or spinach leaves (optional)
_________
[instructions]
Put the skinned grouse and the grouse carcasses into a large pot and add enough water to cover them by 1 inch. Heat it slowly to a simmer over medium heat. Simmer gently for 20 minutes, skimming any froth or scum that floats to the surface.

Fish out the whole skinned grouse and remove the breast meat. Shred it with your fingers. Set the meat in a bowl and refrigerate for later. Return the rest of the grouse to the pot and simmer for another hour.

Remove the whole grouse again and pick off any remaining meat from the legs, carcass and thighs. Set this in the bowl with the breast meat. Return the carcasses to the pot and add the rosemary, bay leaf and dried mushrooms to the pot. Simmer gently another hour.

Meanwhile, heat 2 tablespoons of butter or oil in another large pot set over medium-high heat. Saute the onions, carrot, garlic and oyster mushrooms until they begin to brown. The mushrooms will release a lot of water, so keep cooking and stirring until this water boils away. Sprinkle some salt over everything as it cooks. Once the water has boiled away, everything will brown nicely. When this is done, turn off the heat.

Set a strainer over the pot with the onions and carrots and set a paper towel inside the strainer. Ladle the grouse broth into this pot; you need 2 to 3 quarts. If you want, fish out some of the dried mushrooms from the broth pot and chop them for the soup. This is optional.

Add salt to the broth and then the wild rice. Bring the soup to a slow boil. Real wild rice doesn't take very long to cook, so check it after 25 minutes or so. When the rice is nearly done, add the grouse meat, chestnut pieces and chard or spinach leaves, simmer for 5 minutes and serve.
[/instructions]