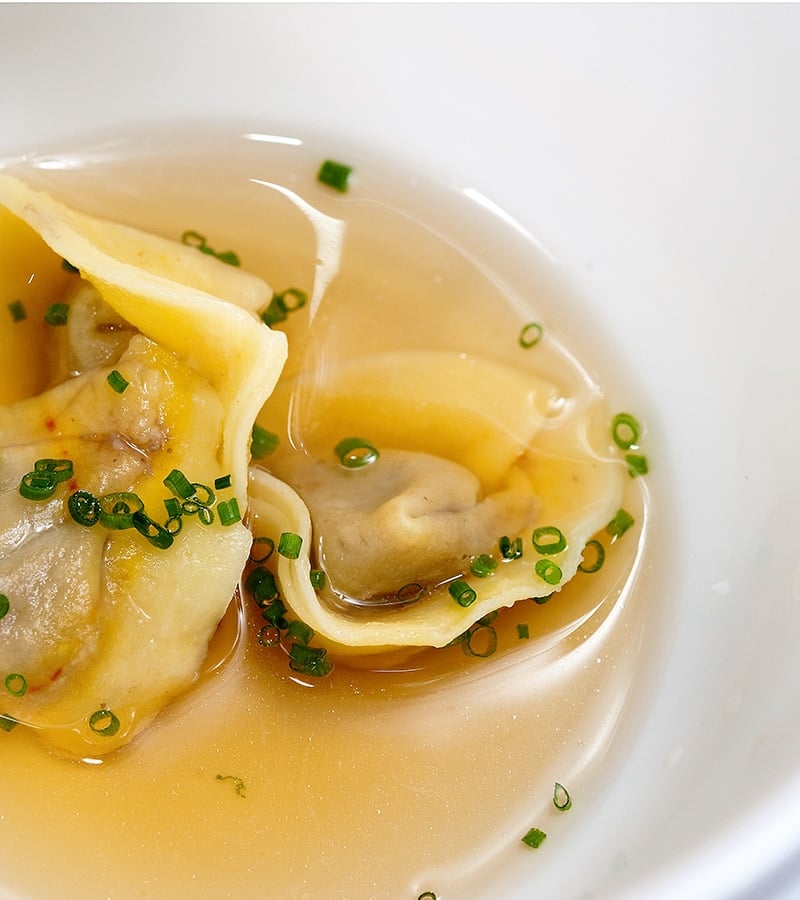 I got inspiration for this recipe from from Mario Batali's The Babbo Cookbook, which has a similar recipe for duck liver ravioli. I normally don't like the texture of liver, but I do like the taste, so the ground-up filling made spicy with red pepper does me fine.
My recipe calls for butter as the additional fat — and it works fine — but if you can afford it, use foie gras instead. It's waaay better. All you need is a small tin of the stuff, available online. Or, use only fatty livers.
If you substitute and make these chicken liver ravioli, which works fine, store-bought chicken livers are fatty enough so you won't need much, if any, added butter.
I often do the pasta with chestnut flour, obtainable at specialty shops such as Corti Bros. in Sacramento, or you can buy chestnut flour online. If you can't find it — and it's really worth looking for — use spelt flour or barley flour. The key is to get an earthy flavor going.
How to serve? Either with the simple sauce below, or as I did in the picture above: In a clear consomme made from my rich duck broth. Either way is wonderful.
Duck Liver Ravioli
I used wild duck livers here, but they can be lean; thus the added butter. If you get fatty wild livers, or farmed duck or chicken livers (or turkey livers, for that matter), chances are you won't need butter. Look for tan livers, not red ones.
Ingredients
FILLING
1/4

cup

olive oil or duck fat

1/2

medium onion,

sliced thin

1 1/2

pounds

duck, chicken or turkey livers

1

cup

red wine

1

teaspoon

chile flakes

1

tablespoon

oregano

1/2

stick of butter,

chilled and cut into cubes

Salt and freshly ground black pepper
PASTA
4

cups

all-purpose flour

4-5

eggs,

lightly beaten

dash of olive oil
SAUCE
3

tablespoons

duck fat

4

tablespoons

balsamic vinegar

(use the good stuff)

minced parsley for garnish

grated parmigiano cheese for garnish
Instructions
Make the pasta. Put the flour in a large bowl and make a well in the center. Pour the beaten eggs and the olive oil in the well, then stir from the center to begin incorporating the flour. Do this until you get big clumps, then switch to kneading it. Once it's a big ball, knead vigorously for at least 6 minutes. I knead for 8-10.

Wrap the dough in plastic and let it rest for at least a half-hour; an hour is better.

Make the filling. In a frying pan, heat the 1/4 cup oil or duck fat. Add the sliced onion and saute over medium heat until it's soft, about 10 minutes. Turn up the heat to medium-high and add the livers and the chile flakes. Saute until nice and brown.

Add the red wine, bring to a boil and reduce for 8-10 minutes until it is down to about 4 tablespoons. Add the oregano, then transfer everything into a food processor and buzz until it's well-chopped but not a smooth puree. Add salt and pepper to taste. Let this cool to room temperature.

Once the liver mixture is cool, add in the chopped butter and mix well until it is incorporated.

Make the ravioli. Roll out your pasta dough in a machine or by hand with a rolling pin until it is the thickness you want; I go to No. 6 on my machine, which is an Atlas.

Place a teaspoon of liver mixture at about 2-inch intervals on your pasta, then fold over the other half of the sheet on top of the filling, working gently to create an even seal with no air bubbles. Alternatively, you could roll another sheet of pasta out and place it on top of the first one. Cut the ravioli into shape with a sharp knife and place on a floured cookie sheet.

When you are done, you can freeze them individually (you can then bag them up once they are frozen - skip this step and you'll have a monstrous glob of ravioli in your freezer) or refrigerate them for a day or so.

Make the dish. Bring a kettle of heavily salted water (it should taste like the ocean) to a boil and boil the ravioli for 2-3 minutes.

In a frying pan, bring the three tablespoons of duck fat and the 4 tablespoons of vinegar to a boil. Add the ravioli, turn the heat down to medium and shake the pan to coat them. Serve at once, garnished with the cheese and parsley.
Notes
You can make any filled pasta shape here. Ravioli are normal, but tortellini (as in the picture) are good, too. 
Nutrition
Calories:
512
kcal
|
Carbohydrates:
54
g
|
Protein:
25
g
|
Fat:
18
g
|
Saturated Fat:
6
g
|
Cholesterol:
531
mg
|
Sodium:
160
mg
|
Potassium:
363
mg
|
Fiber:
2
g
|
Sugar:
2
g
|
Vitamin A:
34144
IU
|
Vitamin C:
4
mg
|
Calcium:
47
mg
|
Iron:
30
mg