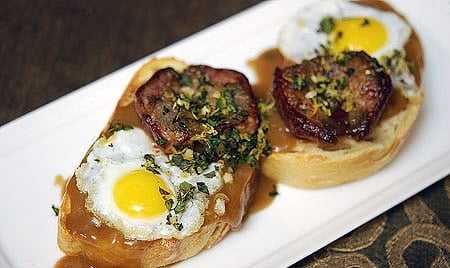 Consider this gourmet comfort food. Making this recipe requires about an hour's effort, and you'll finish it in minutes — what's not to love? It has dove breasts, fried eggs, brown gravy and toast. But not just any dove breasts, fried eggs, brown gravy and toast.
First off, this recipe really needs to be done with doves. I suppose you could do it with squab breasts, or even quail breasts, but then you'd need to use chicken eggs to get the size correct.
Why quail eggs and dove breasts? My little joke: The birds live next to each other here in California, so I reckoned they'd taste good together.
You can find quail eggs at any Asian market, and often at ritzy places like Whole Foods. A word on breaking these little nuggets: Quail eggs have a thick membrane inside the shell, so open them with a very sharp knife that will cut that membrane. I ruined several eggs trying to crack them open like a chicken egg.
Cut the toast thick. This is an open-faced sandwich, so don't skimp on the bread. It should be crusty and chewy; we use a Pugliese bread from Raley's supermarket.
Use brandy and maple syrup with the gravy. You want it a little boozy and sweet. I use Armagnac, but you could use Cognac or other brandy. If you can't find maple syrup, use honey.
Finally, this recipe cries out for a bright note, and that note is provided with a mint gremolata, a finely minced mixture of mint, raw garlic and lemon zest.
Serves 2 (can be doubled)
6 dove breasts, or 2 squab or quail breasts
Kosher salt
4-6 thick slices of good bread
3 minced garlic cloves
2 tablespoons minced mint
Grated zest of a lemon
4 tablespoons butter
2 scant tablespoons flour
1 minced shallot
1 shot brandy
2 cups stock: Either dove, other game, chicken or veggie
1/4 cup maple syrup
6 quail eggs or 2 chicken eggs
Salt your dove or squab breasts and set out at room temperature for at least 15 minutes. Be sure to remove the little tenders on the insides of the breasts — cook and eat them in the kitchen!
Make the gremolata by mixing lightly the minced garlic, mint and lemon zest. If you cannot find good fresh mint, use parsley.
Turn the oven to "warm" and set a plate inside.
Pour the stock into a small pot and bring it to a simmer.
Heat 3 tablespoons of butter in a saute pan and sear the dove breasts over medium-high heat, skin side down. If you don't have skin on your dove breasts (pity) just start searing them where the skin would have been. That first side should sear for about 3 minutes.
Turn the dove breasts and continue cooking for a minute. Remove and set in the warm oven on the plate.
Make the gravy. In the pan you cooked the doves in, add the shallot and cook until translucent over medium heat, about 1-2 minutes.
Add the scant 2 tablespoons of flour; what I mean by "scant" is to really add less than 2 tablespoons, but to use the tablespoon as a measure — just don't fill the spoon to the top with flour.
Mix that flour in with a whisk and let it cook with the shallots, stirring constantly, for a minute or two. Don't let it burn. If it has locked up all the butter in the pan, add a little more butter until it loosens up again.
Once the roux (which is what you just made) has been cooked a few minutes, add the hot stock, whisking all the time. It should look velvety — this is called a veloute in French cooking.
Bring this to a boil, then add the maple syrup and brandy. Let this cook down at a slow boil, stirring often, until it is thick like gravy. Add salt if needed. Once it is to your liking, turn the heat to its lowest setting.
Put your bread slices in the toaster and set it to a pretty dark toast.
Make the eggs. Put the remaining tablespoon of butter in a non-stick pan over medium-high heat and let it get good and hot.
Carefully crack the quail eggs with a sharp knife (buy more eggs than you need as you will mess up a few) and carefully set them down into the hot butter. You want a nice fried egg with white surrounding the yolk. Sprinkle a little salt on the egg right away.
Cook for 2-3 minutes over medium heat. Do not flip.
To assemble, lay down 2-3 slices of toast on a plate. Pour over a generous portion of gravy. Top each slice with a dove breast and a fried quail egg. Sprinkle gremolata over it all.
Serve with a good red wine, or a full-bodied white wine if you are using quail breasts.