Venison Sauce Piquante
May 05, 2012 | Updated June 06, 2022
As an Amazon Associate I earn from qualifying purchases.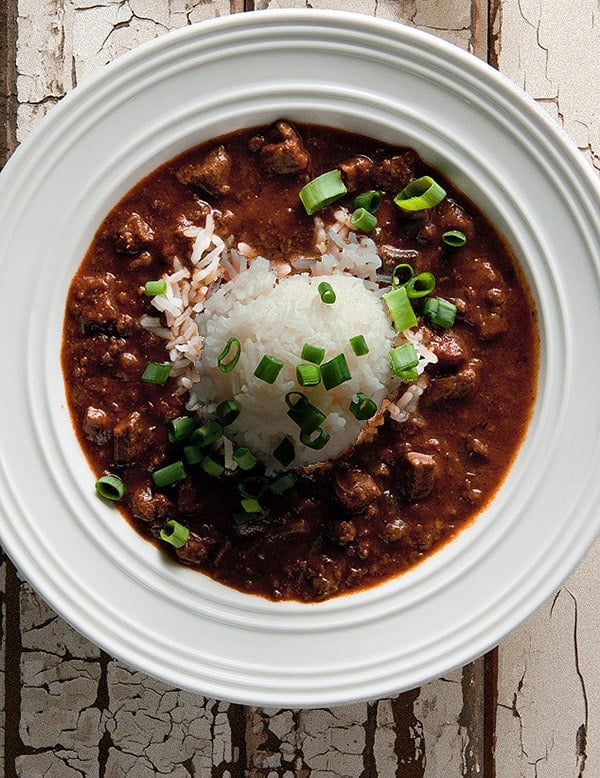 Photo by Holly A. HeyserA few years ago I found myself in southern Louisiana, near Houma. A fellow outdoor writer had invited me out to catch redfish down near Grand Isle. We hadn't met up yet, and I needed lunch before I made the 70-mile drive down to the Gulf. I asked where I ought to get some food, and, after careful consultation with some locals drinking coffee and eating kolache, I set my truck toward Bayou Delight.
It was exactly what I'd hoped it would be. A little grubby, very lived-in and dotted with sugar cane farmers and other random Cajuns, some speaking French.
I had just sat down in a booth when a gigantic man wearing a foot-long Bowie knife on his belt walked in with his petite, dark-haired wife and sat down in the booth next to me. Turns out he was a gator hunter. Sadly, I can't remember this man's name. We got to talking though, and when he learned I'd never eaten gator — although, oddly, I'd eaten crocodile in South Africa — he suggested I order Bayou Delight's alligator sauce piquante.
I did, along with a side order of fried alligator for good measure.
The gator hunter had set me in the right direction. I'd never eaten a sauce piquante (sauce pee-kahnt) before, and when it came it looked like red gumbo. It was about as thick as a gumbo, and was very tomatoey, with an island of white rice in the center and lots of diced gator floating around. It was spicy, but not blow-your-head-off spicy. I'd never eaten anything like it. Gumbo meets chili.
I told the gator hunter that finding alligator in California might be tough. "Oh, you can use anything you want," he said. "Turtle, frogs, crawfish, chicken, venison…" Venison? That sounded like a plan.
When I returned home, I decided that I had to make it for myself.
Turns out a sauce piquante is indeed like a tomatoey gumbo. One of the generalizations about the difference between Cajun and Creole cooking it the presence of tomato; Creole cooking uses a lot of tomato, Cajun less so. Most Cajun gumbos have no tomato or very little. I say "most" because every cook has her own recipe. But sauce piquante is the exception: It is a tomato-based dish.
To make a venison sauce piquante, as in most things Cajun, you start with a dark roux (unless it is a seafood version, in which case the roux is stopped when it's the color of peanut butter). The roux then cooks the trinity — onion, celery and green pepper.
Tomato paste sometimes makes an appearance, but tomatoes themselves always do. The canned variety with green chiles made by Rotel shows up a lot in recipes. Red wine is in some versions (it's in mine), and it's always served with white rice and either parsley or green onions.
The alligator sauce piquante I had at Bayou Delight was unique in that the gator was diced small. If you've never eaten gator, it can be tough. Chewy. Like chicken meets shrimp meets clam. It's an acquired taste. Dicing the meat small and long stewing fixes this, however. And it will do the same for venison, which has a tendency to become dry in stews.
Was my version better than Bayou Delight's? Probably not, but I'd like to think it would make the Unnamed Gator Hunter happy. And since I can't find him, you get to be the judge. Laissez les bons temps rouler!
Venison Sauce Piquante
What follows is a general sauce piquante recipe. This Cajun stew uses whatever meat or seafood is available. I've seen recipes for sauce piquante using alligator, frog, crawfish, crabs, shrimp, chicken, venison, armadillo (!), squirrel, duck and goat. (I also have a snapping turtle sauce piquante recipe.) Suffice to say you can use anything. The only thing I would suggest is to match meat with roux and wine. Light meats with a peanut butter-colored roux and white wine, dark meats with a dark (the color of dark chocolate) roux and red wine.
Ingredients
1

cup

peanut oil or lard

1

cup

all-purpose flour

2

cups

chopped onion

1

cup

chopped green pepper

1

cup

chopped celery

5

garlic cloves

One 6-ounce can of tomato paste

1

tablespoon

Cajun seasoning,

or more to taste

3-4

pounds

venison or other meat

diced small

1

cup

red wine

One 28-ounce can tomato puree or crushed tomatoes

4

bay leaves

Salt,

black pepper and hot sauce to taste

Chopped green onions or parsley, for garnish
Instructions
In a large, heavy pot like a Dutch oven, heat the peanut oil over medium-high heat for a minute or two. Stir in the flour, then turn the heat down to medium. Cook this roux, stirring often, until it turns the color of dark chocolate, about 15-20 minutes. Once the roux turns the color of peanut butter, you will need to stir it almost constantly to prevent it from burning.

While the roux is cooking, Heat 6 cups of water in another pot to the boiling point. Hold it at a simmer for now.

When the roux is ready, add the onions, celery and green pepper and stir to combine. Turn the heat to medium-high and cook this, stirring often, until everything is soft, about 6-8 minutes. Sprinkle some salt over everything while you do this. Add the garlic, Cajun seasoning and tomato past and stir to combine. Cook this, stirring occasionally, for 3-4 minutes.

Mix in the venison, then add the cup of red wine, the can of crushed tomatoes and the hot water, stirring as you add. Add the bay leaves and bring this to a gentle simmer. Add salt and hot sauce to taste. Let this simmer very gently until the meat is tender, about 3 hours or more.

When the sauce piquante is ready, add any more salt, black pepper, hot sauce and/or Cajun seasoning you want, then serve it with white rice and lots of green onions or parsley. Make sure you have hot sauce at the table; I use Tabasco, but use whatever variety you prefer.
Notes
Always serve this with white rice. And remember, like all good stews, this one is better the day after it's made.
Nutrition
Calories:
338
kcal
|
Carbohydrates:
19
g
|
Protein:
42
g
|
Fat:
7
g
|
Saturated Fat:
2
g
|
Cholesterol:
145
mg
|
Sodium:
101
mg
|
Potassium:
747
mg
|
Fiber:
2
g
|
Sugar:
3
g
|
Vitamin A:
557
IU
|
Vitamin C:
19
mg
|
Calcium:
35
mg
|
Iron:
7
mg
Nutrition information is automatically calculated, so should only be used as an approximation.