Venison Meat Pies
March 27, 2011 | Updated May 20, 2020
As an Amazon Associate I earn from qualifying purchases.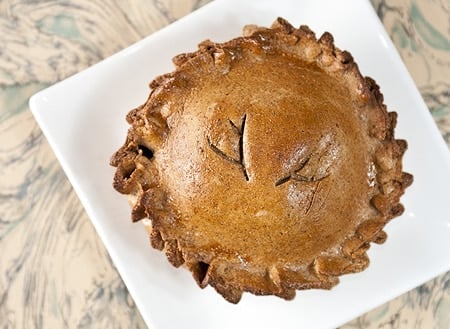 The moment I saw these Sicilian Easter pies in Saveur magazine, I knew I had to make them. Or at least something like them. Meat pies are something of an obsession for me. My mum made chicken pot pie a few times when I was a kid, but I even loved the store-bought ones. It's the juxtaposition of bread and stew and meat that gets me.
Still, pot pies are unwieldy, difficult to eat. Then at some point in my boyhood I discovered Jamaican meat pies, which Rasta vendors would sell on street corners in New York City. Bright yellow with curry and loaded with fatty, spicy goodness, I ate them twice as often as I ate the similarly-shaped Jewish potato knishes, which could usually be found on the next corner over. Curry meat beats potatoes.
Sorry, Jews. Jamaica won that fight.
I think I was so entranced by both these creations because of how portable they were. You could eat your lunch while walking down the street. Obviously not a new concept, but it was new to me as a young teenager in the Big City.
Then came graduate school and Wisconsin, where I became a slave to the Cornish pasty — and not just any pasty, but those from Myles Teddywedgers on the corner of State Street in Madison. I think the shop is still there.
Huge, meaty fist-fulls of bread dough and steak and stew and oh my God were they wonderful! Absolutely, positively what you need to sustain yourself during a cold Madison winter.
This recipe here is basically an Italian version of the Cornish pasty. Big, bready crust loaded with meat and herbs and fat and deliciousness. Saveur's original recipe makes pies that are a little to large to pick up and eat, so these are a bit smaller. And yes, those are antlers on the pie. I couldn't resist.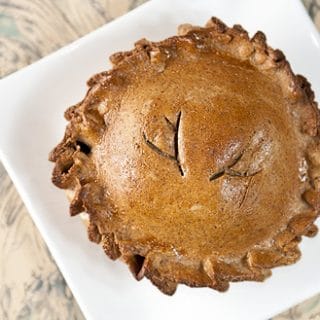 Venison Meat Pies
This recipe is loosely based on a Sicilian Easter lamb pie, and if you don't have venison, lamb works fine here. This is a great recipe for all that "venison burger" you might have lying around in your freezer, and, while it does takes time to make, the pies will keep for a week in the fridge.
Ingredients
DOUGH
1/4

cup

whole wheat flour

2

cups

bread flour

1

teaspoon

salt

3/4

cup

warm water

1

yeast packet

1

tablespoon

lard or butter
FILLING
12

ounces

ground venison

6

cloves

garlic,

chopped

2

tablespoons

fresh oregano

chopped

2

tablespoons

parsley

chopped

2

tablespoons

green onion

chopped

2

teaspoons

salt

1

teaspoon

black pepper

3

tablespoons

lard or butter
Instructions
Mix the flours and the salt together in a large bowl. Mix the yeast and the warm water in a cup and let hydrate for 15 minutes. Meanwhile, mix the lard into the flour with your hands until it looks like a coarse meal.

Pour the hydrated yeast into the flour and mix well. Knead for 5 minutes, cover in plastic wrap and let rest 1 hour. Meanwhile, mix all the filling ingredients -- except for the lard -- together in a bowl. Preheat the oven to 450°F.

To make the pies, roll the dough into a rough log and slice off 1/3 of it. Now cut each chunk into thirds, so you have 3 small pieces and 3 large pieces. Take out one of the large pieces and keep the rest covered with a damp cloth.

Roll out the dough into a 6-inch circle about 1/8-inch thick. Use a bowl or large glass to cut a perfect circle. Put some of the filling into the center of the circle, leaving a 1-inch border on all sides. Set that dough onto a baking sheet lined with parchment. Do the same thing with the other 2 larger pieces of dough. When you have all three pies set out, press 1 tablespoon of lard or butter onto the center of the filling of each pie.

To make the tops of the pies, roll out each smaller piece of dough to about the same thickness -- they should be smaller, about 5 inches in diameter. Lay the top on the venison filling.

Now take up the bottom of the larger piece of dough and attach it to the top piece of dough by pinching and crimping it over. Do this all around the pie to seal it. With a very sharp knife slice vents in the top of the pie.

Beat the egg with a little water and paint all the pies with it. Bake in the oven for 25 to 35 minutes, or until they are golden brown. Let the pies rest on a rack for at least 10 minutes before eating. They are good hot, cold or at room temperature.
Nutrition
Calories:
690
kcal
|
Carbohydrates:
73
g
|
Protein:
39
g
|
Fat:
27
g
|
Saturated Fat:
14
g
|
Cholesterol:
185
mg
|
Sodium:
2571
mg
|
Potassium:
595
mg
|
Fiber:
5
g
|
Sugar:
1
g
|
Vitamin A:
867
IU
|
Vitamin C:
6
mg
|
Calcium:
108
mg
|
Iron:
6
mg
Nutrition information is automatically calculated, so should only be used as an approximation.