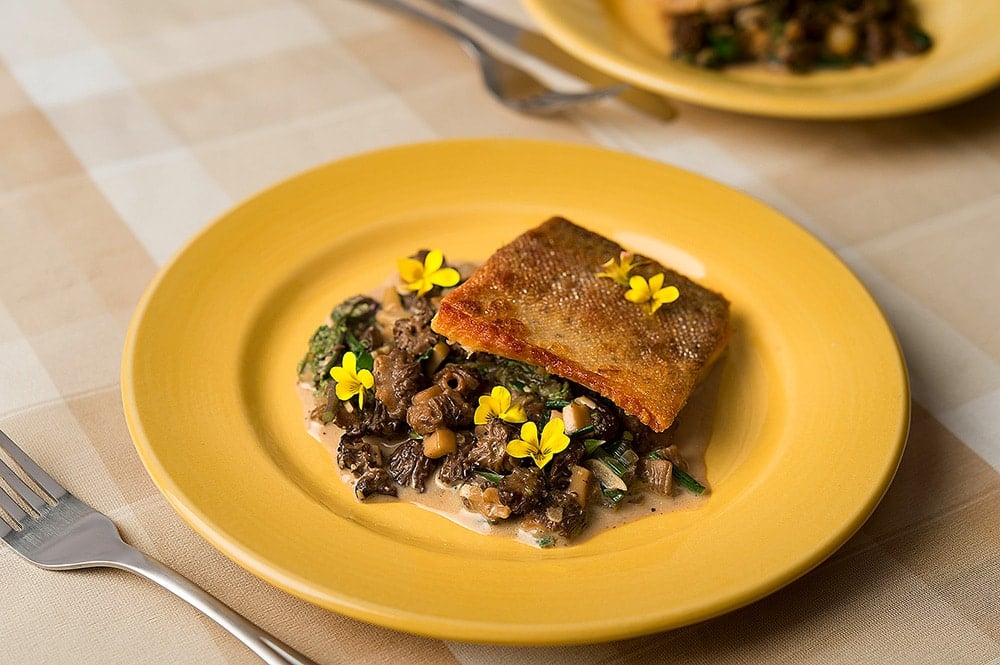 Trout, morel mushrooms, wild onions and fiddleheads. There is no better expression of the wild glories of springtime. These foods — separate and in combination — captivate us, both as eaters and cooks. They are edible evidence that the vibrant renewal of spring has finally arrived.
We can find them on spring menus in myriad permutations, ranging from the dead simple to the molecular. Ramp foam or morel gelee, anyone?
Alas, for most of my fellow Westerners, these delights must be imported from back East. Trout and morels we have aplenty, but ostrich ferns don't live here in the West, and our native lady fern fiddleheads are a poor substitute. And ramps never made it across the Great Plains, let alone the Rockies or the Great Basin.
But all is not as it seems.
As I mentioned, the West has some of the best trout fishing and morel mushroom hunting anywhere on the planet; we got that covered.
And while yes, you can certainly eat lady fern fiddleheads, to my mind the best "fiddlehead" of all is that of the bracken fern, which It looks more like a clenched eagle's claw than a proper fiddlehead. Bracken is an admittedly controversial foodstuff. But I am convinced of its safety, when eaten in moderation, and I have written extensively on the subject. Bracken has the crunch of a regular fiddlehead but without the bitterness; there's a hint of almond flavor in there, too.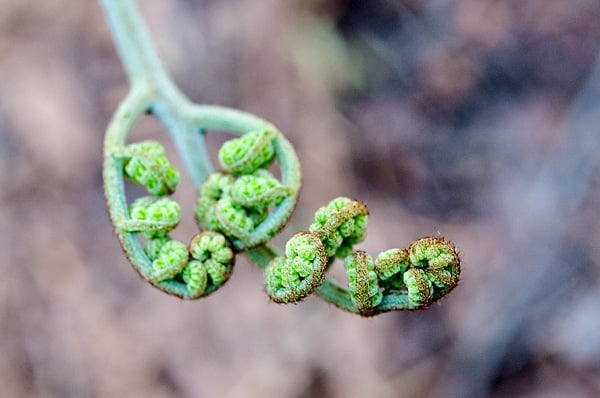 And while we in the West have no ramps, we do have other wild onions, including the invasive three-cornered leek and the native Sierra onion, Allium abramsii. There are quite a few species of wild onion in the Sierra Nevada, but this one is by far the most common where I live.
Notice something? It looks a lot like a ramp. It grows in our coniferous forests, and can literally blanket a hillside. It's smaller than a ramp, with narrower leaves, too. And it's a lot more delicate. But it's plentiful enough to pick a few for dinner each year, if you are careful to only pick in places where they are thick.
If you love the combination of morels, trout, fiddleheads and wild onions as much as I do, this knowledge is a wonderful thing.
Considering that morels are coming in pretty well so far this year (although it's not the bonanza we'd all hoped for),  and that I just got back from fishing Pyramid Lake in Nevada, I had all the fixins' for this dish — and all from the same basic area, too!
I really wanted to make a simple version of this dish, something you can repeat easily with your own local ingredients. Morels are still popping through much of the country (it's been a late year in the North), and nearly everyone in the nation has some variety of wild onion available to them. Bracken is a global species, so it should grow in the mountains or northern forests if you live near there; or just buy ostrich fern fiddleheads.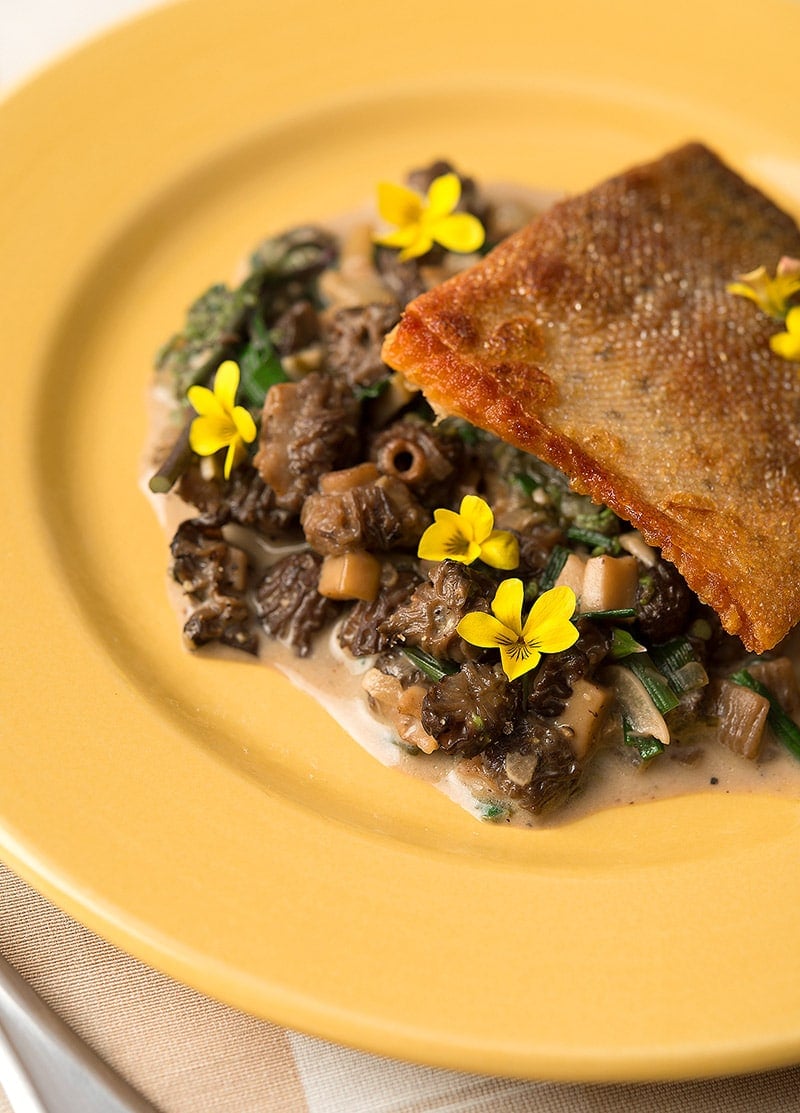 And trout? This is Lahontan cutthroat trout, one of the finest there is. But any trout is better than no trout, even farmed.
Give this recipe a go, with your own foraged ingredients, or those you've bought in the market — or a combination of the two. You will understand why this is such a classic. Happy spring!
Trout with Fiddleheads, Morels, and Wild Onions
This is essentially a chunky morel sauce with simply seared trout. If you think of it that way it doesn't seem so esoteric. I used a larger trout for this recipe, but any trout will do. I prefer to leave the skin on because it gets über-crispy with this cooking method, but remove the skin if you must. It's important to have fresh mushrooms for this dish, so if you can't find or afford morels, use some other mushroom; maybe shiitake. As for ramps and fiddleheads, they are in markets (and forests) right now.
Ingredients
1/2

pound

fiddleheads

Salt

1 1/2

to 2 pounds trout fillets

(or 1 small trout per person)

1/4

cup

unsalted butter,

divided

1

pound

fresh morels,

sliced into rings

1/2

pound

ramps or other wild onions,

or scallions

3

garlic cloves,

minced

1

cup

chicken stock

2

to 3 tablespoons sour cream

1

cup

sorrel,

cut into a chiffonade (optional)

Black pepper

Violets,

for garnish (optional)
Instructions
You'll need to blanch the fiddleheads first. Bring a large pot of water to a boil and salt it well. Get a bowl of ice water ready. Boil the fiddleheads for 2 minutes, then shock them in the ice water. If you are using bracken fiddleheads you will need to leave them in the ice water for 1 hour. Regular fiddleheads you can remove as soon as they are cold.

Take the trout out of the fridge and salt it lightly. Let it rest on the counter while you make the morel sauce.

Put the morels and the white parts of the onions into a large saute pan. Turn the heat to high until everything begins to sizzle, then turn the heat down to medium-high. Soon the morels will release a lot of water. Sprinkle salt over everything now.

When the liquid has almost boiled away, add 2 tablespoons of butter and shake the pan to coat everything. Let the morels and onions brown a little, then add the garlic. Let this cook for 1 minute, then add the chicken stock. Use a wooden spoon to scrape up any browned bits from the bottom of the pan. Boil this down by half and turn off the heat.

To cook the fish, get another saute pan hot and add the remaining butter. Wipe the skin side of the fish with a paper towel to dry it. Once the butter is hot, lay the trout into the pan, skin side down. Turn the heat down to medium-high for a skinny fillet, and down to medium-low for a very thick piece of lake trout or chinook salmon.

Let the trout cook for 2 minutes -- you may need to press down on it with a spatula to ensure even contact between the skin and pan. After two minutes, use a large spoon to start basting the meat side of the trout with the butter. Baste a dozen times or so and leave it alone. Then baste again a dozen more times. If you do this a third time, your fish will be totally cooked through, but I stick to twice so the fish is just barely cooked in the center. Move the trout to individual plates.

To finish the dish, turn the heat to high on the morels. When the stock boils, add the fiddleheads and the green parts of the onions and the sorrel, if using. Cover the pan and turn the heat to medium. Let the greens wilt. Uncover the pan and stir well. Turn off the heat. When the sauce stops bubbling, stir in the sour cream and pour next to the trout.
More Fish Recipes
More Recipes for Morels and Other Mushrooms