Duck Meatballs
January 23, 2010 | Updated August 27, 2021
As an Amazon Associate I earn from qualifying purchases.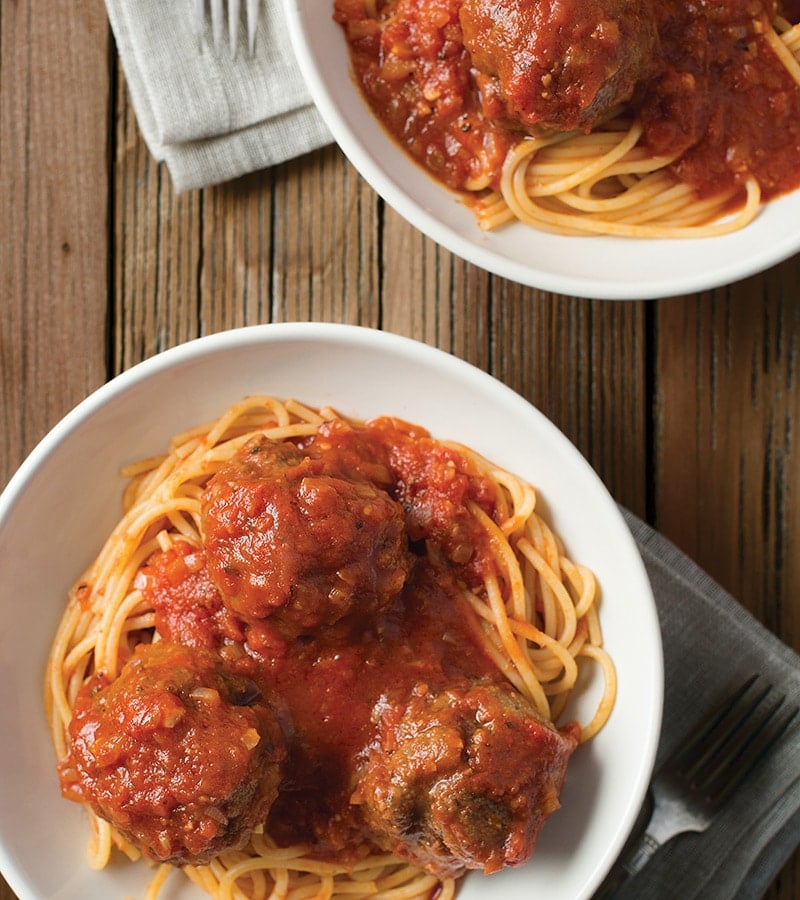 Making perfect Italian-American style meatballs isn't so much a question of what meat you use as it is how you make them. I've made this meatball recipe dozens of times, with meats from pork and veal to venison, duck and bear.
What makes the Perfect Meatball?
It isn't the meat, although these are duck meatballs, but it might be the fat. Whatever meat you use, grind it with pork fat. What grind? A fine grind, of course. All the best meatballs are finely ground, both for mouthfeel and for cohesiveness; it is not easy to get a coarsely ground meat to bind into a pretty ball.
Use about a three-to-one ratio of meat to fat, in the case of the meatballs in the photos, 3 pounds of duck and goose meat to 1 pound pork fat. Lean meatballs suck. Period.
The next step is also vital: Perfect meatballs are not all meat. Yes, it's true — and counter-intuitive. Your mind says that an all-meat meatball will be better than one with "fillers" like bread or flour or bread crumbs. Your mind is wrong. To me, a perfect meatball is pillowy yet substantial at the same time. One way you get that is by adding bread to the mixture.
I owe this particular bread technique to Marcella Hazan in her Essentials of Classic Italian Cooking
, which is to Italian cooking what Julia Child and Simone Beck's Mastering the Art of French Cooking
is for French cuisine. Basically Marcella heats up a little milk and drops stale, crustless bread into it until the bread absorbs the milk, then she mashes everything into a slurry and lets it cool. Brilliant.
The other primary step in making duck meatballs is to not take your aggressions out on the meat mixture. You mix gently, gently, gently, and not completely. It is OK to have some uneven spots. It makes things more interesting. Think cake, not bread. Note my open hands. Do not squeeze.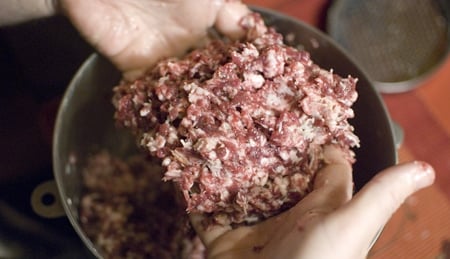 You follow that up by forming the meatballs with equal finesse. Use your palms, not your fingers. North African meatballs are made with your fingers (as is their couscous, but that is another post.), Italian ones with the palms. You want a nice round ball that just barely holds together.
After that you want to roll your duck meatballs in flour or bread crumbs. I like fine bread crumbs because they add some texture to the meatball. These meatballs will deform as you roll them in the crumbs. No worry, just reshape and place on a cookie sheet that has a piece of wax or parchment paper set on it.
To me it is pretty obvious, but there are actually a lot of meatball recipes out there where you don't fry the meatballs before finishing them in sauce. This is blasphemy in the part of New Jersey I grew up in. And when I say "fry" I mean fry, not saute.
Meatballs and spaghetti is a dish designed to show off — really — as newly "wealthy" Italian immigrants found they could serve expensive meatballs and "expensive" factory-made pasta all the time. Much of Old Italy was so poor that these were festival ingredients, not weekly commonplaces.
This means you need lots and lots of oil to properly fry your meatballs.
Can you saute them? Yes, but they will massively deform and probably develop burnt spots. Meatballs made with my method require the buoyancy of hot fat. Besides, you can reuse the fat for the rest of the week after straining it.
Again here, perfect meatballs require a bit of technique.
The amount of oil should come up to exactly half the meatball — when they are all in the pan. Y'all remember Archimedes and his bathtub, yes? That means start with about 1/4 inch and get that hot, then add more oil little by little until it is at the halfway point. This keeps the oil hot and prevents the "Saturn's Ring" of un-fried, or double-fried, sections in the middle of the meatball. It's an aesthetic thing.
Oh, and flip your duck meatballs only once, after about 5 minutes.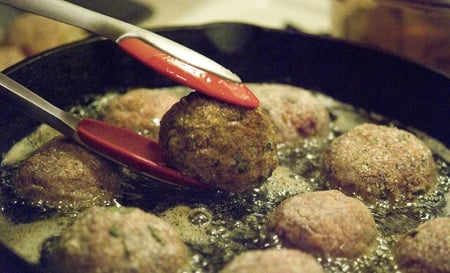 Once they are done, remove to a rack to drain. This is better than simply putting them on a paper towel, although that's fine, too.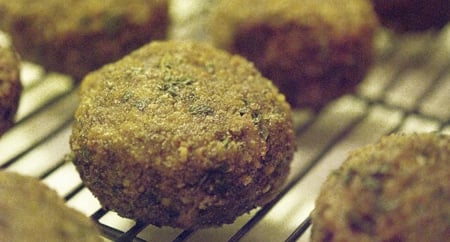 You now have perfect meatballs, which need only to be finished in your favorite sauce.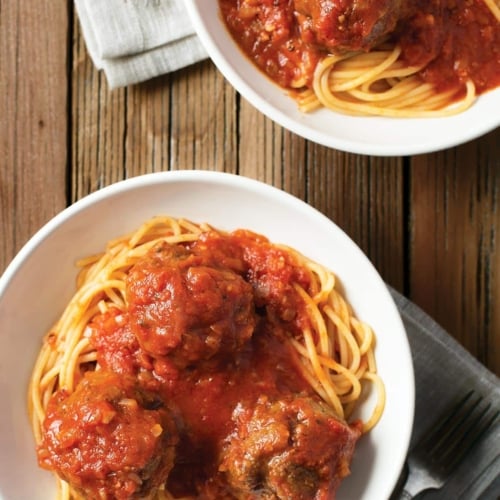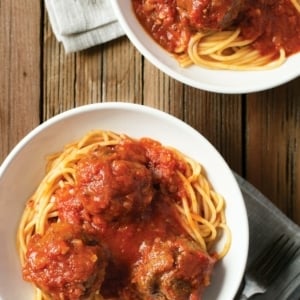 Italian Venison Meatballs
Who doesn't love meatballs? They are a classic comfort food and easy to make. Non hunters, just make these meatballs the traditional way — with a combination of beef and pork. (NOTE: If you do this, omit the pork fat, as it will already be mixed into the pre-ground meats.)
Ingredients
2 1/2

pounds

lean venison,

or other meats

1

pound

pork belly or fatty pork shoulder

2/3

cup

milk

3

slices

bread, crusts removed

2

eggs

1

tablespoon

Kosher salt

1

tablespoon

black pepper

1

teaspoon

fennel seeds

(optional)

1

teaspoon

dried oregano °

2

cloves

garlic,

minced

4

tablespoons

grated cheese,

pecorino or parmigiana

1 1/2

cups

bread crumbs

olive oil for frying
Instructions
OPTIONAL HAND GRINDING STEP
Chill the venison and pork fat until it is almost freezing by sticking it in the freezer for an hour. Cut both the meat and fat into chunks that will fit in your grinder. Grind through your fine die. If you do not have a meat grinder, you can use a food processor, set on pulse. Don't crowd the processor and chop the meat in pulses until you get something that looks like ground meat — it will not be as good as with a grinder, but it is easier than hand-mincing everything, which is also an option. Put the meat in the fridge.
MEATBALLS
Pour the milk into a pot and set it on low heat. Cut the crusts off the stale bread and break it into pieces. Add it to the pot. It will begin to absorb the milk. When it does, turn off the heat and mash everything into a paste. Let it cool to room temperature.

Put the ground meat into a large bowl, add the salt and spices and herbs, as well as the cheese. Crack the eggs into the bowl, then pour the bread-milk mixture in. With clean hands, gently mix everything together. Do not knead it like bread. Just gently work the mixture — think cake, not bread.

When it is mostly combined — you need not get everything perfect — grab a palm-full and roll it into a ball with your palms, not your fingers. You want meatballs about 1 1/2 to 2 inches across.

Gently roll the meatballs in the bread crumbs. You may need to re-shape them before putting them onto a cookie sheet lined with wax or parchment paper.

When the meatballs are all made, get a large pan ready; I use a big, old cast-iron frying pan. Fill it with about 1/4 inch of oil. I use cheap olive oil. Bring it up to temperature over medium-high heat. You are looking for about 325°F. Set the meatballs in the hot oil, not touching, to fry.

You want the oil to come up halfway on the meatballs. Add a little oil if need be; don't worry, you can reuse it later. Fry until nicely browned, then turn them over to brown the other side.

When cooked, set the meatballs on a paper towel or wire rack to drain. They can be used right away or cooled and then refrigerated for a week, or frozen for several months. How to serve? You could do worse with a marinara sauce, or my Tomato Sauce with Fennel.
Video
Notes
If you start with ground meat, the prep time for this recipe drops to about 20 minutes.
Keys to Success
If you knead the meatball mixture too much, the meatballs will toughen. That said, they are supposed to be a bit fragile, so you can cut off pieces with your fork as you eat the pasta.
Should your mixture be too wet, you can add more meat, more bread, more grated cheese, or, in a pinch, some more breadcrumbs.
I often make large batches of these, brown them, and then freeze for later.
If you hate frying, you can set the meatballs into a mini muffin tin and bake them at 300°F until browned.
Nutrition
Calories:
354
kcal
|
Carbohydrates:
17
g
|
Protein:
50
g
|
Fat:
8
g
|
Saturated Fat:
3
g
|
Polyunsaturated Fat:
1
g
|
Monounsaturated Fat:
2
g
|
Trans Fat:
1
g
|
Cholesterol:
155
mg
|
Sodium:
990
mg
|
Potassium:
721
mg
|
Fiber:
1
g
|
Sugar:
2
g
|
Vitamin A:
116
IU
|
Vitamin C:
1
mg
|
Calcium:
107
mg
|
Iron:
7
mg
Nutrition information is automatically calculated, so should only be used as an approximation.