"Hammer stroke!" I shouted, to no one in particular. One second I'd been gently jigging a minnow-shaped lure along the bottom of the San Joaquin River, the next I was hanging on for dear life. Grinning. The fish had struck like a lightning bolt, and was now shaking the lure back and forth the way a dog shakes a rat. Typical striper.
My friends Joe and RJ were also hooked up. A triple! We were in the middle of the most epic day of striped bass fishing I've had in 35 years spent pursing this fish. Between the three of us we caught and released more than 100 stripers. I let this fish tear off a hundred feet of line before I began reeling it toward the boat. A good fish. Not a great one, but definitely an eater.
Striped bass are something special. The truly big ones are loners, the kind of fish you remember catching. I can retell the tale of every big bass I've ever caught, and I have more than a few stories about smaller ones, too. A string of memorable stripers has bookmarked the chapters of my life in a way no other animal has done. And it's not just the catching: Striped bass are equally memorable at the table.
Among the myriad fish Americans eat, the striped bass occupies a unique position. It is the only commonly eaten fish caught primarily by recreational anglers. The Northeast supports an artisanal commercial fishery, and farmed striped bass can be bought — but, like most farmed foods, they are a pale shadow of their wild cousins. Here in the West, there has not been a commercial striped bass fishery since the Depression. Yet California anglers catch hundreds of tons of striped bass each year; only salmon and lingcod are more eagerly sought.
So here I was, doing my best to add another 5 pounds or so to this year's catch. I lowered the rod tip to gain line as I reeled the striper in closer. This sort of lean-and-reel technique would be the only option for catching a big bass, which historically have grown beyond 100 pounds. Reeling in a fish even half that size is like dragging an open umbrella upstream through a flood. This fish was a schoolie, a smaller striper that still spent time with its colleagues. Still, But I wanted to get it into the boat quickly because a tired fish doesn't taste as good as one swiftly dispatched.
Arguments simmer among anglers about which fish is finest at the table. Some wax poetic over salmon. Others moon over halibut. Trout have their aficionados, as do walleye, yellow perch, and tuna. I know one guy who prefers carp over every other fish. Go figure. But I retire quietly from such fights: How can I choose one fish when so many taste so fine? If pressed, however, I'd say striped bass is among the few fish I'd rather not live without.
Describing the flavor of fish is not easy. "Clean" is a universal hallmark of good fish, and my suspicion is that this nebulous flavor comes from fish whose oils have not yet begun to turn rancid. Unlike terrestrial meats, fish will deteriorate rapidly even in a fridge. You need to pack fish on ice to store it in the refrigerator for even a few days. But the flavor of one fish differs from another mostly in terms of saltiness, texture (is the flake coarse or fine?), oiliness, and firmness. Diet and exercise affect all of these.
Stripers live the Greek ideal of all things in moderation. They eat a varied diet of shrimp, shellfish, and other fish, and they are neither lurking ambush killers like groupers nor long-swimming wolf-pack hunters like tuna. They have the firmness of a crustacean-eater, the clean flavor of a devourer of clams and other mollusks, and the meatiness of a fish-eater. Stripers are firm but not so much as halibut or eels, and they are meaty, but not so much as sturgeon or swordfish. It is white meat, but with enough of the fishier-flavored dark meat along the lateral line to make things interesting. And striped bass also possess, in huge amounts, that savory zephyr the Japanese call umami.
I have batter-fried them. Dredged them in flour and sautéed them in olive oil. Steamed them with veggies. Grilled them over hardwoods. Barbecued them slowly over a smoky fire. Baked them whole, stuffed like a turkey. I've even eaten them raw.
Any East Coast fish-eater knows the striper well. The fish is native to the Atlantic, and was prized by the Lenape Indians who met the Dutch in New Amsterdam. Vast spawning runs of striped bass stormed up the Hudson, the Susquehanna, the Connecticut, and the Potomac every spring, following the shad. And some of these fish were huge. Four centuries ago, stripers larger than 100 pounds were common.
Two centuries ago, New Englanders valued the striped bass so much they used lobster as bait to catch them. They remain an obsession for many anglers from North Carolina to Maine, much the same way Midwesterners view muskellunge or those in the Pacific Northwest chase steelhead trout.
That obsession crossed the Continental Divide in 1879, when a few hundred younglings from my home state of New Jersey (the Navesink River, to be exact) were planted into the Carquinez Strait near Martinez, California. Striped bass found few enemies in the Sacramento-San Joaquin Delta or the rivers that fed the estuary, and within a few decades, a commercial fishery arose that lasted until recreational anglers convinced the state legislature to close it in 1935.
Striper populations have ebbed and flowed since then. Recently, their populations have been under siege by the massive water pumping for agriculture in the southern San Joaquin Valley, which has disrupted the normal flows of the Delta and killed many baby stripers. But there are still plenty of fish swimming around Sacramento, as we were finding out last week.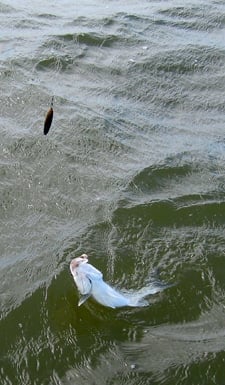 The bass on the end of my line was alongside the boat now, and while it was no 100-pounder, it was definitely larger than the 18-inch minimum. RJ was busy with his own fish, so I lifted mine into the boat. Definitely a nice bass, probably somewhere between five and six pounds. A perfect eater; the meat of really large stripers gets coarse. Besides, big stripers tend to be the best breeding females, and it is important to let them live.
Before putting the fish into the live well, I held the striper up for a moment. Striped bass have the regular features of a Hollywood starlet; in form, they look like what your mind's eye conjures when you think "fish." Silvery, graceful, and sleek, stripers come complete with a set of olive racing stripes streaming from the back of their heads.
This one would be dinner. It would join the growing school of stripers I've devoured over the years. I cannot say just how large that school is — a hundred? A thousand? My first striped bass is lost to time, but as long as I've been fishing, stripers have always been there.
The largest striped bass I ever caught was a 42-pound monster caught on a live eel in the strong current running out of Fire Island Inlet, off Long Island. It was an ecstatic moment, as I was a poor college student and needed the meat. That bass fed me for nearly two months. And lemme tell you, it was quite the adventure getting that big fish into the dorm.
Years later in Virginia, I was forced to work on Christmas Day and so had to spend the holiday away from my family. I had caught a striper in the Rappahannock River a few days before, and as a little celebration, I stuffed it with a chestnut and cranberry dressing, slathered it in butter, and baked it for a co-worker who also had to work Christmas. He brought a bottle of old Port and a jug of eggnog made from George Washington's personal recipe. It was a fine feast, one Old George himself might have enjoyed.
Then there was the 20-pound striper I finessed onto a Block Island beach using gossamer line on a lightweight spinning rod. That fish ran me up and down the shoreline for nearly 40 minutes, until it finally submitted and allowed me to land it for dinner. I grilled it and served the fish to my sisters, my mother, and my wife. That meal was a rare moment of peace at a time when my marriage was in collapse.
In happier days, I once fished for stripers with my father on a humid June evening in the salt marshes of Cape May, New Jersey. It was a spectacular bite. We threw top-water floating lures normally meant for largemouth bass at the edge of the reeds. The stripers leapt out of the water to attack the lures the way white sharks ambush seals off South Africa. We soon caught our limit, and laughed and talked and drank cheap beer until the dawn broke. It remains my finest evening.
Now I am in California, a world 3,000 miles from the other markers, the other stripers in my life. Their presence here comforts me, gives me a link to my Eastern past, and acts as a punctuation point to this chapter of my life's story.