Chilindron, Spanish Stew
October 02, 2011 | Updated January 22, 2021
As an Amazon Associate I earn from qualifying purchases.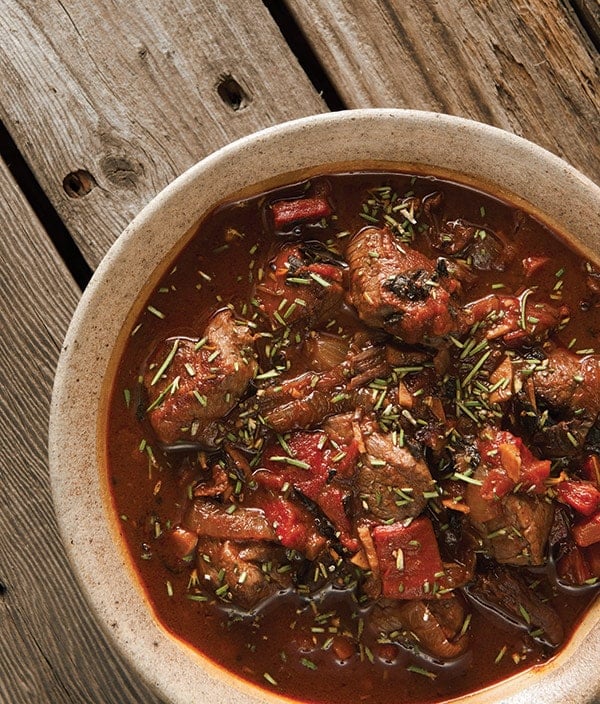 Chilindron is a Spanish stew, and is one of my favorite dishes, so versatile that it stands outside the normal categories of venison, upland birds, etc.
Chilindron (chill-in-DRONE) is dominated by roasted red peppers, paprika and onions. Most recipes also call for rosemary, olive oil, garlic, some tomatoes, good stock and wine.
The stew originates in Aragon, a part of central Spain. I first heard about this stew in the late, great Penelope Casas' Delicioso! The Regional Cooking of Spain, but I've since read about a dozen other recipes for this classic in other Spanish cookbooks.
It is rich, woodsy, and bright, a perfect combination of the "red food" many of us crave (spaghetti sauce, chili, etc – think about the colors in your favorite foods and you'll find many of them are reddish) with the slightly austere, piney flavors that mark European wild game cooking.
I make this stew every few weeks I love it so much; it is one of the few "standards" I will repeat on a regular basis.
As for what meat to use, the Spanish stew typically features lamb or chicken. This hints at the range this stew possesses. I have made chilindron with good results from chicken, pheasant, rabbit, beef, venison and antelope, wild boar and pork. There is no reason you cannot toss in whatever you like.
I suppose you could even make a vegetarian version with mushrooms. When switching from light to dark meat, switch from white to red wine, too. Other than that, I use this basic recipe.
I also have a recipe for a similar Spanish stew – caldereta – that's thicker and cooks longer, making it well suited for meats with a lot of connective tissue, such as a venison neck roast.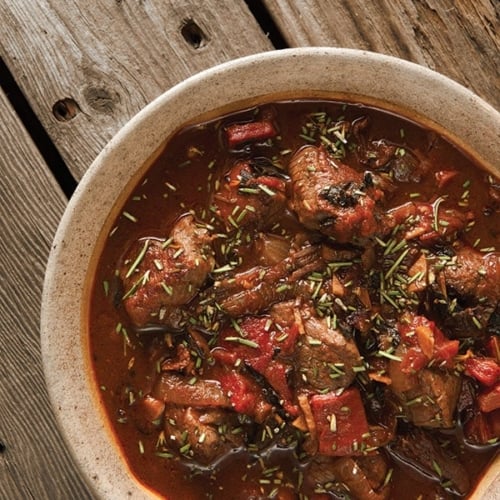 Chilindron, a Spanish Stew
A versatile Spanish stew that can use any meat. It is dominated by paprika, roasted red peppers, and onions. You can also add rosemary and wild mushrooms, too.
Ingredients
3

pounds

chicken,

pheasant, lamb, venison or rabbit, in serving pieces

2

large onions,

sliced root to tip

10

cloves

chopped garlic

2

tablespoons

sweet paprika

1

tablespoon

hot paprika

1

jar (15 ounces or so), or 5 roasted red sweet peppers,

chopped

1

cup

crushed tomatoes

2

cups

red or white wine

Stock if needed

(whatever goes with your choice of meat)

1/2

cup

diced cured meat: Bacon,

pancetta, ham, etc.

1

tablespoon

chopped fresh rosemary

4

bay leaves

1/2

cup

chopped fresh parsley

1/4

cup

olive oil

Salt and pepper

Large handful of dried mushrooms

(optional)
Instructions
If using, put the mushrooms in a container just large enough to hold them and pour hot water over them. Cover and set aside.

Salt the meat and set aside for 20 minutes at room temperature. Use this time to chop the veggies.

Pat the meat dry and pour the olive oil in a large Dutch oven or other heavy pot that has a lid. Heat the pot over medium-high heat. Brown the meat on all sides in batches. Do not overcrowd the pot. Set the meat aside in a bowl when browned. Take your time and do this right. Add more oil if needed.

When the meat is browned, add the onions and stir to bring up some of the browned bits on the bottom of the pan. Sprinkle the onions with a little salt. Cook until they begin to brown, then add the garlic, the cured meat and the mushrooms, if using. Cook until fragrant, then add the meat back to the pot and mix well.

Pour in the wine and turn the heat up to high. Stir and boil furiously until the wine is half gone. Turn the heat back down to medium and add the tomatoes, the roasted red peppers and all the spices and herbs (except the parsley). Stir well. The level of liquid should be about 2/3 the way up the sides of the meat. If it is low, add the stock. I typically need about 2 cups.

Cover and cook at a bare simmer — just barely bubbling — until done. How long is that? Depends on the meat. Rarely is any meat done within an hour, but I'd check a store-bought chicken then. I find pheasants and rabbits take about 90 minutes, boar, pork and hares about 2 hours, and venison and beef up to 3 hours or more. Use your judgment.

Right before serving, test for salt and add some if needed. Add black pepper and the parsley and stir well. Serve with mashed potatoes, rice, polenta or bread. Simple sauteed greens are a good accompaniment. A big red wine is also a must, ideally something Spanish, like a Rioja.
Nutrition
Calories:
459
kcal
|
Carbohydrates:
13
g
|
Protein:
27
g
|
Fat:
28
g
|
Saturated Fat:
6
g
|
Cholesterol:
89
mg
|
Sodium:
500
mg
|
Potassium:
514
mg
|
Fiber:
3
g
|
Sugar:
4
g
|
Vitamin A:
2426
IU
|
Vitamin C:
19
mg
|
Calcium:
61
mg
|
Iron:
3
mg
Nutrition information is automatically calculated, so should only be used as an approximation.