This recipe makes no apologies. It is a celebration of a particular place, and it highlights some ingredients you may not be familiar with. I urge you to keep reading nonetheless, if only to glimpse a world of foods different from your own — a world shockingly rich, despite its harsh location.
I've had a fascination with the Sonoran Desert for a long time.
It is said that you can grow fat in the Sonoran if you know what to look for. It's true.
This is a land where beans and chiles grow wild, where pretty purple onions line arroyos underneath mesquite and palo verde trees, both of which bless the knowledgeable with edible pods. Where almost every cactus you meet offers some well-guarded yet wondrous treat. It is a land of the quail and rabbit, the tiny Coues deer and the coyote and the raven.
It is an arid but boggling bounty. And it is virtually untapped by American cooks. Mexican cooks, on the other hand, and especially the local native groups, already know much about this bounty — after all, the Sonoran Desert lies mostly south of the border. To see it here in the States, you need to go to southern Arizona.
I have several recipes on this site inspired by Arizona's native riches. I even have another quail dish, barbecued quail with a prickly pear BBQ sauce, that I am particularly fond of.
Fortunately, most of these ingredients can be bought easily if you live in Arizona: wild, chiltepin chiles, prickly pear syrup, tepary beans. All are readily available at specialty shops in Tucson or Phoenix. Cholla buds, which are the unopened flower buds from the cholla cactus, can be bought dried here. As for the native l'itoi onions, well, I grew them. You can buy sets for l'itoi onions here.
If you live outside Arizona, you can buy chiltepin chiles, prickly pear syrup
 and tepary beans online.
I hear some of you thinking: Why bother going to the trouble to find all these odd ingredients?
For two reasons. First, this dish tastes wonderful. I didn't just throw all this stuff together just because they happen to grow together. This is a combination of flavors that one of the local Indian groups, the Tohono O'Odham, have favored for quite some time. Easy enough to follow their lead.
The chiltepins are a blazingly hot chile, but it's a firework that fades fast. The prickly pear syrup on the quail adds just enough sweetness to balance out the chiles. The seared onions also turn sweet after you've let them steam in their pan, adding that allium touch that I think every plate of food needs. The tepary beans are an especially nutty tasting bean, and add some heft. The cholla buds are chewy and interesting to look at, and then you get a hit of flavor that reminds you a bit of artichoke hearts. Tomatoes add color, moisture, tartness and a tiny bit of sweet.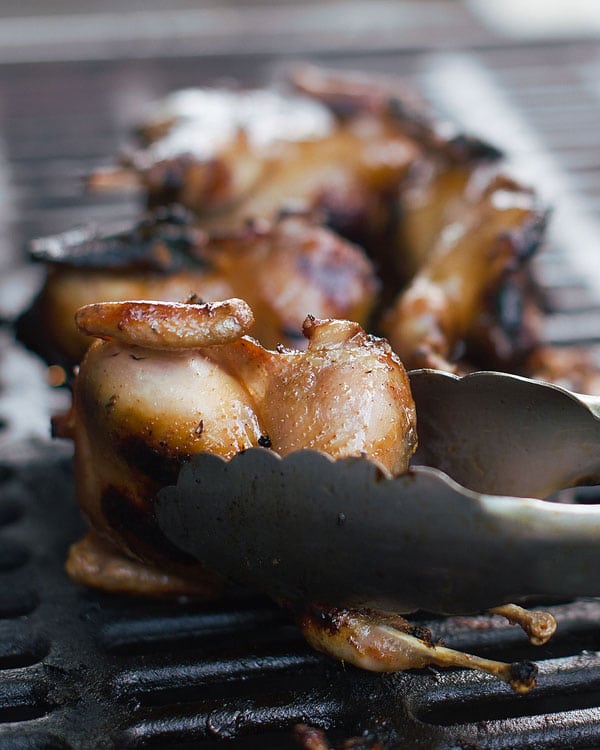 It's a surprising, delightful dish that will surely start conversation at the dinner table.
And hopefully that conversation will be about the second reason this dish is important: Because it is a celebration of ingredients most Americans don't even know about, let alone eat. As a culture, we tend to eat a lot of a little — corn, beef, chicken, wheat, potatoes. But as a species, the human race is designed to eat a little of a lot. Small amounts of all sorts of things. A diverse diet is a healthy diet.
This dish shows you that such diversity lies even within our own 50 states. All these ingredients grow and live in our country. It's a shame that so few of us take advantage of them. I mean to change that.
Sonoran Quail
You really can't make this dish without the special ingredients linked to above. Yes, you can sub in a few, but do your best to get at least a few of them. Probably the most vital in terms of flavor are the cholla buds and tepary beans. There is no substitute for the cholla, and while other beans could sub in for the teparies, they won't be the same. I chose quail because it fits in the Sonora, but rabbit, chicken, turkey or even darker meats like dove or venison would work naturally here, too.
Ingredients
8

whole quail

, backbones removed

Lard or oil to coat birds

Salt

1/4

cup

prickly pear or mesquite bean syrup

1/2

cup

dried tepary beans,

rehydrated in water overnight

1/2

cup

dried cholla buds,

rehydrated in water overnight

4

to 5 Roma or other paste tomatoes,

seeded and diced

10

to 20 l'itoi onions,

or small shallots, peeled but whole

1/2

to 1 teaspoon chiltepin chiles,

crushed

3

tablespoons

avocado or squash seed oil

Lime juice to taste
Instructions
Put the soaked tepary beans into a pot of water and bring to a gentle simmer. Cook until tender, about 45 minutes to 1 hour. Add a healthy pinch of salt to the water halfway through the cooking time.

In another pot, bring about a quart of water to a boil and salt it well. Add the soaked cholla buds and boil until al dente, about 20 minutes. Drain, pat dry and set aside.

Take the quail out of the fridge, salt them well, and set out to come to room temperature.

Heat 3 tablespoons of avocado oil in a pan over high heat. Sear the onions until you get some browning on the edges. Add the cholla buds and get a little sear on them, too. Turn off the heat and add the tomatoes and chiltepin chiles. Sprinkle a little salt over everything and cover the pan. Set aside.

Get your grill hot and clean the grates. Grill the quail breast side up with the cover down until the bottom gets a little char, about 5 minutes. Paint the birds with the prickly pear syrup. Turn them over and grill with the cover open for 2 or 3 minutes more. Tip the quail up on their sides, two at a time so they can lean on each other, so you can grill the legs and wings better. Paint them with more prickly pear syrup. Let them cook about 3 minutes per side. The quail should be done by now, but if you are worried they're not, turn off the heat (if your grill is gas) or move the birds to a cooler spot on the grill, cover and let the residual heat finish them.

By now the beans should be done. Drain and add to the pan with the onions and cholla buds. Toss to combine and add salt, oil and lime juice to taste. Serve with the quail.