Honey-Glazed Smoked Ham
April 16, 2014 | Updated June 18, 2020
As an Amazon Associate I earn from qualifying purchases.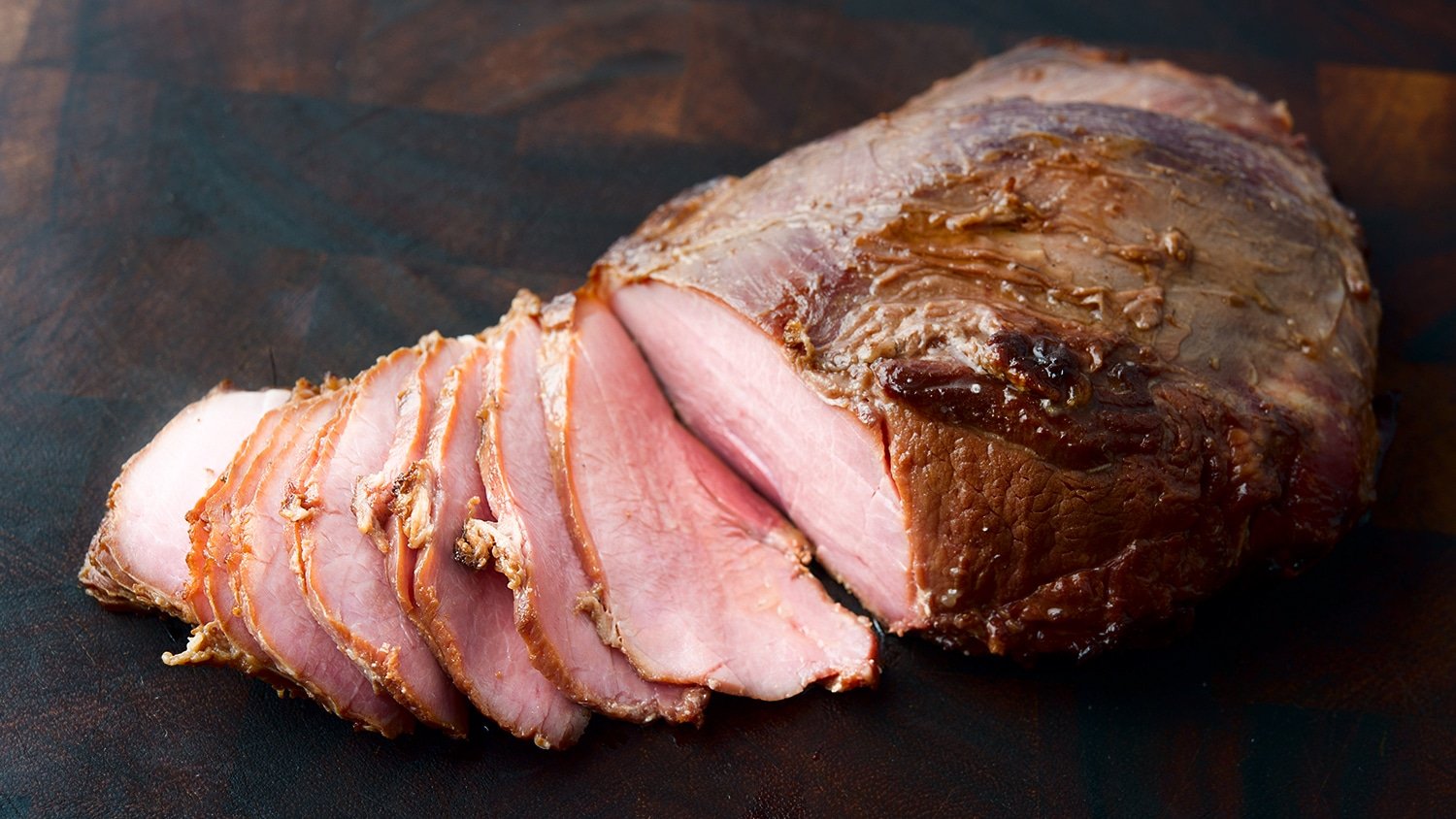 Smoked ham is one of the easiest hams to make, either from store-bought pork or wild pigs, if you are a hunter.
This traditional Easter smoked ham, honey-glazed, is a cooked ham that is easy to make if you have a smoker. If you want to make this ham for Easter Sunday, you'll need to start a couple days ahead of time. This ham is cured, then smoked and glazed.
Consider this a baseline recipe. You can scale it up or down, depending on the size of the ham. Cure time is about 12 hours per pound of meat for a light cure, 24 hours per pound for a more traditional ham cure. Smoking is also variable.
I'd say you need at least 2 hours to get even a light smoke on, and you can go all day if you like it smoky. Wood's also your call: I prefer fruit woods here, but nut woods or oak or alder or mesquite would work, too.
You can play with the sweetener as well. I chose honey, but brown sugar is more traditional, and you could use molasses, maple syrup, birch syrup, agave nectar or some fruit syrup. Whatever floats your boat.
Finally, how do you eat it? Sliced, like on Easter Sunday, or cold, as sandwich meat, which I prefer. This recipe makes awesome cold cuts.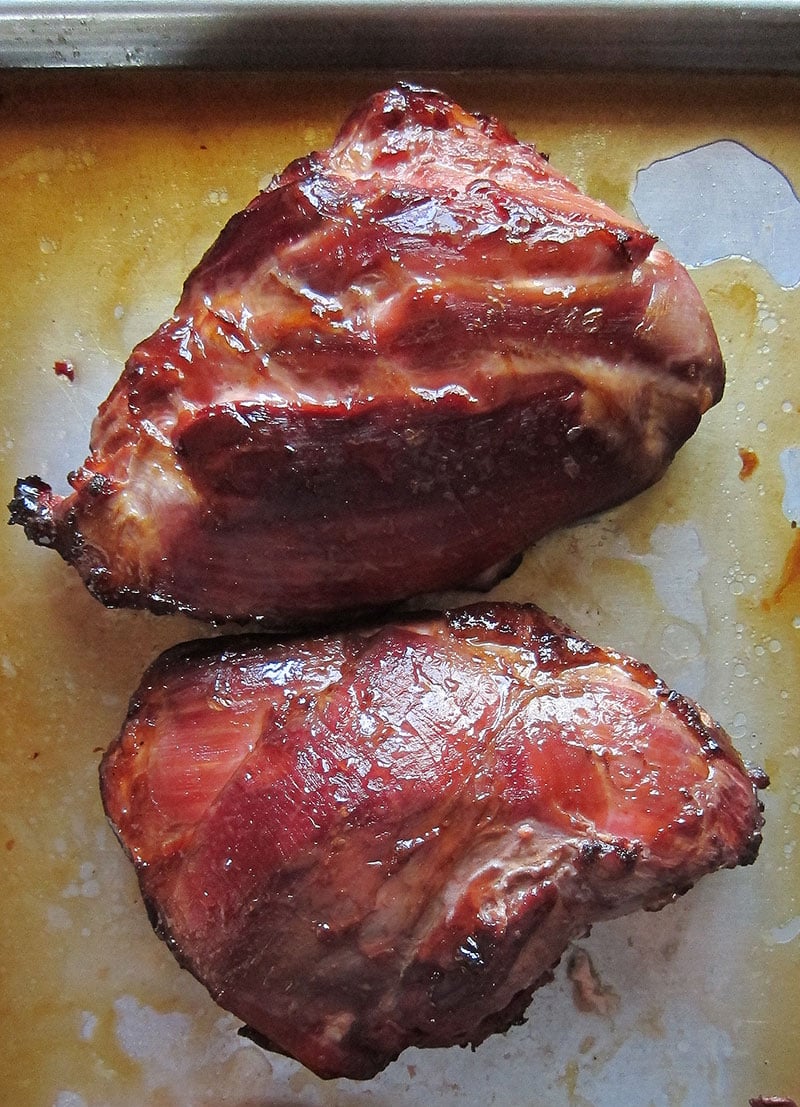 You will need to get your hands on curing salt for this recipe, otherwise it won't be a ham — the curing salt provides that rosy color and "ham" flavor you're looking for. I use Instacure No. 1, which you can buy online or in good butcher shops.
Also, this recipe requires time. Curing time and smoking time. Also, when the ham is ready, let it rest for a solid 15 minutes before you slice into it. It's actually just as good cold. Once made, your hams should keep for a week to 10 days in the fridge, and they freeze well if vacuum sealed or tightly wrapped.
If you feel like it, go ahead and stick cloves in the ham like you would with an Easter ham. I never did like this too much, so I didn't.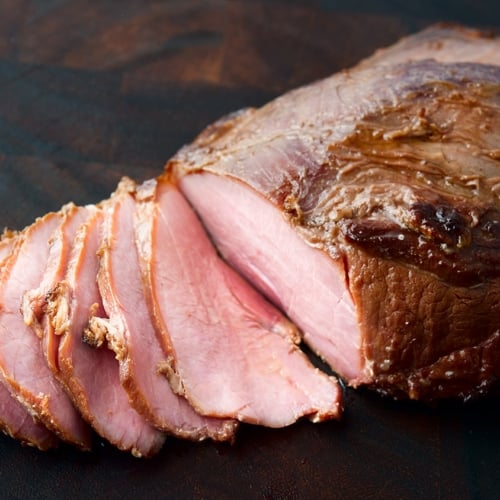 Honey Glazed Smoked Ham
I do this with the large muscle group on the back of the ham, which would be a rump roast in a cow or a culatello in Italian charcuterie. But the exact cut isn't as important as just a big ole' hunk of hind leg. I am using a wild pig here, but domesticated pork is fine, as would hams from a bear.
Ingredients
1

or 2 skinless hams,

each about 2 to 4 pounds

1/2

cup

kosher salt

1/2

cup

sugar

1

tablespoon

Instacure No. 1

1/2

cup

honey
Instructions
Mix the salt, curing salt, sugar and a half-gallon of water until the salt dissolves. Submerge the hams in the brine for 2 to 4 days in the fridge. The longer you brine the hams, the saltier they will be, and the rosier they will get from the cure. For 2 1/2-pound hams I cured for 48 hours and they came out very lightly cured, which I like. If you prefer a more traditional "ham-ier" flavor, go a bit longer.

When you are ready to smoke, take the hams out, pat them dry with paper towels and set them on a wire rack in a cool, breezy place. I put mine on the kitchen table under the ceiling fan with the window open. Let them sit there for 2 to 3 hours, so they can dry a bit and develop the pellicle that helps the surface of the hams take the smoke better. You can also leave them in the fridge uncovered overnight.

Smoke over your favorite wood (I used cherry) for 2 hours, getting the smoker's temperature up to 200°F in this time. Meanwhile, heat the honey in a little pot so it will flow better. At the 2-hour mark, paint the hams with the honey. Paint again every hour until you are done smoking.

You can finish the hams entirely in the smoker, painting with honey every hour until you get an internal temperature of 160°F to 175°F, or you can do what I do, which is to finish the ham in the oven. To do this, I move the hams from the smoker to a preheated 375°F oven, painting them with honey every 20 minutes. I like this better because the final hot temperatures fully cook the ham and the honey caramelizes nicely, which doesn't happen so well at the low temps of the smoker.

Let the hams cool for at least 15 minutes before slicing. Serve warm or cold.
Nutrition
Calories:
80
kcal
|
Carbohydrates:
20
g
|
Protein:
1
g
|
Fat:
1
g
|
Saturated Fat:
1
g
|
Cholesterol:
1
mg
|
Sodium:
4717
mg
|
Potassium:
13
mg
|
Fiber:
1
g
|
Sugar:
20
g
|
Vitamin C:
0.1
mg
|
Calcium:
4
mg
|
Iron:
0.1
mg
Nutrition information is automatically calculated, so should only be used as an approximation.