I am haunted by figs on a plate.
Chef David Chang's infamous crack on California cuisine — that it consists of little more than figs on a plate — has caused a great many chefs in this state to bristle and huff. Others, more clear-eyed, noted that why yes, our cooking here does indeed rely heavily on some of the greatest ingredients on the planet, and we do tend to treat things simply here. After all, if you happen have the best figs in the world, why not just serve them up on a platter?
The reason is because doing so can make you lazy as a cook. Chang has a point. I live in an area so entranced with the phrase "farm to fork" that it has practically become the city motto here in Sacramento. Now before all you farm-to-forkers get your panties in a bunch, know that I am not mocking you. I too love eating simply, and "Cal-Ital" (the fusion of California and Italian styles of cooking) is my default method of cooking. But it's been my experience that such abundance stifles innovation. When you can cook some kind of meat or fish or fruit or vegetable or mushroom at its peak every freakin' week of the year, which is the case in NorCal, many of us fall prey to the siren's song of, well, figs on a plate.
Scarcity, not abundance, fuels innovation. (Anyone who's ever watched Chopped or any sort of cooking competition where the cooks are limited in what they can use will see this.) Sure, exceptions to this exist here in NorCal, notably the cooks at Coi and Manresa in the Bay Area, at Meadowood in Napa, and probably a few others I am forgetting at the moment. But as I travel around the country, I find the hottest fires of creativity in the kitchens of the coldest, harshest climates. Fargo. Oklahoma City. Portland, Maine. Burlington, Vermont. Denver. St. Paul. Chicago. Any moderately talented cook can do seasonal and local well where you have lots of local farmers and a 12-month growing season. But try doing this in Madison, Wisconsin, with a growing season barely more than four months. Odessa Piper did just that in the 1970s at L'Etoile and kept it up for decades before retiring. Alice Waters gets all the credit, but Odessa had the tougher job.
You know who has an even tougher job cooking seasonal and local? The Scandinavians. That's why some of the most fascinating, creative food in the world is being put out by the great chefs of Iceland, Denmark, Sweden, Norway. What they all have in common is scarcity. Short growing seasons. An imperative to think hard about making good food when there is no sunlight and killing frosts that last for months.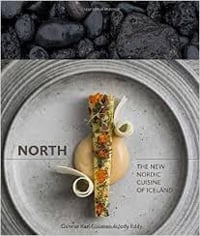 The Scandinavian chefs, Rene Redzepi of Denmark, Magnus Nilsson or Sweden and now Gunnar Gislason of Iceland, whose new cookbook North: The New Nordic Cuisine of Iceland is my current obsession, have all turned scarcity into abundance by expanding what is and is not considered food in their countries. Foraging, unloved fish and wild game are at the center of this movement. Through untold hours of experimentation and who-knows-how-many horrible failures, these chefs and those like them have done something few other cooks can claim: They've made original food, with tastes unknown before. This is remarkable, almost like inventing a new color.
And mind you, it's not all about "molecular" manipulation of ingredients. Yes, Redzepi's food relies on a lot of high technology — Thermomixes, Pacojets and immersion circulators, hydrocolloids, weird powders and such — but neither Nilsson nor Gislason's food does. They've turned more towards fermentation, salt curing, air-curing and pickling to work their magic. And once the spell is complete, the end result is often every bit as simple as the finest Cal-Ital dish: Instead of figs on a plate, it may be rakfisk (fermented trout) with a dollop of sour cream and a few fermented lingonberries on top. Three simple things on a plate, but each had a long journey to the table.
So, short of moving to North Dakota or Saskatchewan, how to do this here?
There are any number of answers. Partly it's a conscious decision to use more of every animal, fish or plant you bring into your kitchen. I did a dinner in San Francisco the other day with Chef Jordan Grosser of Stag Dining and he was using dried tomato skins as a garnish. Chef Billy Ngo of Sacramento's Kru makes chicharrons from sturgeon skin, a technique I've since adopted.
For me, though, the answer lies at the core of the New Nordic movement: Foraging, unloved fish and wild game. Working with these foods has become my life's work, and, much like Star Trek, my ongoing mission is to explore strange, new foods, and to go boldly where no one has gone before. More or less. Creating the scarcity that will (hopefully) breed creativity means, for me, to rely on those things in the wild world around me that make my little stretch of the planet unique.
On a lark, I drew up a map of the 100-mile radius around where I live; this distance seems to be the recognized limit for the locavore crowd. Ironically, it includes pretty much everywhere I frequently travel for foraging, fishing and hunting anyway. Drawing an even tighter circle gets me to a better starting point: The foods of the riverbanks of the American, Feather and Sacramento rivers, and of the Sierra Nevada up to Lake Tahoe. This is my home country.
What lives there? Deer and ducks and quail. Salmon and trout and striped bass, shad, sturgeon and steelhead. Jackrabbits and cottontails, doves and pigeons, squirrels and geese. Manzanita and madrone, elderberries and blackberries, mountain pennyroyal and coyote mint. Black walnuts. Sierra gooseberries. Morels, blewits, oyster mushrooms, porcini. Wild onions and fennel. Above all, acorns.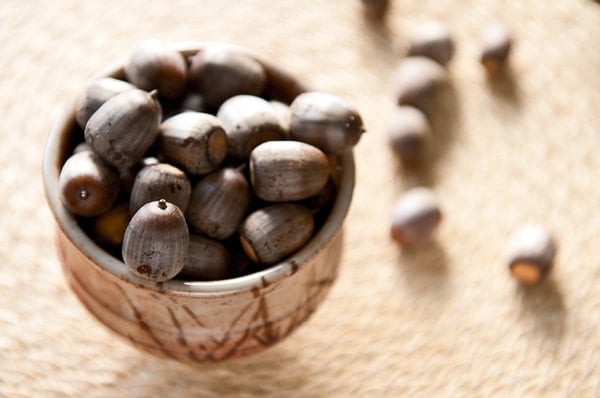 These are the foods I hope to explore in more and more detail. They are my wild staples, and even though I've written a whole book on ducks and have cooked with all of these ingredients for a decade or more, there is still so much untapped potential even in this small list. Can you ferment acorns in brine? What can you do with madrone bark? Just how much of a deer can I make delicious? Are there still new paths left to walk when it comes to cooking striped bass, a fish I've caught and eaten for 40 years? I intend to find out.
This path exists wherever you are. No matter what your climate or country, a host of wild foods lives around you, there are cultures to draw from and rabbit holes to scurry down into. Have fun. Experiment. Find new flavors, new ways to use familiar foods. Push harder.
Fear not, however, I am not asking anyone to abandon the simple, nor the calming wonder of fresh ingredients, cooked lightly and left to express themselves. A perfectly roasted beet is the equal of a perfectly ripe tomato, and a great chicken can be better than the best pheasant.
As for me, I remain in NorCal, a land of seductive plenty. It has become my home, a home where even the most restless soul must sometimes give in to the lure of a lush plate of perfect figs.