Roast Woodcock: A Dream Fulfilled
February 05, 2011 | Updated June 23, 2020
As an Amazon Associate I earn from qualifying purchases.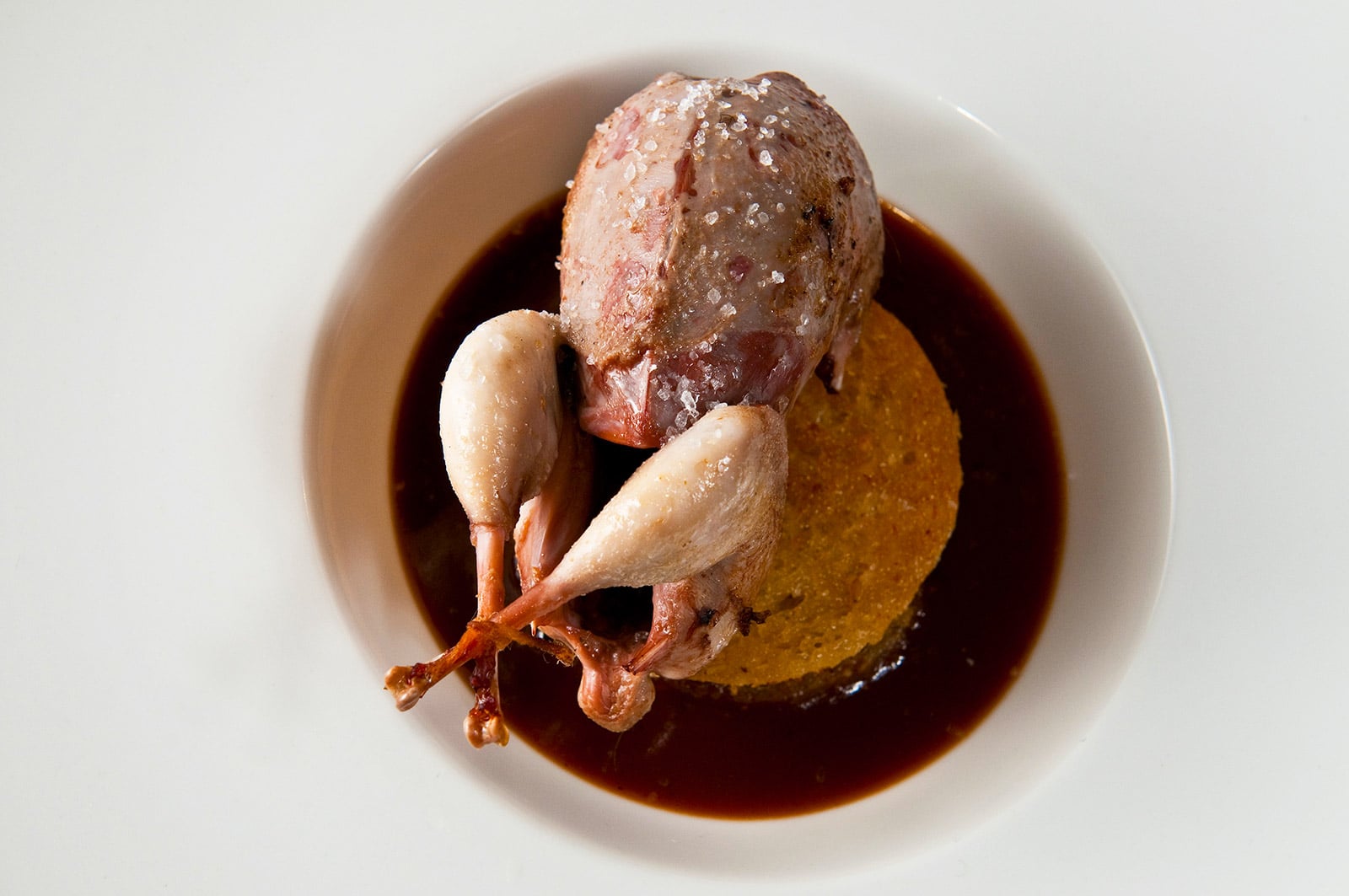 Ever since I started hunting I've wanted to chase the elusive, mystical woodcock, a bird so steeped in mythology it was once thought to spend its summers on the surface of the moon.
Timberdoodles, mud snipe, bog sucker, wood elf — all names for Scolopax minor, the lewdly named woodcock. OK, get your jokes out of the way. Lord knows I've told more than my share about this bird. But when you're done, you really ought to do everything in your power to actually eat one of these birds.
Many who have eaten them say that woodcock is the king of game birds, greater even than ruffed grouse or canvasback duck. The flavor of woodcock is strong, gamey-in-a-good-way, and like nothing else. Some say the earth moves when you bite into one that has been perfectly cooked: pink, and just a little bloody. That may be a bit much, but only a bit.
Woodcock do not live west of the Great Plains, so I am out of luck here in California. But when I hunt in the Upper Midwest I do everything I can to get out and chase these fantastic birds.
Unless you find yourself with lots of woodcock, which is a rare luxury, there is only one real way to cook these birds, and that is to roast them simply with Cumberland sauce. The Robber Barons loved roast woodcock, and if it was good enough for J.P. Morgan and his fellow Gilded Age tycoons, it was good enough for me.
First I cut rounds of spelt bread (I wanted something earthy and rustic to go with the game) and fried them in a little lard. Why lard? Why not? The birds then went in the oven. Fifteen minutes later they emerged. I salted them with fine Italian sea salt and let them rest thoroughly while I made the sauce.
Down went the sauce, then the toast, then the birds. It was all so simple.
First thing you notice when you are confronted by a roast woodcock is that it is an odd bird; the Indians say God made woodcock out of leftovers. Its breast meat is dark but its leg meat is light — the exact opposite of every other bird I know. Weird.
Roast woodcock is good by itself, but is pure magic when eaten with a little piece of crispy toast and a smear of the Cumberland sauce.
So this is how Rockefeller and Morgan felt as they ate their dinner! I felt an uncontrollable urge for either a very old Port or a Madeira from before the War. Which war I am not entirely certain.
It is a simple, heavenly meal.
Roast Woodcock
Count on two woodcock per person if you can spare it. One will whet an appetite, but leave you wanting for more. Be sure to preheat your oven fully before putting the birds in, otherwise you will crisp neither the bacon nor the woodcock's skin properly. Serve this with grilled polenta, over mashed potatoes, or toast.
Ingredients
2

to 4 whole woodcock,

plucked and gutted

1

tablespoon

lard or butter

2

slices

bacon,

cut in half

1

celery stalk

Fleur de sel or other finishing salt

1

recipe

Cumberland sauce
Instructions
Preheat the oven to 450°F. Most ovens will require a solid 30 minutes to get to this temperature. As the oven is heating, take the birds out of the fridge. If you want to truss the birds, tie some kitchen twine around their legs. It is traditional to leave the head on the woodcock and jam the beak through the legs to truss it. I think this is weird.

In an oven-proof frying pan, heat the lard over medium heat for a minute or two. Add the bacon pieces and fry until halfway done. Remove the bacon and set aside.

Add the woodcock and fry for 1 minute on each side -- don't fry the breast. Remove the birds and take the pan off the heat. Pour off all but a thin sheen of oil.

When the oven is good and hot, arrange the woodcock in the frying pan breast side up and use pieces of the celery stick to keep them from falling over. Lay a piece of bacon over the breast of each bird and cook in the oven for 6 minutes.

Remove the bacon, and continue cooking the birds for another 9 to 11 minutes. Remove from the oven and sprinkle with the fleur de sel. Let them rest on a cutting board as you make the

Cumberland sauce

.
Nutrition information is automatically calculated, so should only be used as an approximation.