Ricotta Gnudi
May 08, 2017 | Updated April 06, 2021
As an Amazon Associate I earn from qualifying purchases.
A few years ago, I finally got a chance to eat at Chef April Bloomfield's New York restaurant, the Spotted Pig, when I was in Manhattan for the James Beard Awards. Bloomfield is justifiably famous for her charcuterie and her way with pork, but she's also well-known for her take on an Italian ricotta gnudi.
What is a gnudi? Pronounced "nyoo-dee," the idea is that this is a naked raviolo, or to be more specific, just the filling of a raviolo. Only it's not, for obvious reasons.
If it were just the filling, there would be no way to cook them without the little dumplings falling apart. Some gnudi recipes mix a little flour in with the filling — usually ricotta cheese and other things — but then that becomes gnocchi, not gnudi. Still good, just different.
No, a proper gnudi recipe has a gossamer coating of semolina flour around the ricotta. How you achieve this is the trick.
Chef Bloomfield does it by submerging the dumplings in semolina flour for several days. Over time, the flour draws out moisture from the ricotta center, so the semolina sticks to it. Each day you rotate the dumplings and the semolina layer gets thicker.
You simmer them in salty water in a shallow pan — some recipes say ricotta gnudi will float to the surface when they are done. This is wrong, and a sign of an untested recipe. Simmer them for 90 seconds to 2 minutes, no more. This gelatinizes the flour and sets the coating.
After that, the sauce is up to you. Chef Bloomfield uses a zippy lemon butter and it's damn good. The overall effect is a rich (but not heavy) bite of seasoned ricotta and parmesan, countered by the brightness of the lemon butter. It is a mainstay of her menu for a reason.
So I had to make them when I got home.
Her gnudi recipe is persnickety — it involves piping out logs of filling, separating them and gently nudging them into shape. I found a much easier way: Wet your hands down with water and roll them into balls. Takes a lot less time than her method.
You will need to cure these dumplings in the fridge for several days, however. Two days is really not enough time, three or four is perfect, and at five days the coating gets a little too substantial.
As for a sauce, how can you go wrong in spring with ramps and spring porcini, our local Boletus rex-veris? Answer: You can't.
But feel free to vary the accompaniments. Roasted red peppers or fresh tomatoes in summer, preserved garlic and rapini in winter… you get the idea: Something bright and something rich in umami goodness to go with your homemade ricotta gnudi.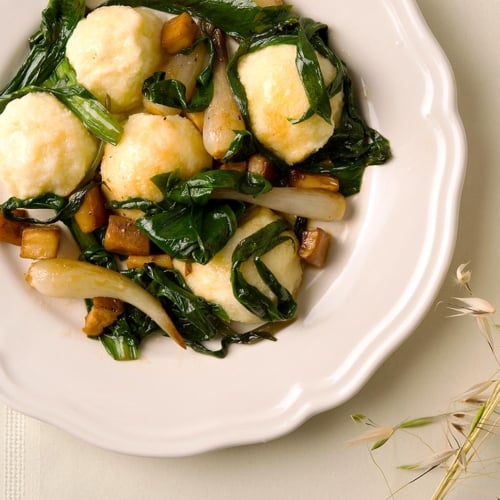 Ricotta Gnudi with Ramps and Porcini
This is a knockout of a dish and if you can do it as written you will thank me for it later. That said, here's how you can substitute: Use other wild onions or scallions for the ramps, or whole garlic cloves or small shallots. Use king trumpet mushrooms in place of porcini, or you can dice up large cremini or portobello mushrooms. Keep in mind that the gnudi can actually hang out in the fridge for up to 5 days with no problems, so you can make lots and eat them in several sittings.
Ingredients
1

pound

full-fat ricotta cheese

1/2

teaspoon

ground nutmeg

1/4

teaspoon

salt

2

ounces

finely grated parmesan cheese

1 1/2

pounds

semolina flour

3/4

to 1 pound porcini mushrooms,

diced

2

tablespoons

regular olive oil

1

pound

ramps

(greens and bulbs separated), greens roughly chopped

1/2

cup

chicken stock or other light stock

2

teaspoons

lemon juice

2

tablespoons

high-quality olive oil

Black pepper to taste
Instructions
GNUDI
To make the gnudi, put the ricotta in a bowl and mix in the nutmeg, salt and parmesan. Find yourself a lidded container that will hold all the gnudi and put about a 1/2 inch deep layer of semolina in it; this will be the bed for your gnudi. Put the rest of the semolina in a casserole dish. Set this all up near your sink.

Wet your hands and make little ricotta balls about the size of a walnut, or even a touch smaller. Roll the balls in the casserole dish full of semolina and then gently pick them up and nestle the balls in the lidded container. Sink them ever so gently into the 1/2 inch of semolina. Repeat with the rest of the ricotta. I find I need to rinse my hands about ever 3 or 4 ricotta balls.

When all the gnudi are made, bury them as best you can with all the semolina from the casserole dish. It's OK if they are not totally submerged. Cover the container and put it in the refrigerator.

Once a day for at least 3 days, pick up each gnudi, reshape it into a ball and replace it upside down -- i.e., the part that was facing down yesterday should face up today. What you are doing here is drying out the gnudi enough to boil, and you are slowly building up a gossamer shell of semolina flour.
TO FINISH
Fill a large, shallow pan -- like a frying pan with high sides -- with enough water to submerge the gnudi. Bring it to a boil and add some salt; the water should taste pleasantly salty. Turn the heat down to a simmer for now.

Put the ramp bulbs and the porcini dice in a saute pan and turn the heat to medium high. The porcini will soon begin to sizzle and release their water. When they do, sprinkle everything with a little salt. When the porcini have given up most of their water, add the 2 tablespoons of regular olive oil. Brown the porcini and ramp bulbs well, turning the dice so the porcini are evenly browned. When they are, remove the porcini to a paper towel to drain.

Add the chicken stock and half the lemon juice and bring to a boil. Add the ramp leaves and boil furiously for 2 to 3 minutes, until the sauce thickens. Turn the heat to low, just to keep things warm.

Turn the heat on the water pan to high. When it's boiling, use a slotted spoon to gently lower the gnudi into the water. Let them boil for about 15 seconds, then turn the heat down to a simmer, and cook them for another 90 seconds. Move them carefully to individual plates -- they're fragile.

Add the high quality olive oil to the saucepan along with black pepper and any more lemon juice or salt it might need. Swirl to combine and pour over the gnudi. Sprinkle the porcini dice over everyone's plate and serve at once.
Notes
Note that the prep time does not include the cure time for the gnudi in the fridge. 
Nutrition
Calories:
714
kcal
|
Carbohydrates:
97
g
|
Protein:
28
g
|
Fat:
23
g
|
Saturated Fat:
9
g
|
Cholesterol:
47
mg
|
Sodium:
312
mg
|
Potassium:
319
mg
|
Fiber:
6
g
|
Sugar:
3
g
|
Vitamin A:
1703
IU
|
Vitamin C:
10
mg
|
Calcium:
326
mg
|
Iron:
7
mg
Nutrition information is automatically calculated, so should only be used as an approximation.