How to Make Blood Sausage
March 16, 2009 | Updated August 01, 2022
As an Amazon Associate I earn from qualifying purchases.
If you want a blood sausage recipe that's approachable, this is the one. It is a Portuguese blood sausage that combines pork, pork fat and pork blood into a cohesive whole. I'll walk you through how to make it.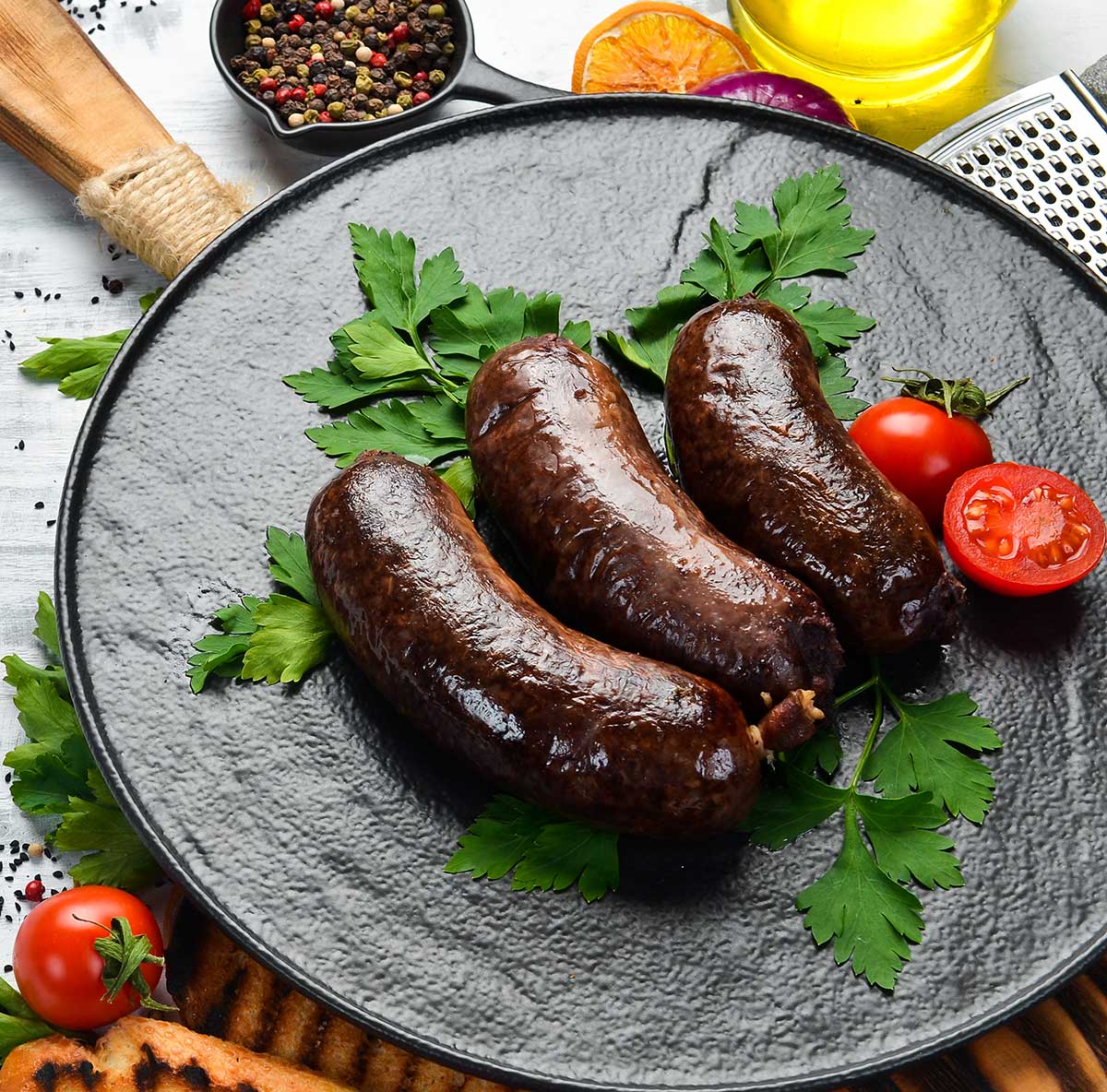 I'm from New Jersey, and much of what I learned about how to interact with others I learned from my stepfather Frank. Frank's main rule was, "always have favors you can collect on, and don't be afraid to do other people favors." I do something for you, you return the favor — scratching each other's back is a way of life. It's how I roll.
So some years ago, when I drove down to Galt to collect a few hundred pounds of Touriga Nacional wine grapes from a Portuguese grower named Ron Silva, I wasn't shocked when he told me not to worry about money. "No," he said. "Instead, show me how to make blood sausage." No problem, I said.
Blood sausage. Actually, Ron said "morcella." I knew what he meant, although I refer to it mentally by its Spanish name morcilla. My neighbor from Argentina calls it more-SEE-zhuh, my other neighbor from Italy calls it sanguinaccio. Go to Louisiana or France and it's boudin noir. But the first time I ate this odd delight was in South Africa, as part of a traditional English breakfast. And there it was stripped of any lyrical nicknames: The waiter called it "blood pudding."
I know how to make blood sausage, but until I developed this recipe I had limited success. Many versions are blood and seasonings and that's it — they are brutal to stuff into casings and were the source of failure whenever I'd been around the process in the past. Besides, to my palate, the blood-only sausages were a bit too cakey; more blood cake and less sausage. They have a weird mouthfeel.
I know. Many of you are saying to yourselves, blood. As an ingredient. In food that you'd eat. I know I glossed over it in the first few graphs of this post, but if you are still reading I thought I'd stop to tell you that first, there is quite a bit of nutrition in blood (especially iron and other minerals), and the addition of blood in a dish will make it seem fattier and richer than it really is.
(Pork blood also makes a great pasta, believe it or not!)
Pork blood will solidify and stay moist, while beef blood becomes crumbly and dry — one more reason why the pig is God's Gift. And blood is cheap, so if you are on a budget think about it. Finally, blood is also a spectacular binder, much like egg whites. Herein lies the secret to my morcilla.
My blood sausage is bound with blood rather than a pure blood sausage. It has pork shoulder and pork fat, parsley, onions and lots of ground bay leaves.
I woke up early on a Saturday, drove down to the Davis farmer's market and picked up some pork blood, as well as a big slab of pork shoulder. I was eager to repay Ron for the wine grapes — not because I wanted to get it over with, but because I enjoy the interplay of favors that my world once revolved around. This is a life bound more closely to other people than is that lived by those who follow the principle of "neither a borrower nor a lender be."
I also enjoy teaching others some of the more esoteric things I've learned in my travels. (Thus this blog.)
Incidentally, when you want to make blood sausage yourself, you will find the blood in Asian markets, usually frozen. Or ask a local butcher to get it for you. It might take a week or so, but you can definitely buy pork blood in the United States.
When Ron and his wife Kathy arrived, I learned that Ron is a total morcella hound. "Morcella, morcella, morcella," Kathy said. "When we were in the Azores, we'd go to Michelin-starred restaurants and he'd find the morcella."
I think Ron was hoping I'd make more than five pounds, as he is a hearty eater. But all my recipes are about five pounds, and blood sausage is so rich non-farmers typically can't eat too much at a sitting. But Ron was OK with it: I was teaching him to fish at the same time I was giving him some. At any rate, he watched the process intently.
Morcilla is an odd sausage to make. Instead of a solid bind that you want with a normal sausage, you pour in enough blood to make a loose slurry. It looks like the leftovers from a field hospital during the World War I.
At least the slurry is solid enough that I can use a regular sausage-stuffer to form the links, although you must tie off those links with string; they are too loose to hold if you just twist them like a regular sausage.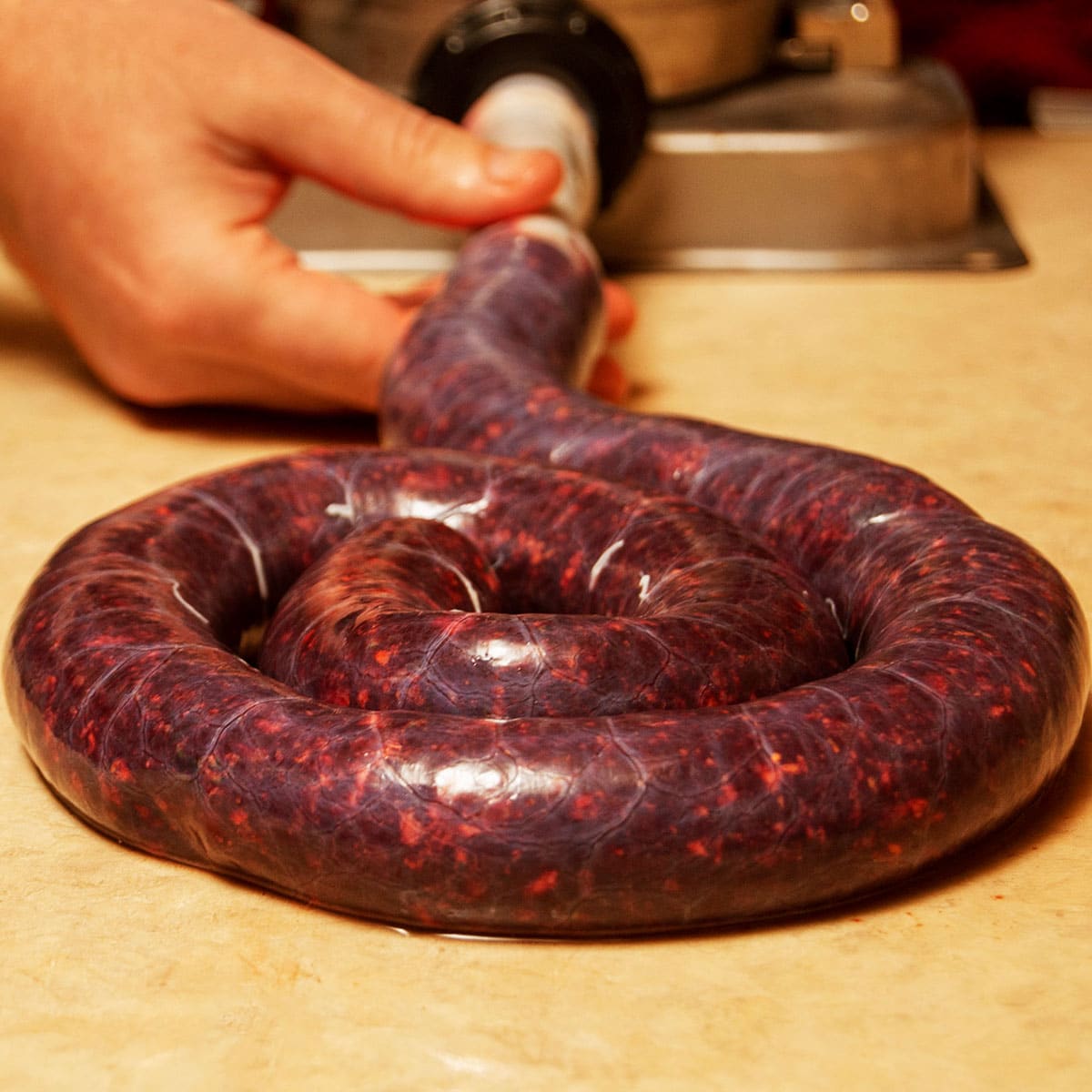 Another step you need to take is to poach the raw blood sausage in 170°F water. Not a simmer, and definitely not a boil (the blood will curdle. Ew.), but hot enough to solidify the blood to make a firm sausage.
After the poaching, you can then do what you want. I smoked mine over almond wood at 200°F for a couple hours, but you can then fry them, grill them, drop a few into a soup — whatever.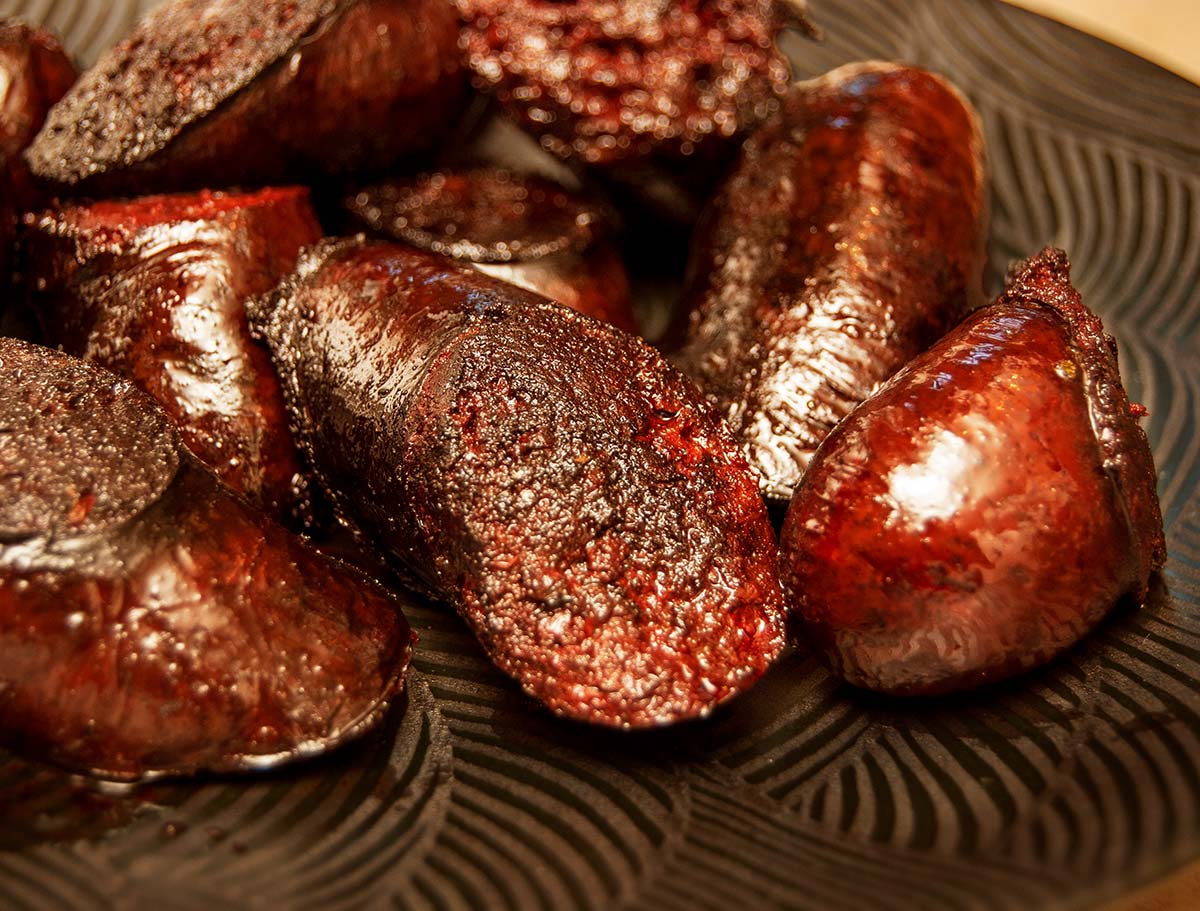 They are delicious: Softer than a regular sausage but still meaty, with a taste you can only really describe as "dark." You know there is blood in there, but you can also pick up the pork and onions and the bay leaves. The fresh parsley brightens the whole affair enough that you don't feel awkward eating them on a sunny day.
New to making sausage? You can find my detailed tutorial on how to make sausages at home here.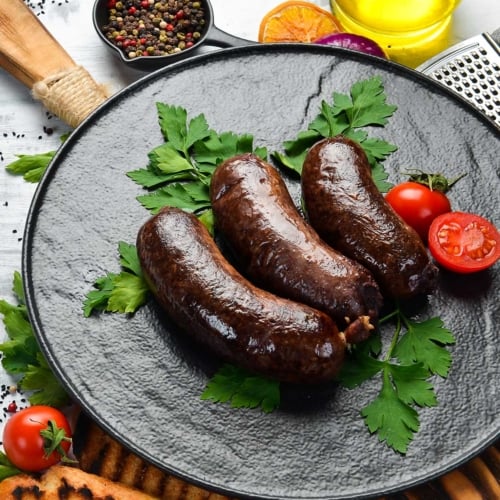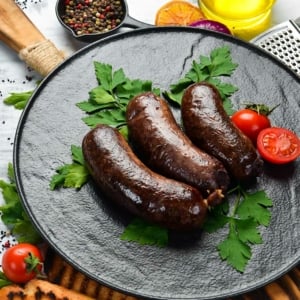 Portuguese Blood Sausage
Call it what you will, this is blood sausage. My blood sausage recipe is a hybrid of many, many recipes for Europe's versions, and is distinctive in that it is not a pure-blood product: I use quite a bit of pork here, and use the blood as a binder and flavoring agent. And yes, I use pork and pork blood.
Ingredients
1

quart

pork blood

(probably 1/2 gallon)

3

pounds

pork shoulder

1/2

pound

pork fat

2

cups

chopped onions

1/4

cup

duck fat or fresh lard

36

grams

kosher salt,

about 3 tablespoons

6

grams

Instacure No. 1, about 1/4 teaspoon

(optional)

10

grams

freshly ground black pepper,

about a tablespoon

6

grams

ground bay leaves,

about a tablespoon

1/2

cup

minced parsley

3

tablespoons

sweet paprika
Instructions
Freeze the pork fat. Cook the chopped onions in the duck fat or lard over medium-low heat until they are caramelized, about 15 to 20 minutes. Remove and cool them. I do this step the day before.

Mix both salts, and the pepper, parsley, bay leaves and paprika. Cut the pork and fat into chunks and coat everything with the spice mix.

Chill everything: bowls, grinder parts, sausage stuffer parts, and especially the meat, fat and blood. I put everything in the freezer for a few hours. You are looking for temperatures close to freezing.

Take the hog casings out and put what you need in a bowl of warm water. Depending on their width, you'll need 10 to 20 feet worth. Many places sell casings specifically to make 5-pound batches. Be sure to drape the end of each casing over the side of the bowl so you can find it later.

Using the coarse die (6.5 mm), grind the meat and fat. If you wish, you can run everything a second time through a fine die. I don't. Make sure the meat and fat are at no warmer than 35°F when you grind. Put the meat and fat into the freezer and clean up.

Fill the largest pot you own with water and heat it to steaming, but not boiling. Ideally you want something like 170°F.

Meanwhile, attach the paddle to your KitchenAid or other mixer, or, alternately, get a stout wooden spoon. Take the meat and fat mixture out and add the cooked onions. Pour in about a pint of blood. Stir on Level 1 on the mixer or with the wooden spoon. Add some more blood as you go; it's not an exact science. You want a loose slurry that is quasi-emulsified — a consistency like pancake batter. When it is the consistency you want, put the mix back in the fridge and clean up. Get your sausage-stuffer ready and thread a hog casing onto it.

Pour the mix into the sausage stuffer and begin making your sausages. Make the whole coil before you tie them into links. This is a little tricky, and it helps to have a second person help. You need to tie off blood sausage with twine because it is very loose inside and twisted links will fall out. Repeat until you are done with all the sausage. Get the largest bowl you own and fill it 2/3 of the way up with ice and water.

If you have some wooden dowels, use them to gently lower the sausages into the pot of hot water. Do one at a time. Let the sausages poach for 15 minutes and then place them in the ice water. When the sausages are cool, remove them gently and hang them to dry out for an hour or so. You can now smoke them, or cook in any way you'd like.
Notes
To make this recipe you will need hog casings (also easily available at a butcher shop, or even at a supermarket that makes it own sausages), and lots of onions, slowly cooked and cooled beforehand. 
Nutrition
Calories:
198
kcal
|
Carbohydrates:
3
g
|
Protein:
9
g
|
Fat:
17
g
|
Saturated Fat:
6
g
|
Cholesterol:
41
mg
|
Sodium:
732
mg
|
Potassium:
204
mg
|
Fiber:
1
g
|
Sugar:
1
g
|
Vitamin A:
665
IU
|
Vitamin C:
3.6
mg
|
Calcium:
19
mg
|
Iron:
1
mg
Nutrition information is automatically calculated, so should only be used as an approximation.