Pheasant Stew
December 27, 2018 | Updated June 16, 2020
As an Amazon Associate I earn from qualifying purchases.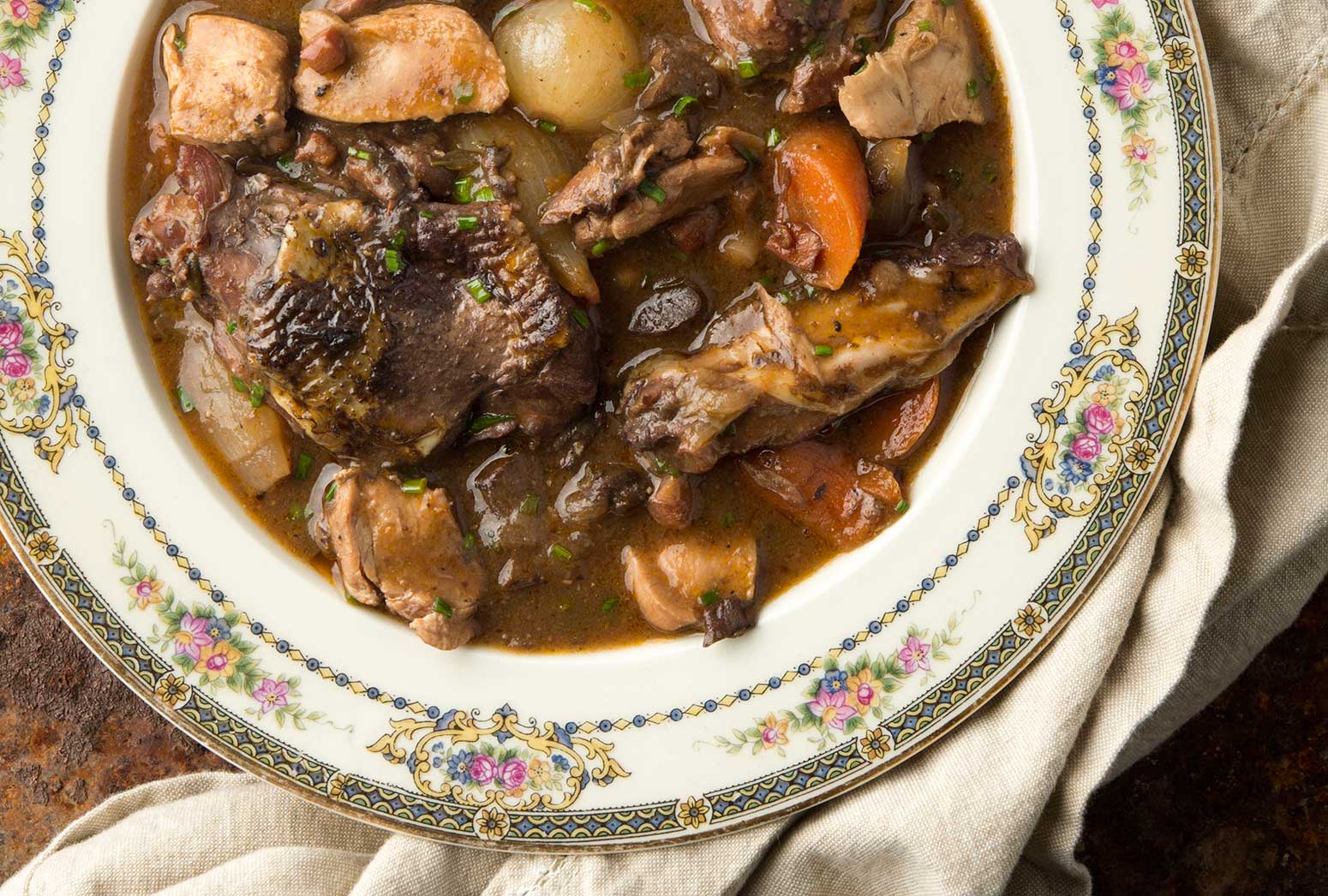 When you decide to make pheasant stew you can go in any number of different directions. But you might as well go classic French and make your pheasant stew a real-deal coq au vin.
Coq au vin simply means "rooster in wine," and it has historically been made with an old, usually troublesome rooster chicken. And when I say historically I mean it: This recipe has been around since Roman times.
Most people make coq au vin with a store-bought chicken, and this is OK, but nothing like the real dish, which needs an old bird. A stewing hen is a good option for non-hunters, but a pheasant is better. After all, it's a rooster, a coq.
Yes, you can make this stew all at once, but it's better if you marinate the bird in de-alcoholized wine for a day or three. What's that mean? Wine you bring to a simmer, then cool. Why bother? Fully alcoholic wine as a marinade can impart a weird, tinny flavor to the meat. It's not so huge that you'll hate your pheasant stew if you don't do this, but it is noticeable enough to make the extra effort worth it.
What wine? Something you'd drink on a Tuesday, which is to say decent enough to drink, but not that $100 bottle of Châteauneuf du pape you have hidden in the cellar.
What if you don't have a pheasant? Any white meat works. I've use grouse of various species, partridges, rabbits, even quail. Wild turkey would be OK, too, as would the aforementioned stewing hen, which if you're looking are best bought in Latin markets.
This pheasant stew, unlike some of my other recipes on this site, is easy-peasy to make and needs only your time to be wonderful. Be warned: If you are actually using really old chicken roosters, as I've done before, they can take a powerful long time to get tender. I once made this with a five-year-old chicken rooster that took nearly 7 hours to get tender. Your pheasant should take about 3 hours.
And keep in mind this is a hearty stew, where the broth is cooked down to make a sort of hybrid broth/sauce. Serve it in shallow bowls.
Serve your coq au vin with a nice red wine, crusty bread, maybe a salad.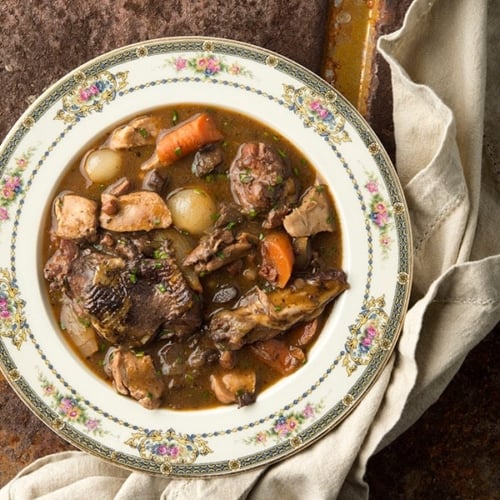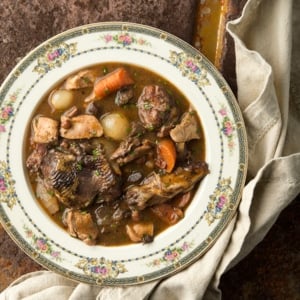 Pheasant Stew
This is a simple pheasant stew based on the French coq au vin, which means rooster in wine. Make it on a lazy weekend day in winter. Serve with more wine, lots of crusty bread and a big green salad.
Ingredients
1 or 2

whole pheasants, skin-on or skinless

1/3

pound

diced bacon

1

pound

mushrooms

1

large sweet onion,

sliced thick

2

large carrots, sliced into coins about the thickness of your pinky finger

1

head garlic,

cloves peeled but whole

2

tablespoons

flour

Salt

Black pepper

1

tablespoon

dried thyme

2

bay leaves

2

tablespoons

fresh parsley,

minced fine

1

bottle decent red wine,

something you would drink

½

cup

brandy

Pheasant or chicken broth
Instructions
Marinate the pheasant in wine, bay leaves, and thyme for a day or two in the refrigerator.

When you're ready to cook, cook the bacon over low heat in a heavy, oven-proof pot, ideally a brazier or a Dutch oven. When it's crispy, remove the bacon with a slotted spoon. Turn the heat up to medium.

Pat the pheasant pieces dry and brown them in the bacon fat. Take your time, and do this slowly but surely. It could take 15 minutes. Remove pheasant pieces to a bowl as they brown.

Brown the onion and mushrooms. Once they're just turning color, add the carrots and garlic. Cook another 2 minutes.

Sprinkle the flour over everything and stir to combine. Cook this, stirring often, until the raw-flour taste cooks away, about 10 minutes.

Pour in the brandy, and stir it in to incorporate. The stew will become very thick. Add the wine from the marinade, and stir that in, too. Return the pheasant to the pot, along with any juices that accumulated. If you need it, add enough broth to cover everything by an inch or so. Stir in the herbs and add salt to taste.

Bring to a boil over high heat, then reduce heat to a gentle simmer. Cook for at least 90 minutes, then start checking to see if the leg/thighs are tender. You want them almost to the point of falling off the bone.

When the meat is tender, remove it, along with the mushrooms and onions, and put them in a bowl. Put foil over them to keep them warm.

Turn heat up to high in the pot. Boil down the liquid by half or until it thickens to the point of being a sauce or loose gravy. I like to put everything through a food mill's medium plate for a smooth and silky sauce, but that's not strictly necessary. You could strain it to get the loose bits out if you wanted.

Return the vegetables and meat to the sauce and serve at once.
Nutrition
Calories:
434
kcal
|
Carbohydrates:
15
g
|
Protein:
17
g
|
Fat:
19
g
|
Saturated Fat:
6
g
|
Cholesterol:
60
mg
|
Sodium:
231
mg
|
Potassium:
538
mg
|
Fiber:
2
g
|
Sugar:
5
g
|
Vitamin A:
3625
IU
|
Vitamin C:
9
mg
|
Calcium:
41
mg
|
Iron:
2
mg
Nutrition information is automatically calculated, so should only be used as an approximation.