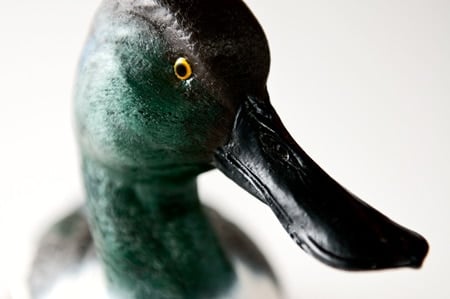 Most of us loathe the sight of snobbery and the whiff of arrogance. Myself included. But these are character flaws that seep in slowly, often unnoticed. We can become what we hate without even knowing it — until, if we are lucky, we get just the slap in the face we need to return to a proper state of humility.
I got lucky Wednesday afternoon. when I was slapped upside the heat repeatedly. The agent of my transformation? The Spoonie Gods.
Yes, the Spoonie Gods, the mysterious force behind one of California's most common ducks. What the hell is a spoonie, you ask? To scientists, it is Anas clypeata. To birders, it is a Northern Shoveller. But hunters have other names for them: Spoon, spoonie, spoonbill, pimp duck, Hollywood, spooner, spoontang, schpoon-a-licious, and, my favorite, "neighbor's mallard."  When your non-duck hunting neighbors want some of your ducks, you give them a spoonie, which looks enough like a mallard to pass as one for the unobservant.
Now, as you may have guessed from the names, the spoonie is an unloved duck — even more unloved than the ruddy duck I wrote about last month. But unlike the ruddy, Mr. Spoon's bad reputation is largely deserved.
According to Frank Bellrose's Ducks, Geese and Swans of North America, shovellers have "the most unusual feeding habits of any duck." They often filter-feed either algae or zooplankton on the surface, and about a fourth of their diet consists of bugs and snails. "They are also prone to gather in sizable numbers in sewage ponds," Bellrose writes.
[on_ad]
[/one_ad]
This diet makes the spoonie is a rank, weird-tasting duck that really isn't worth shooting in every area of California I've hunted. Every area save one: North of Sacramento, in and around the vast rice fields. There Mr. Spoonie switches over to a diet of mostly rice and other seeds, which makes him taste, well, not bad. Not bad at all.
Shovellers are pretty, too, arguably as pretty as a wood duck and far flashier than a mallard or pintail. Holly has taken to shooting some really excellent photos of waterfowl feathers lately, and the spoonie images are especially cool. This one is from the wings:
For most of our duck hunting careers, Holly and I happily shot spoonies in the Sacramento Valley, and they ate just fine. But slowly, as I grew to be a better shot and began to kill more and more ducks each season, I started passing on spoonies. This season I shot maybe four in the whole year — all either accidents or birds I intended to give to others.
I had become, in the vernacular, a duck snob.
Flash forward to Wednesday. My friend David and I headed out to the Delevan National Wildlife Refuge for the final Wednesday hunt of the year. Coming into the morning I had shot a colossal 69 ducks this season, far more than I'd ever shot before. We've been eating duck 3-4 times a week this year, and I've been lucky enough to be able to give away lots of birds to my non-hunting friends. I wanted my 70th duck to be special.
And not a spoonie. So David and I set up in a pond in the deep fog and waited. For a while, no birds flew. Then, as the sky lightened just a bit, the spoonies began flying. David, who is most definitely not a duck snob, began shooting them right and left, and in no time he had four piled up. I saw my share, but pulled off on them.
"Not going to shoot spoons," I thought. I'll just wait for "better" birds.
It was at that moment the Spoonie Gods heard me, and they were not amused. Here I was, the guy who had been telling anyone who would listen that shovellers shot in and around the rice fields tasted fine, yet I was spurning the gift they were sending me? No, the gods were not amused at all.
They expressed their displeasure to Artemis, Goddess of the Hunt. All the various Duck Gods report to her. Artemis knows me as the boyfriend of Holly, who had her own run-in with the goddess earlier this season. All Artemis needed to do was wave her hand, and it was done.
Hours went by, and spoonie after spoonie flew within shooting range. And still I passed on them. David was close to his seven-bird limit already, with five spoonies, a teal and a snow goose. Me? Nada.
Finally, I looked at my watch: 12:30 p.m. We'd been hunting for five and a half hours. The fog had given way to bright sunshine and warm temperatures. It was still. Terrible duck hunting weather.
"OK, maybe I'll shoot a couple spoons, just to get on the board," I thought.
Artemis smiled, and waved her hand once more.
Just like that, no spoonie would fly near me. For nearly an hour I sat in the reeds, contemplating my hubris. How could I have been so arrogant? Who the hell was I, really, to be such a snob? David has been hunting far longer than I have, and he had no problem killing spoons. OK, Artemis. You win. I apologize.
Literally five minutes later a squadron of six spoonies roared out of the clouds and swung around my patch of reeds. I was electrified, ready to shoot. But alas, they all swung just outside gun range. I think I could just barely glimpse them all — in unison — flipping me the feather. Sigh. Oh boy,  I see how it's going to be now…
Ten minutes went by and a lone drake spoon swung through, this time in shotgun range. BOOM! BOOM! Damn it! I missed, shooting behind the bird. I began eyeing David with bad intent; I might need a human sacrifice to Artemis in order to get my mojo back. But David's life was spared by a pair of — yes, again — drake spoonies that roared in, just in time.
It was a perfect gimme shot — what's more, both drakes were crossing each other, so I might even be able to kill both! But just as I pulled the trigger, one blocked the other. He fell, stone dead. The other flew off unharmed.
"Thank God!!" I shouted. I'd never been so happy in my life to shoot a spoonie. I looked at my watch: 1:35 p.m. That is a looong time to hunt before getting a bird. So my 70th duck was a spoon after all. So be it.
Spoonie Gods appeased, Artemis released me from her power. Another drake spoonie zoomed in 15 minutes later, and I killed that one, too. And then, just to show she is a merciful goddess, Artemis sent a pair of pintails our way — pintails are the finest-eating birds in California, always fat and always clean-tasting. I eyed the drake, pulled the trigger, and folded the bird, which was dead on the water. I picked it up, and it was a toad, easily three pounds, which is enormous for this bird. Thank you!
I did not shoot another duck that day, but that was fine by me. I learned my lesson: The next time the Spoonie Gods send an endless stream of birds my way, I will not be so haughty. No, I will shoot what I can, and eat them proudly.