UPDATE: Holy crap you guys! I've sold out of signed copies ALREADY! Looks like I need to get on a flight to Michigan soon. I should have more signed copies by December 5 or so. If you don't need a signed copy, order anyway and send me a note when you get the order confirmation. 
I haven't said anything about my latest troubles in this space, but if you've been following me on social media, you know: Amazon has pulled a fast one on me.
Ever since that fantastic Kickstarter campaign in the fall of 2015, I've been able to free myself from the bonds of legacy publishers and produce my own books. The result? Better books. I no longer have to listen to some corporate bean counter telling me how long my books should be, or how many photos or recipes to include or what should be in those recipes. Consequently, Buck, Buck, Moose and Pheasant, Quail, Cottontail are larger, with more photos and recipes, than any of my books published by legacy publishers.
It's been a wild ride. Being an author is like being a line cook in a restaurant. Being an author and the publisher is like being a line cook in a restaurant you own. The learning curve's been steep, but I'd settled into a nice groove.
Until October.
The way business had worked for me is that Amazon.com would send me an order every week. I'd send them books and they'd sell them. Yes, I didn't make as much money per book in this arrangement as I would if you were to buy a book directly from me, but Amazon made up for it in volume.
Along the way, I'd also contracted with a big distributor to ensure that my books would be available wherever books are sold. They too took a big cut — actually an even bigger cut than Amazon, but I viewed this as a fair trade for what is admittedly a smaller piece of my business.
Until Amazon decided it was going to buy my books not from me, but from my distributor. No explanation given. What this means is that Amazon's business move will cost me tens of thousands of dollars in revenue. (Keep in mind revenue is not profit. Believe me, I am not getting rich off all this.)
In my world, this is a ton of money. So much that it threatens my livelihood. And firing the distributor would be cutting off my nose to spite my face. What to do?
Sell direct.
The more I thought about it, the more sense it made. Just as its foolish to put all your retirement funds in one place, it's foolish to hinge your livelihood on one marketplace. After all, Amazon does what's best for Amazon, not for small businesses like mine. I'd done that, and now I am paying the price.
Thinking through the math, it occurred to me that selling directly to you can be a win for both of us. I earn more per book, and I can offer you a discount off the cover price of the books.
That means I'll be selling my latest two books for $5 off cover price, which comes to $25 for Buck, Buck, Moose and $28 for Pheasant, Quail, Cottontail. Why is PQC more expensive? It's bigger, at 336 pages, than BBM, which is 304. These are comparable prices to Amazon, although I can't offer free shipping.
So in lieu of that, I am going to offer signed books. I have a limited number of them now in my warehouse in Michigan, and when I run out I will fly there to sign more books. Keep in mind these books will be signed, but not personalized — that's just too much for me to do — although I am always happy to personalize your books whenever we see each other on the road.
I have been immensely grateful for your support for more than a decade of writing Hunter Angler Gardener Cook. Now I need it as much, if not more, than ever.
Please, if you can, buy my books from me, not some faceless corporation. If you can't because you really need the book in a day or two, then I understand. And since I am not the publisher of Duck, Duck, Goose and Hunt, Gather, Cook, feel free to buy those two books in whatever market you prefer.
Here's more information on Buck, Buck, Moose: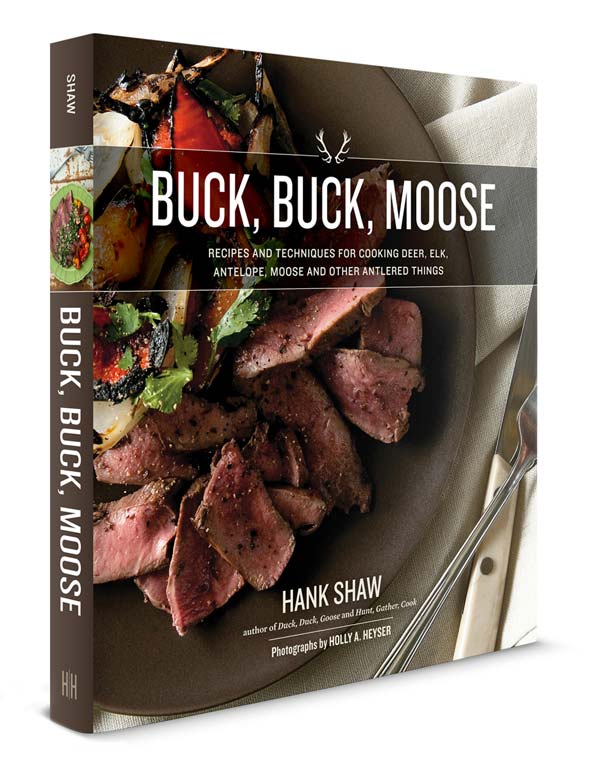 And here is more information about Pheasant, Quail, Cottontail: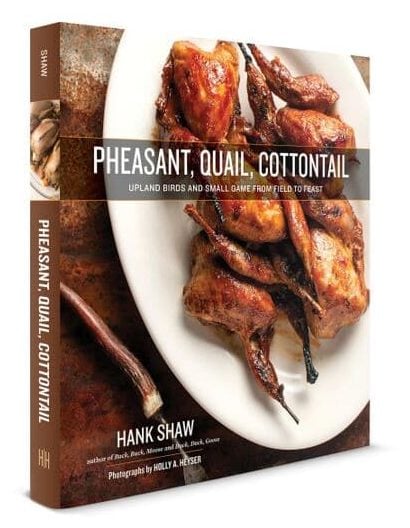 And this is the secure order form for both.
I've said it before and I'll say it again: 100,000 thank yous to everyone! I couldn't do this without you.
~ Hank