Wild Green Onion Kimchi
April 11, 2013 | Updated March 13, 2021
As an Amazon Associate I earn from qualifying purchases.
Korean green onion kimchi might be my favorite variety of this powerfully flavored condiment/vegetable.
And for a wild foods guy like myself, making green onion kimchi couldn't be easier considering how many wild onions grow all over the country.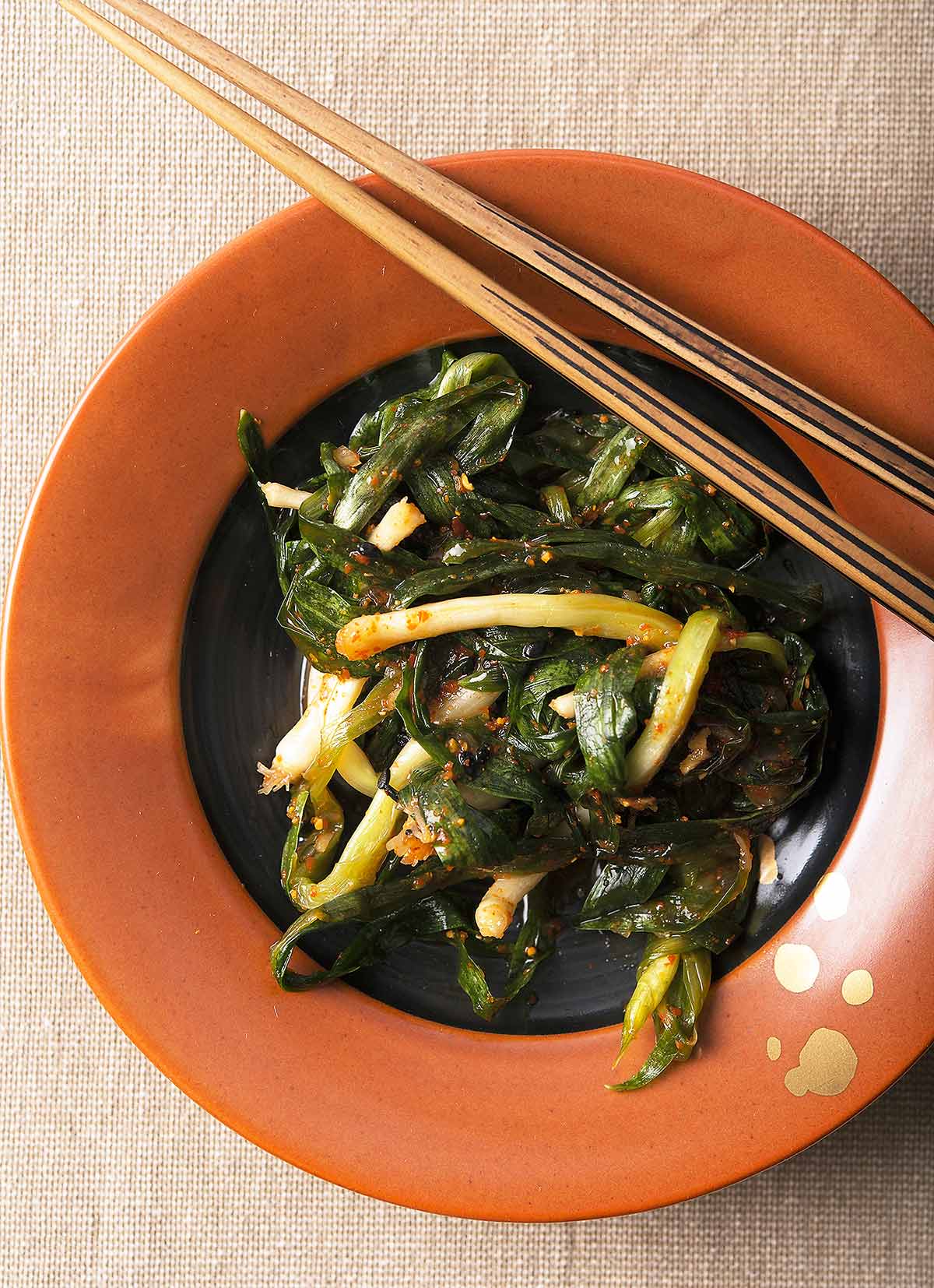 I'd always been a little nervous about making kimchi, which is to Korea what sauerkraut is to Germany. Kimchi, if you've never eaten it, is essentially the national dish of Korea, is eaten with everything and comes in myriad forms.
Every Korean I've ever met is a self-described authority on kimchi, much the way Italians are with pasta or the way New Jerseyans and New Yorkers are with pizza and bagels.
So it was with great trepidation that I served my friend Helen Lee some of my homemade green onion kimchi some months ago. When she ate it, her eyes widened. "Wow! This is really good! It actually has the kimchi aftertaste!"
Helen explained that good kimchi is fermented for quite a long time, and it develops a particular aftertaste, as well as a slight fizziness from the ferment. This is what separates "real" kimchi from kimchi-flavored crap, she said.
Buoyed by Helen's vote of confidence, I made more kimchi. What is it, you ask? Well, it is a vegetable of some sort — usually cabbage, daikon or green onions — fermented with salt, soy or fish sauce, garlic, ginger and LOTS of chiles. It sits around for anything from a few days to a year, melding flavors and generally doing its microbial thing.
When you eat it, kimchi is a nuclear bomb of flavor. Pungent, picante and powerful all at once. A little goes a long way. Unless you are Korean, in which case you can eat tubs of the stuff.
I like green onion kimchi next to bland foods like steamed rice, simply cooked meat and fish — especially bass and catfish — and in kimchi dumplings. It's really good with bulgogi, that other national dish of Korea, too.
Koreans use scallions or other green onions, which you can of course use, but I prefer to use wild onions like ramps, the Sierra wild onions we get at high elevations, or three-cornered leeks, which are an invasive species around these parts.
Everyone reading this has some sort of wild onion living near you, so give this recipe a go this spring. It will be ready right when you break out the grill.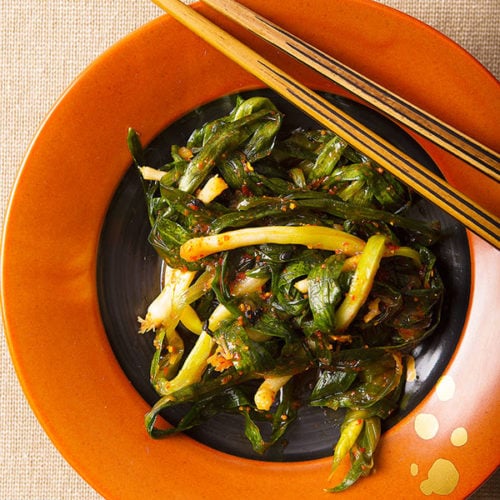 Wild Green Onion Kimchi
This is a traditional style of Korean kimchi, made with green onions. It really doesn't matter what kind you use: Scallions, green onions, ramps, or in my case, Allium triquetrum, the three-cornered leek. This is a fermented pickle, with no vinegar, so you need to follow the instructions closely when it comes to salt, or in this case fish sauce. You can use soy sauce in place of fish sauce, but it won't be the same. The salt level kills most spoilage bacteria while letting the good bacteria thrive. You literally want to see a little bit of fizzy action going on with this kimchi when it's ready.
Ingredients
1 1/2

pounds

green onions

1

cup

kosher salt

6

cups

water,

divided

2

tablespoons

rice flour

1/2

cup

fish sauce

1/4

to 1/2 cup cayenne or Korean chile powder

2

tablespoons

sugar

1

tablespoon

sesame seeds

3

tablespoons

minced garlic

2

tablespoons

minced ginger
Instructions
Make sure all the green onions are clean. If the tops have not been trimmed, cut off about 1 to 2 inches of the top green part, which is very stringy. Dissolve the kosher salt into 5 cups of water. Soak the green onions in the water for 1 hour.

Meanwhile, bring the other cup of water to a boil and whisk in the rice flour. Turn off the heat and keep stirring until the flour is totally incorporated into the water. Let this cool while the onions soak.

When the rice flour mixture is cool, mix in the remaining ingredients and put everything in a very large bowl or a rimmed baking sheet.

Take each onion and, if you want, wrap the green end around the white part to make each onion more compact; most Korean recipes do this. Alternatively, you can chop them coarsely.

Put on some latex or rubber gloves if you have them, because you're gonna get messy. Mix the onions with the spice mixture so they are completely coated, then cram them into quart Mason jars. Leave about 3 to 4 inches headspace. You can take your gloves off now. Find a smaller jar or some sort of clean weight -- I used narrow jelly jars -- and fill it with water. Use this smaller jar to weigh down the kimchi in the Mason jar so it is totally submerged. Let these jars sit in a cool, dark place (cool room temperature is perfect) for at least 3 days, and up to 2 weeks.

To store, remove the smaller jars and redistribute the kimchi into wide-mouth pint jars. Cap and refrigerate for up to 6 months.
Notes
Storing it in the fridge radically slows the fermentation, and once made this kimchi will keep for months. Just be sure to eat some every few weeks -- or at least open the lid. Pressure will slowly build up in the jar, and you will need to relieve that. Serve the kimchi alongside mild meats such as fish or chicken, or as a condiment with rice or other foods. It's also good minced and stuck inside a dumpling.
Nutrition
Calories:
125
kcal
|
Carbohydrates:
26
g
|
Protein:
6
g
|
Fat:
1
g
|
Saturated Fat:
1
g
|
Sodium:
30617
mg
|
Potassium:
601
mg
|
Fiber:
5
g
|
Sugar:
11
g
|
Vitamin A:
1722
IU
|
Vitamin C:
34
mg
|
Calcium:
193
mg
|
Iron:
3
mg
Nutrition information is automatically calculated, so should only be used as an approximation.