Kabanos, the World's Greatest Slim Jim
February 04, 2013 | Updated June 06, 2022
As an Amazon Associate I earn from qualifying purchases.
I must confess I'd never heard of kabanos until about eight years ago, I started looking for a superior sausage recipe that used sheep casings. I'd never really used sheep casings before, but I like the idea of narrow, easy-to-eat sausages and salami.
Think Slim Jim, but several orders of magnitude better.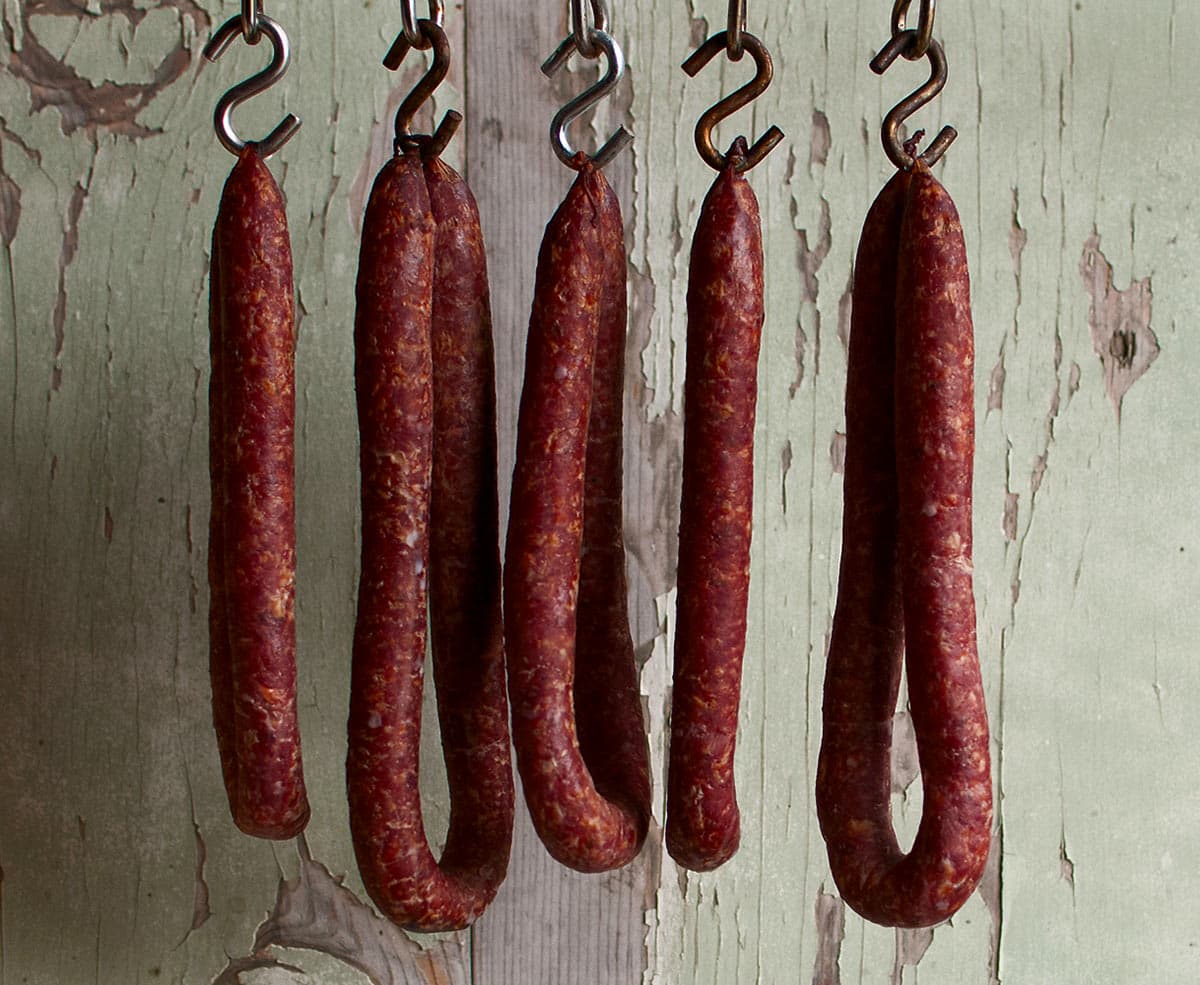 My first impulse was to make cantimpalitos, the skinny little chorizo sticks from Spain that are to canned Vienna sausages what God is to a lump of mud. I will make these, by the way, but later.
I'd been making a lot of paprika-heavy sausages lately, so I decided to go with something less aggressively spiced. That's when I read about this Polish kabanos recipe in one of the finest charcuterie books ever written, Home Production of Quality Meats and Sausages by the Marianski Brothers.
Kabanos, pronounced Kah-bah-NOSS so far as I can tell, is what a Slim Jim dreams about becoming when it grows up. It is fairly lightly spiced with garlic, nutmeg, black pepper and a hint of caraway, smoked over cherry, apple or beech wood, then hung for a few days to dry. Kabanosy is the plural of the word.
It is an unusual sausage because even though it's air dried, you don't use starter cultures or Instacure No. 2. The drying process is too short for that. (Two other great recipes with short drying time are stångkorv, a Swedish breakfast sausage, and landjaeger, a German dry-cured sausage perfect for taking on a hunt.)
Traditionally, kabanos is a pork sausage, but really any meat works: Pork, beef, wild hogs, bear, venison, duck or goose, whatever. Kosher versions use chicken or turkey. I used venison, cut with pork fat.
Make LOTS of these, as you will find yourself eating them uncontrollably. Once made, kabanos will keep in the fridge for a couple weeks or so, and after you vacuum-seal them or wrap them tightly, they will freeze for up to a year without loss of quality.
If you can't find sheep casings where you live, you can buy sheep casings online from The Sausage Maker.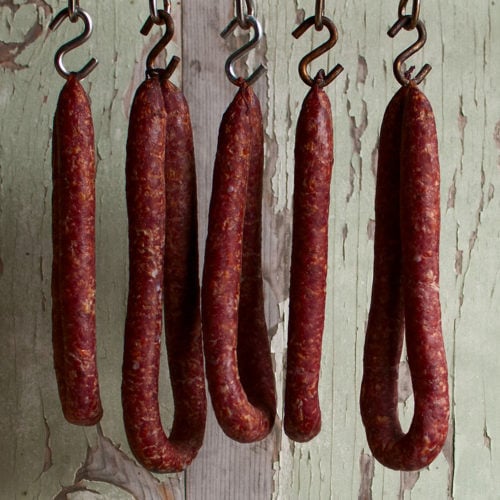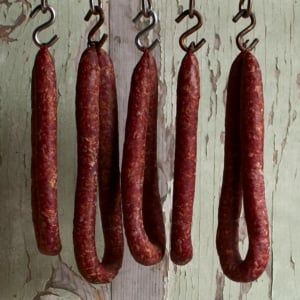 Kabanos, Polish Smoked Meat Stick
To make a proper kabanosy, you will need sheep casings. Many butcher shops have them, but they are harder to find than the regular hog casings. You can also buy sheep casings online. In addition, you will need to smoke these links, preferably over cherry, apple or beech wood. If you don't have any of these, oak, maple or hickory would be fine.
Ingredients
2 1/2

pounds

pork

venison, wild boar, bear or other meat

10

ounces

pork fat

23

grams

kosher salt,

about 2 tablespoons plus a teaspoon

3

grams

Instacure No. 1,

about 1/4 teaspoon

4

grams

sugar,

about a heaping teaspoon

4

grams

crushed black pepper,

about 2 teaspoons

2

grams

nutmeg,

about 1 heaping teaspoon

2

grams

caraway seed,

2 teaspoons

1

gram

celery seed,

about 1/4 teaspoon

4

cloves

garlic, minced

1/3

cup

ice water
Instructions
Cut the meat and fat into pieces that will fit in your grinder. Mix all the salts and spices with the meat and fat. Put everything in the freezer for 1 hour to chill. Meanwhile, take out about 20 feet of sheep casings and soak them in tepid water.

Grind the mixture in the fine die of your grinder, making sure everything stays cold. If the meat warms beyond 35°F, stop and freeze everything for 30 minutes to cool it down. Put the ground meat in the fridge while you clean up.

Using a Kitchenaid or other stand mixer, or your (very clean) hands, add the ice water and garlic. Mix the meat and fat -- use the lowest setting on a stand mixer -- until it binds, about 1 to 2 minutes. Again, put the meat in the fridge while you clean up.

Flush the sheep casings with warm water and set aside.

Put the meat mixture in your sausage stuffer and stuff into the sheep casings. Remember that sheep casings are weaker than hog casings, so you do not want to overstuff them.  As you are stuffing, fill up a link between 12 inches and 24 inches, leaving plenty of extra casing on either end. Cut the casing and continue to make these large links until you've used all the meat.

Use a sterilized needle to pierce the casings wherever there are air pockets. Gently squeeze the meat in the casings to tighten. You may break some until you get the hang of it. If you do, put the meat back into the stuffer and make another link. Once all the links are firm in their casings, tie the ends together in a double or triple knot. Trim any excess casing.

Hang the links to dry in a cool place for several hours, depending on how warm it is. If the temperature is 70°F or above, hang for only an hour.

Move the links to a smoker and smoke until the interior of the meat hits 150° -- keep your smoker cool enough so that this takes about 4 hours. You want the links to get lots of smoke time.

Let the links cool, then move to a place to hang them. Ideally this place is between 35°F and 60°F and dark. Hang the links for 3 to 5 days to let them dry out a bit. They are now reasonably shelf stable, but I keep them in the fridge. If for some reason you plan on keeping them more than a month or so, wrap tightly (or vacuum seal) and freeze.
Nutrition
Calories:
559
kcal
|
Carbohydrates:
1
g
|
Protein:
19
g
|
Fat:
53
g
|
Saturated Fat:
20
g
|
Cholesterol:
109
mg
|
Sodium:
956
mg
|
Potassium:
331
mg
|
Fiber:
1
g
|
Sugar:
1
g
|
Vitamin A:
10
IU
|
Vitamin C:
0.8
mg
|
Calcium:
21
mg
|
Iron:
1.1
mg
Nutrition information is automatically calculated, so should only be used as an approximation.