Hmong Squirrel Stew
November 08, 2012 | Updated October 29, 2020
As an Amazon Associate I earn from qualifying purchases.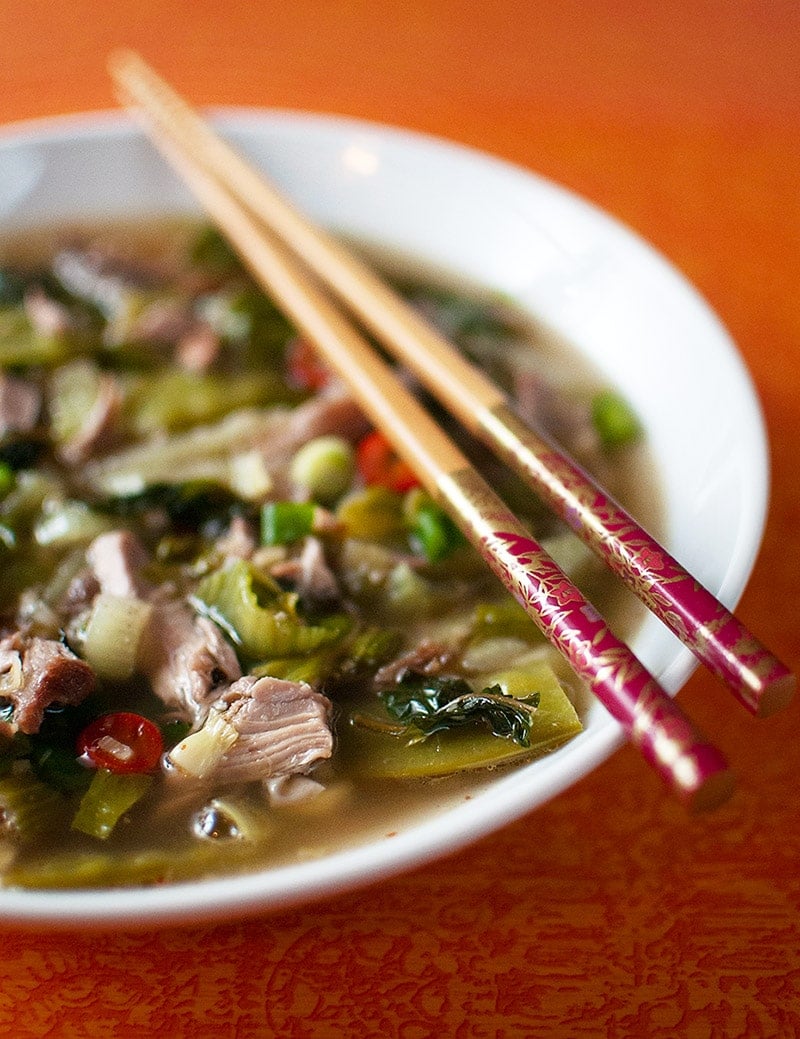 If you've never heard of the Hmong, they are a Southeast Asian group who fought for us during the Vietnam War. When we left that country, the Hmong remained — and faced severe persecution since they'd backed the wrong side. So the US government let them immigrate here en masse in the late 1970s.
But the Hmong are a little different from most immigrant groups: They came here as farmers and hill people. Hunters.
And of all the animals the Hmong hunt, they're most famous for chasing squirrels. There are lots of squirrels that live in the mountains of Laos, so hunting our squirrels was a natural for them. Legend has it that when the Hmong showed up in the early 1980s, they slaughtered California's squirrel population; fish and game laws were completely alien to these folks.
By all accounts things are better now: The Hmong are, more or less, following the law, and the state's squirrel population has recovered. But the September squirrel opener still draws hundreds, maybe thousands, of Hmong into the Sierra to chase Mr. Bushytail.
Someday I want to go with them. My friends Dan and Mirra of the Perennial Plate have, and they posted a video about it here. It's pretty cool, especially how they process their squirrels. But until I get that chance to hunt with the Hmong, I'll make this stew.
I got the inspiration for this squirrel stew recipe from an excellent cookbook called Cooking from the Heart: The Hmong Kitchen in America, whose co-author Sheng Yang lives right here in Sacramento. Sheng's husband is a squirrel hunter, and she includes a squirrel stew recipe in the book. This is a riff off hers.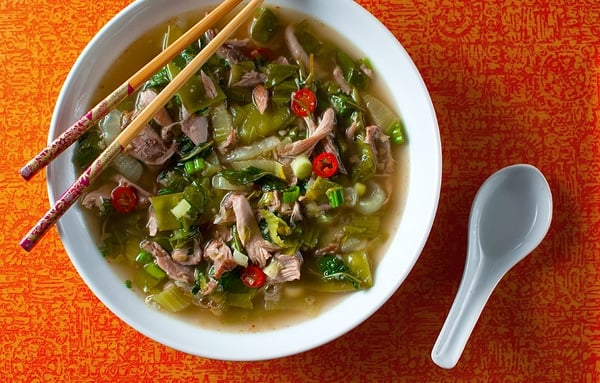 There are a few ingredients here that will be hard to find unless you have an Asian market around, notably the galangal. If you can't find fresh galangal, skip it. If you can't find fresh lemongrass, you can often find it in a little tube in the produce section, with the other herbs. The Sichuan peppercorns can be challenging, too, but just skip them if you can't get any.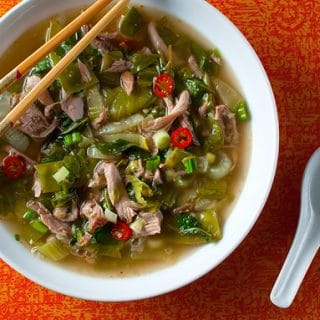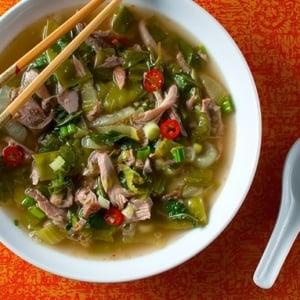 Hmong Squirrel Stew
Where Vietnamese food is refined and occasionally involved, Hmong food is more rustic -- it's the difference between Paris and Provence. So while this stew looks a little like Vietnamese pho, it's far simpler to make. It does call for a few unusual ingredients, but these can either be skipped or substituted. The result is a light, aromatic stew where the squirrel provides the meaty base note to an array of bright flavors. Each bite will be different, but wonderful. If you don't have squirrels handy, rabbit or chicken thighs are good substitutes.
Ingredients
2

squirrels,

cut into serving pieces

3

tablespoons

vegetable oil

4

cloves

garlic,

minced

1

stalk of lemongrass,

white part only, minced

3

to 5 red chiles,

chopped

1

tablespoon

minced galangal

(optional)

2

tablespoon

minced ginger,

peeled

1

quart

chicken stock

6

lime leaves

or 1 tablespoon lime juice

1

tablespoon

fish sauce or soy sauce

1

pound

bok choy or chard,

chopped

1/4

pound

snow peas

1

teaspoon

ground Sichuan peppercorns

(optional)

Salt
GARNISH
1/2

cup

chopped cilantro

1/2

cup

chopped green onion

1/2

cup

chopped mint
Instructions
Heat the vegetable oil in a large pot such as a Dutch oven. Pat the squirrel pieces dry and brown them over medium-high heat in the oil. Remove them as they brown and set aside.

Add the garlic, lemongrass, galangal, ginger and chiles and stir-fry over high heat for 90 seconds.

Return the squirrel to the pot and add the chicken stock, lime leaves and fish sauce. You want the broth to cover everything by about an inch. If it does not, add some water. Bring to a simmer and cook until the meat wants to fall off the bone, between 1 hour and 2 hours. Remove the meat and shred it off the bones. Return it to the pot.

Add the bok choy and the snow peas and simmer until tender, about 10 minutes. Add salt to taste and the ground Sichuan pepper.

You can serve it as-is in bowls, or over some steamed rice in a bowl. Garnish with the cilantro, green onions and mint.
Nutrition
Calories:
321
kcal
|
Carbohydrates:
12
g
|
Protein:
39
g
|
Fat:
13
g
|
Saturated Fat:
7
g
|
Cholesterol:
127
mg
|
Sodium:
590
mg
|
Potassium:
1049
mg
|
Fiber:
2
g
|
Sugar:
5
g
|
Vitamin A:
3933
IU
|
Vitamin C:
53
mg
|
Calcium:
129
mg
|
Iron:
7
mg
Nutrition information is automatically calculated, so should only be used as an approximation.