Grouse Northwoods
October 19, 2015 | Updated August 01, 2022
As an Amazon Associate I earn from qualifying purchases.
This is a grouse breast recipe that has come a long way, but it remains my favorite grouse recipe because it celebrates the Northwoods of Minnesota, Wisconsin and Michigan, where ruffed grouse are king.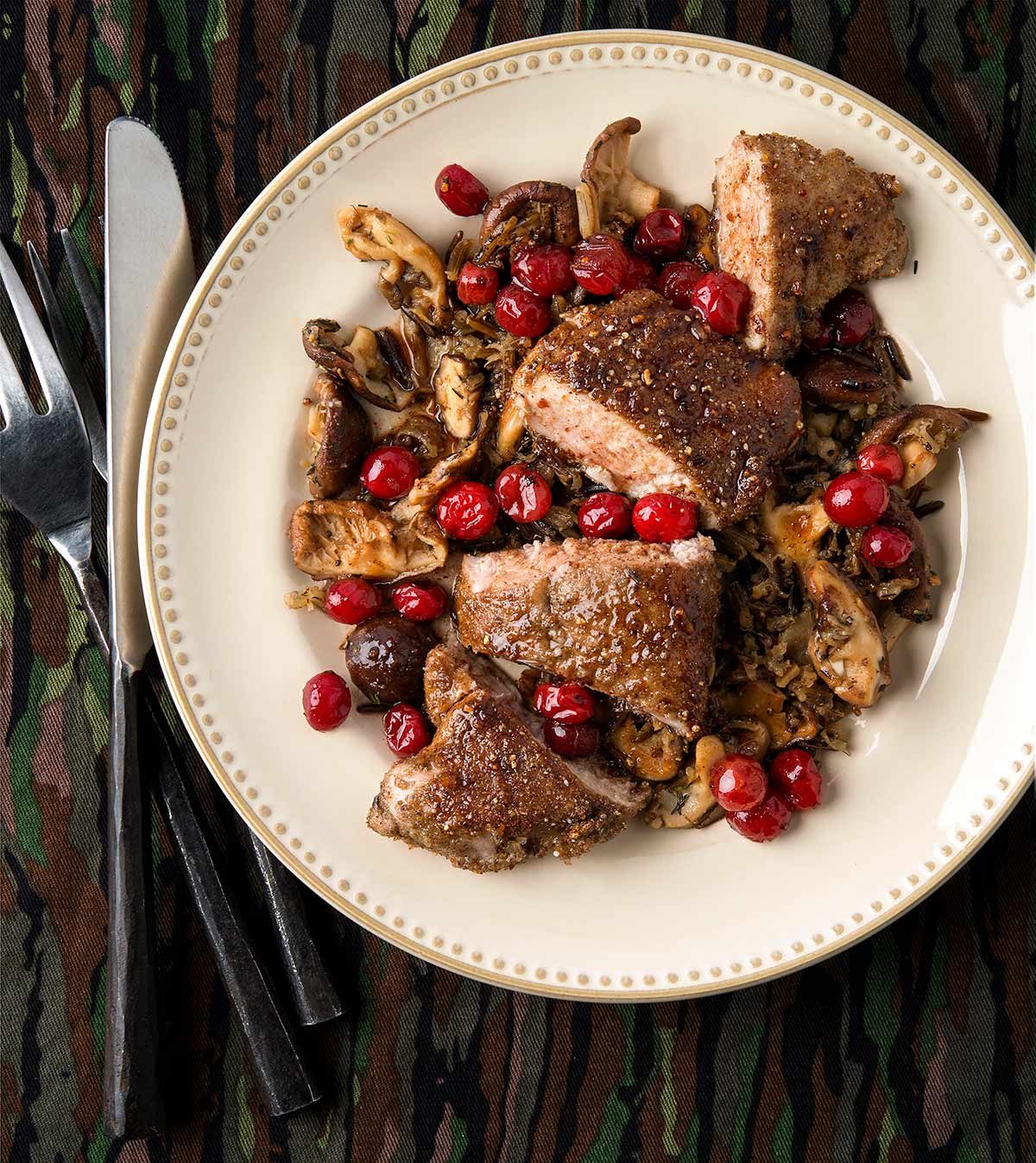 Its origins lie in a tough time for me back in 2011. I had been on tour promoting my first book, Hunt, Gather, Cook: Finding the Forgotten Feast, for more than eight weeks non-stop, and I was exhausted. Tired on a cellular level.
One day I found myself in Minnesota, at the home of my friend Chris, the man who got me into hunting in the first place. Holly had flown in just for the occasion — a grouse hunt in the Minnesota Northwoods. It was the first time I'd seen her in two months.
Under normal circumstances, such an adventure would be invigorating. Walking in the woods is restorative, especially the grouse woods. I hold ruffed grouse as high as any other game animal when it comes to the table. But it was not to be. Too many troubles, too much left unknown at that stage in the tour. So I let Chris and Holly hunt, and just sat on a pine stump and let the woods wash over me.
It was enough to give me the inspiration for this recipe. I made it first in Chris' house with some of the staples he had around him, and which we found in the woods on our hunt: Grouse breast, wild rice, wild mushrooms, highbush cranberries.
This is that dish, revised, simplified and, in my opinion, improved.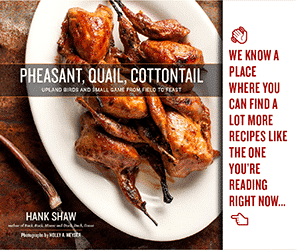 Eating it evokes the forest. Deep "brown" flavors from the mushrooms and wild rice, punctuated by the bracing tartness of the cranberries and vinegar-fruit syrup. And the grouse! Those of you who have eaten ruffed grouse know.
There is no flavor like it in the world. Grouse breast looks like chicken, but smells and tastes beguilingly funky — gamy in the best possible way. Grouse is not for weak eaters, but nor is it challenging in the way that, say, stinky French cheeses are.
Even the texture hints at a walk in the woods. Mostly you get the soft "give" of treading on wet leaves, but then there are popping cranberries, chewy wild rice and the surprising crunch of the ground wild rice coating on the grouse; it's just enough crunch to be interesting without being off-putting.
I urge you to make this recipe with grouse breast if you have them. And if not, use another bird and dream of that someday when you'll get the real thing.
Use real wild rice, which is not cultivated, if you can get it, but any wild rice will work. Mushrooms and fruit syrup are your choice. As for the fruit syrup, I prefer something that lives in the Northwoods, like gooseberry or highbush cranberry or blueberry. I also use homemade gooseberry vinegar here, but cider vinegar is perfectly fine.
Looking for other grouse recipes? I have a simple roast grouse recipe for starters, as well as shredded grouse salad with barley, and a Nordic grouse soup.
Grouse Northwoods
The is a simple grouse recipe that has a fantastic mixture of wild rice, cranberries and mushrooms to go with it -- all three are signature flavors of the Northwoods where grouse live. If you can't get your hands on grouse, any white meat bird will do.
Ingredients
1 1/2

cups

wild rice,

divided

3

cups

grouse or chicken stock

Breasts from 4 grouse,

skinned with tenders removed

Salt

1/4

cup

butter,

divided

1/2

cup

rye,

barley or whole wheat flour

1

to 2 pounds fresh mushrooms,

any kind

2

garlic cloves,

minced

1

teaspoon

dried thyme

1

cup

cranberries

1/4

cup

fruit syrup

(see above)

1/3

cup

cider vinegar
Instructions
Salt the grouse breasts well and set aside at room temperature.

Simmer 1 cup wild rice in the grouse or chicken broth until tender, anywhere from 20 minutes to 50 minutes depending on whether you have real, parched wild rice or the cultivated variety. When the rice is done, drain and set aside in a covered bowl.

Grind the remaining wild rice in a spice grinder into a powder; there will still be some larger bits, and this is OK. It adds some texture. Mix this with the rye flour and dredge the grouse breasts in it.

Heat 3 tablespoons of butter in a large saute pan and saute the grouse breasts until they are just barely done, about 4 to 5 minutes per side. Set them aside.

Put the remaining butter in the pan and turn the heat to high. Add all the mushrooms. Shake the pan as you do this so they don't all stick to the bottom. If some do, that's OK. Keep searing and shaking the pan until the mushrooms give up their water. Sprinkle them with salt and add the garlic and thyme. Let the mushrooms sear without moving the pan for 1-2 minutes: You want them to get some browning. Stir the mushrooms and repeat until you get them as browned as you want -- I like them to be about halfway browned, which takes about 8 minutes.

Add cranberries and toss to combine. Cook until they just start popping, then add the wild rice, vinegar and fruit syrup. Toss to combine and serve with the grouse.
Notes
Serve this with a light red wine or a zippy white like a Viognier or Albarino. Beer is also a good choice. A simple green salad rounds it all out.
Nutrition
Calories:
408
kcal
|
Carbohydrates:
61
g
|
Protein:
14
g
|
Fat:
13
g
|
Saturated Fat:
8
g
|
Cholesterol:
31
mg
|
Sodium:
161
mg
|
Potassium:
508
mg
|
Fiber:
6
g
|
Sugar:
3
g
|
Vitamin A:
370
IU
|
Vitamin C:
4
mg
|
Calcium:
34
mg
|
Iron:
2
mg
Nutrition information is automatically calculated, so should only be used as an approximation.