Grilled Duck Breast
August 10, 2015 | Updated June 17, 2020
As an Amazon Associate I earn from qualifying purchases.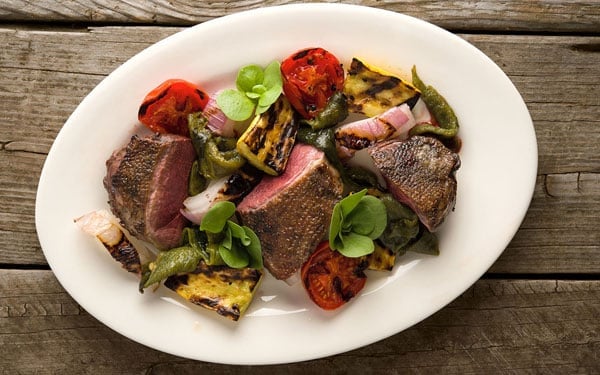 Grilled duck breast, or in the case of these photos, grilled goose breast. It's a bedrock skill every waterfowler or home cook interested in eating duck in warmer weather ought to know. But while it ain't rocket science, grilling duck breasts isn't as simple as slapping some breasts on the grill.
Here's how to go about it.
First, what sort of meat do you have? A typical store-bought duck or goose breast will be extremely fatty, as will the breasts on wild ducks like California pintails or grain-fed mallards. Green-winged teal can also be super fat. This fat presents problems. So much so that I honestly don't recommend that you use such fat birds unless you have to — and since non-hunters will have to, this is how you deal with it.
One trick I learned from Chef Chrysa Robertson of Rancho Pinot restaurant in Scottsdale, Arizona is to sear the skin side of the duck in a pan before it ever hits the grill. She will slice through the skin (not the meat) of fatty duck breasts and sear that skin side to render out most of the fat lying underneath the skin. Only then will she move the duck breasts to a charcoal grill.
This is the best solution, as it removes quite a bit of fat, and leaves that fat in a pan where you can use it to cook something else.
If you don't want to do this, you will need to rig something in your grill. The best answer is to set up a drip pan underneath where you are going to grill the duck; use something cheap, as it will get beaten up by the heat. Pour water into the pan — otherwise the dripping fat will ignite at some point.
Trust me on this one. I almost burned my back deck down when the fat from just two obese pintails ignited and turned my grill into a fireball. No bueno.
This set up works well, but it's better to grill leaner ducks. Any duck or goose breast will grill up nicely, and my preferred ones are those with a little bit of fat under the skin. I find specklebelly geese to be perfect for this, as are most canvasbacks. If you are not a hunter, do your best to find Muscovy duck breasts — they are a lot leaner than the standard Pekin breasts.
What if you have no skin or fat? Then your job is even easier, but remember that all but a few waterfowl will have thin breasts. The matters because thin cuts of meat cook very fast on a hot grill. If you've ever cooked flank or skirt steak, it's like that.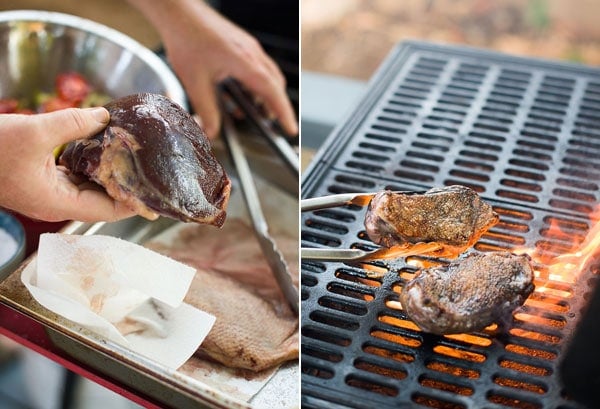 The answer?
Grill cold meat, which is normally not what you'd want. Grill skinless duck breasts and very small skin-on breasts, like those from wood ducks or teal, right out of the fridge. Larger breasts, like mallards, store-bought Pekin or Muscovy, or snow goose breasts, need a few minutes to warm up. Only really big breasts, like those from domestic or Canada geese, need the full warm-up time; they're more like steaks, anyway.
Once you have that under your belt, you're good to go. Just remember to rest you meat before slicing into it.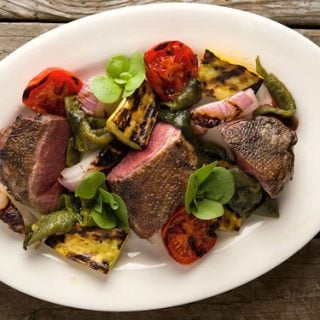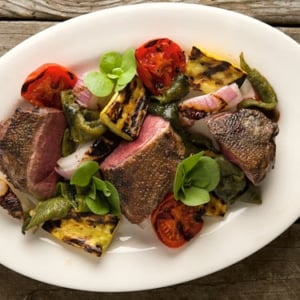 Grilled Duck Breast
Any species of duck or goose will work with this recipe. I prefer to grill larger duck and goose breasts because they don't cook up instantaneously like, say, skinless teal breasts do. Serve with summer vegetables of your choice. I generally raid my garden for whatever is handy. If you are looking for a starch, bread's a good, hot-weather choice, but so would grilled potatoes or grilled sweet potatoes. To drink? A dry rosé, a light red like a Pinot Noir or Gamay or Grenache, or a light, crisp beer. My choice would be a pale ale.
Ingredients
4

large duck or small goose breasts

Salt

Olive or vegetable oil

Black pepper

Vegetables of your choice: Onions,

zucchini, tomatoes, peppers
Instructions
Take your duck breasts out of the fridge and salt them well. Let them sit on the counter for 30 minutes to come to room temperature. If you are working with skinless breasts, keep wild duck breasts in the fridge and take domestic duck or goose breasts out of the fridge only 15 minutes before you cook them.

Get your grill ready by setting up a hot side and a cooler side. Make sure the grates are clean. When you are ready, pat the duck dry with paper towels and coat them with a little oil. Set the duck breasts skin side down on the hot side of the grill. Keep the cover open, and have a spray bottle of water ready. If the breasts are skinless, you won't have flare-ups. If they are skin-on but fairly lean, there might be one or two, but it'll be OK. If they are fat, however, you will need to be diligent with the spray bottle to douse flare-ups. Keep grilling the skin side until the skin is nice and crispy, about 6 to 8 minutes.

Turn the duck over and grill on the meat side until they're nicely browned, about 2 minutes on a hot grill.

Move the duck to the cooler side of the grill and poke it with your finger. Use

the finger test for doneness

to determine how done the breasts are. Chances are with larger duck breasts and definitely with goose breasts, you'll need to finish them with the grill covered on the cool side of the grill for a few minutes. How long? It depends, so check, using the finger test, every 90 seconds or so.

When the duck is ready, move it to a plate and let it rest uncovered, skin side up, for 5 minutes before slicing.
Nutrition
Calories:
278
kcal
|
Protein:
45
g
|
Fat:
10
g
|
Saturated Fat:
3
g
|
Cholesterol:
174
mg
|
Sodium:
129
mg
|
Potassium:
606
mg
|
Vitamin A:
120
IU
|
Vitamin C:
14
mg
|
Calcium:
7
mg
|
Iron:
10
mg
Nutrition information is automatically calculated, so should only be used as an approximation.