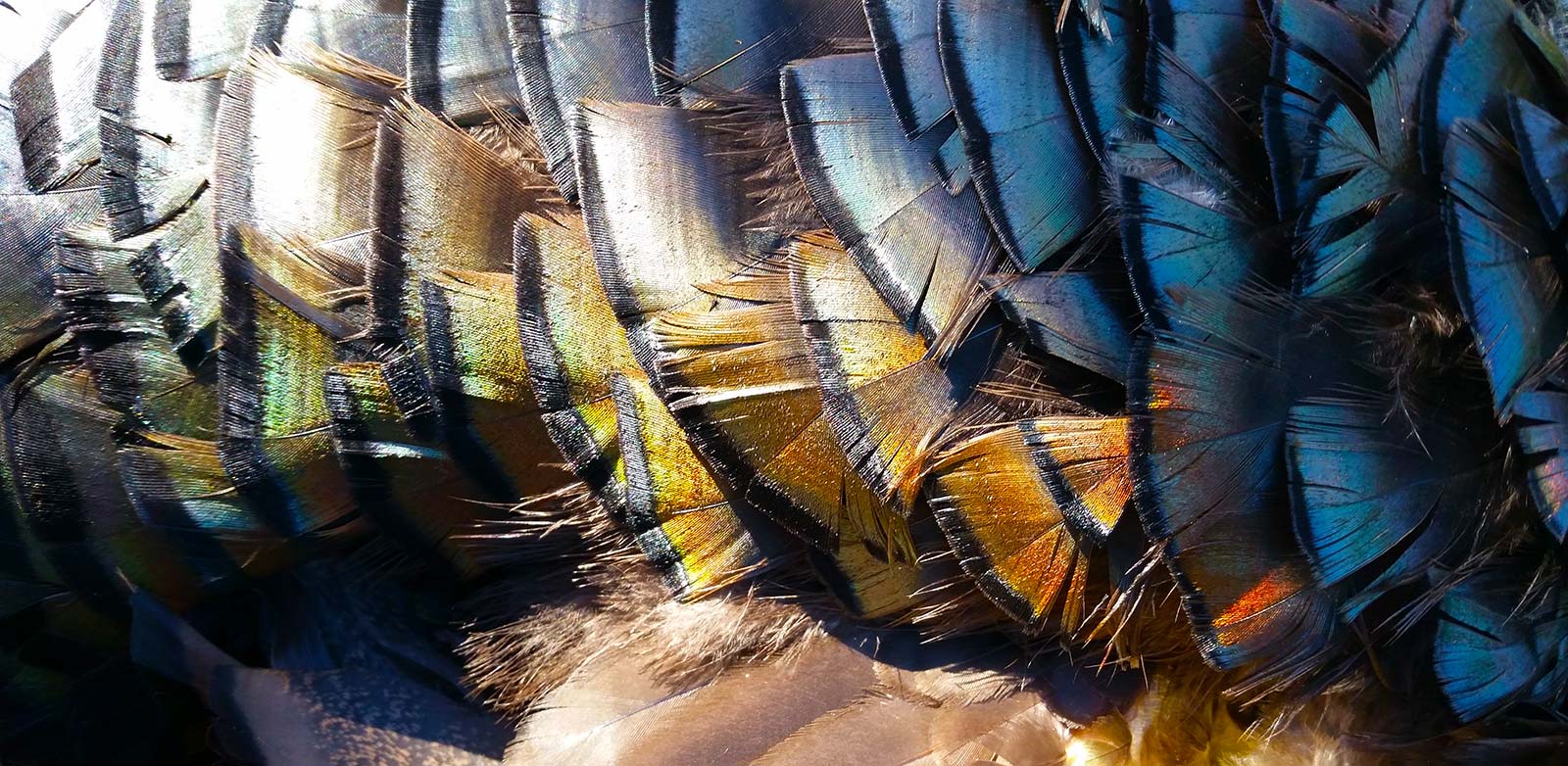 Now I get it.
I've shot plenty of turkeys before, albeit mostly by happenstance. A random flock presents itself in season while I happen to have a shotgun handy. Boom! Instant bird in hand.
I'd never really gotten into the classic style of turkey hunting: Calling them in over decoys. Stepping back from myself, I find this odd, as I love waterfowl hunting, which is exactly this. Sure, I'd done it a few times before, but the thrill that lights up true turkey hunters never sparked itself within me.
Until now.
Turkey season is upon us here in NorCal, and I really want to see if I can get my three-bird limit this year; I've never done it. So I decided to start early, with my friend RJ Waldron of Northwind Outfitters. RJ has a spot in Amador County, a county where I've hunted gobblers many times before. It's a young vineyard and horse farm that abuts a huge swath of public land, giving us plenty of room to roam.
RJ had invited our mutual friend Monique to the hunt; she was still on her quest for her first bird, after four tries. I felt her pain. I've spent many a day wandering around looking for turkeys with little to show for it. This, if you live in NorCal, is especially galling — wild turkeys are a common sight in suburbia; I've even had them peck their way through my front yard.
I had soaring hopes. RJ is an excellent turkey hunter, and his scouting is often so good hunts can be a one-morning affair. Tag-teaming a pair of jakes or toms should be doable. In my mind, the worst-case scenario was one in the morning, one in the afternoon. I'd even made plans for that night.
Mistake.
First set up, before dawn. Nothing. Not even a gobble in the distance. Huh.
So we moved up to a rocky knob at the top of the hill, which stood about 3000 feet above sea level. Scattered pines, a few black and scrub oaks. Clumps of buckbrush ceanothus scattered about. Lots of lush green growth, thanks to the wettest winter in memory.
RJ hit his box call — and a turkey responded! It was off somewhere down the gentle slope of the knob, in the trees. RJ and Monique tucked into a pine. I crammed myself into the crevice between twin buckbrushes. This way we could face the decoys from two different directions.
Mountain turkeys here are notoriously cagey. This tom was no different. Trading off between a box call, a slate and a mouth call — he even gobbled a few times — RJ kept the tom interested. But for a solid half hour, it wouldn't budge.
Finally, out of the corner of my left eye, I detected movement. A black shape, emerging from the edge of the trees about 150 yards away. The tom!
Now he seemed committed. And pissed off. Gobbling all the way, he came closer and closer up the meadow. RJ and Monique were looking right at him, and he was directly to my left. Onward he came, until the turkey was less than 10 yards from me, the buckbrush between us.
Have you ever heard the term "thunder chicken?" Well, I can assure you, a tom gobbling and drumming less than 10 yards away creates a soundwave so strong you feel it as much as hear it. It's like being next to the speakers at a rock concert. I'd never ever felt that before, and will never forget it.
I was waiting for Monique to shoot. After all, she'd never killed a turkey, and I was sure she had her gun pointed straight at the tom. But she didn't shoot. I (correctly) guessed that she had no angle on the bird. Mine was worse, but I was so close I could whip around and shoot before the tom got more than a few paces away.
I've hunted with RJ for years, mostly for waterfowl. It is an iron rule in the blind that RJ is pit boss. He calls the shot. So I waited.
Apparently the tom felt our indecision, or something, and began making Put! Put! noises, a sure sign he's uneasy. He began walking behind me! Ack! Call the shot! Call the shot! I screamed in my head. No call. Monique shifted to try to get an angle on the tom, but it was too late. He boogied. Gone.
WHY DIDN'T YOU SHOOT?!?! RJ was less than pleased.
You didn't call it, I said. RJ said he never calls turkey shots, which he soon realized was untrue, as he had the last time we'd hunted turkeys a few years before. He'd also thought I'd had the angle on the bird, and when I told him I would have needed to pivot and shoot, he felt a little better. But only a little.
All three of us felt a hole open up in our guts. You don't get such opportunities often in the Sierra Nevada. I might have missed my only chance at a turkey right then.
We took a break and headed back to the ranch for some breakfast. Guess this wasn't going to be a slam-bam hunt.
The afternoon passed slowly. And this is where I first felt the zen of turkey hunting. Unlike duck hunting, where you almost always see a duck before you hear them, hunting turkeys over decoys largely involves sound. You call once in a while, listening for a response. Or you just shut up and listen for a random gobble.
But in between, the natural world enfolds you. You hear the breeze, the chatter of nuthatches, acorn woodpeckers and scrub jays. The courtship racket of a nearby flock of Canada geese, the occasional cronk of ravens.
You stare at plants. Miner's lettuce in full swing, tens of thousands of brodiaea leaves — flowers not yet ready — looking like onions in the meadow. The occasional mushroom. A single Sierra shooting star.
It all lulls you into a gauzy trance, a pleasant trip that takes you away from the metallic, noisy, human world. And it is every bit as important to the act of turkey hunting as is the call and response. I understand this now.
A distant gobble broke our reverie. We hustled toward it, out of the meadows and into the woods. As we got closer, it became apparent that two gobblers were down in a ravine below the trail. We set up with the decoy at the lip of the ravine and RJ started calling. And calling. And calling.
As the endless turkey jabbering went on, I grew restless. Then annoyed. Seriously? Is all this worth it? We've been trying to get this damn gobbler up the ravine for more than a half hour. This is way worse than calling pintail ducks, which are the wariest of our waterfowl, and pintails are far tastier than an old tom, anyway.
Eventually petulance gave way to resignation, then amusement. So this is why people get so jacked up about finally killing a longbeard. They don't come easily.
Finally, the tom grew bored and walked away. I never saw it, but RJ and Monique did. It had been walking back and forth on an invisible line for more than 30 minutes. But it would not walk any closer than about 70 yards. Tantalizing. Frustrating.
I went home, certain now that I would not get a turkey. This was a lot harder than I'd thought. I even contemplated not returning the next day, but I did.
When I got to the ranch, RJ and Monique said they'd heard a bunch of turkeys gobbling in a roost tree not far away. Sweet! We'd earned a 10-minute hunt by this time.
Alas. After another marathon call and response session, the group, unseen, clearly flew off the roost and walked the other way. Damn.
An hour later, we were walking the trail, RJ occasionally hitting the box call, when we got a response. Close. It was coming from down the hill, so we set up to try to hit the gobbler as it came up to the trail. It kept shifting its approach as it came, so I turned around to get a bead on where I thought it would come up.
But I guessed wrong. The tom came up farther away, where I couldn't see it, and was walking up the trail to my right. Right into the sun, and through a thicket.
It got so close I could hear it walking. And again, that thunderous, gut-rattling gobble. Just a few feet away! But I could not see the turkey. And neither could Monique, who was, again, caught in a bad angle. Eventually it walked away.
No matter. We'd been en route to see if we could head off that pack of gobblers, and it wasn't too long before we found them. More calling. Lots of gobbling. RJ and Monique tucked in near the decoy, just past a fence line near the trail. I shifted closer to the fence and nestled under an oak.
Oh thank God! The turkeys were get closer. And they were in front of me.
A flash of red. A turkey! I saw them, a group of four or five, all either toms or jakes. Right in front of me, too! Just on the other side of the fence, about 50 yards away. All they needed to do was cross the fence…
…which they never did. ARGH! So damn close. Monique and RJ never saw them.
We quickly moved up the trail to where the group was walking, to try to get in front of them. Which we did, but again, the bastards would not cross the fence. We did this one more time until we got to the end of the property. RJ called and the group gobbled about 300 yards away, going in the wrong direction.
This was getting ridiculous. Frustrated, we all went back to the ranch for some food.
Screw it, we decided. We'll go back to that knob. The Scene of the Crime, we'd started calling it. We got that one tom to get close the day before, and the two in the ravine weren't far away from that. At least it would be pretty, as the sun was shining and the weather had warmed considerably.
As we got close to the knob, RJ hit the box call. A response! The gobbler was in the house!
We set up almost exactly as before, although this time with both me and Monique tucked under the pine tree, RJ behind us. Decoys out on Monique's side of the tree, from the direction the gobbler was coming from.
I had a good feeling about this. We would not screw this up this time. And if the tom came up the trail on Monique's side, she'd get her first turkey!
Just then, we heard two more gobbles, down the hill out of sight on the left. My side. Holy crap, maybe we'd get both right here!
RJ hammered them with the call, and was getting great response. He whispered, "It's a race." Which set of birds would get here first? What would we do then if only one presented itself?
GOBBLE! GOBBLE! GOBBLE! GOBBLE! GOBBLE! 
What the hell? These gobbles were deafening. Oh my God. They. Are. Right. Here. On our right, the group of jakes and toms we'd been chasing the entire morning had materialized out of thin air, not five yards away on the trail to our right.
They wandered in, casually. I felt sure Monique had a chip shot, and I prepared myself to shoot a running jake. Wouldn't be the first time. But they kept coming. I had a shot.
I whispered, "I can shoot now." Monique whispered back, "I can't."
The whole group was right in front of me. I could feel RJ getting antsy. Finally, he said, "Get some!"
And I did.
The lead bird went down in a heap. But no shot from Monique? The turkeys scattered. She said she'd have had to shoot through branches, something she'd never done before. In Monique's defense, I had to learn that lesson the hard way, too, years ago. Next time.
We sat in the grass, contemplating the past two days. "That was one of the sickest moments in turkey hunting I've ever had," RJ said. Three sets of turkeys, all converging. Unheard of. We immediately dubbed this place Gobbler's Knob. The only downside is that Monique didn't get her bird, but hopefully she'll get her chance later this season.
Driving home, dead turkey in the back, I turned this hunt over and over in my mind.
It had ran the gamut of turkey hunting. Long sits. Run and gun. Close encounters, some very close. An agonizing missed chance. Frustrating birds close enough to see, but not enough to shoot. Hiking. Lots of hiking. And I finally felt the full force of the Thunder Chicken. I get it now. I get it.