Lonzino, Air Cured Pork Loin
February 18, 2008 | Updated June 12, 2020
As an Amazon Associate I earn from qualifying purchases.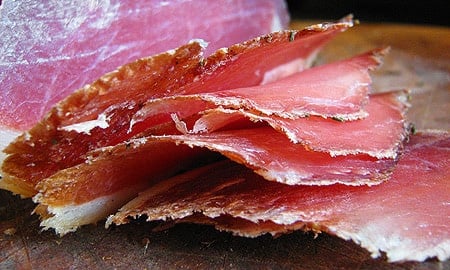 Pork is the lone meat I still buy, in no small part because I have access to heritage pork raised the old way, with a varied diet and generally darker and fattier meat than that crap you get at the supermarket. I do routinely shoot wild hogs, too, and they are excellent for this recipe, Italian lonzino.
Lonzino is a fabulous dry-cured cut of pork that ages into a lovely pink, slices well and tastes not unlike a good cured ham. The Spanish call this same thing lomo. And if you coat the meat with a certain set of spices, it becomes the Armenian favorite basturma.
You use the loin of the pig for this recipe. Trimmed of all sinew, and, depending on your preference, fat. I prefer my lonzino lean, but some people love the fat v. lean you get with each bite. Either way works.
The coolest thing about lonzino is how easy and relatively quickly you can make it. Unlike prosciutto, which takes more than a year, lonzino can be ready in a month.
The only special equipment you need is curing salt and a cool place to hang your loins. You can get curing salt, Instacure No. 2 online, and your hanging place can be anywhere that isn't bone dry (70 to 80 percent humidity is good) and is anywhere from 40°F to 60°F.
And like I mentioned at the beginning of this, you also need good pork. Lonzino highlights the innate qualities in your pork, so if it is factory-farmed you will very definitely notice – especially if it is put up next to a piece of quality pork. So do youself a favor and buy the good stuff.
Note that the time in the recipe does not include cure time.
A word on salt. You need to weigh your meat in grams and then weigh out 2.5 percent of that weight in sea salt or kosher salt, plus 0.25 percent, that's one-quarter of one percent, in curing salt No. 2, which contains sodium nitrate. Weigh out an equal amount of sugar to the salt and add that to the mix.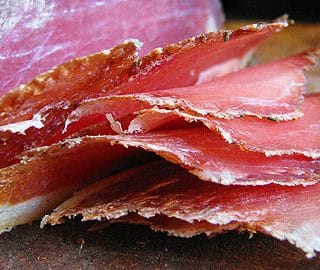 Lonzino, Air Cured Pork Loin
All lonza or lonzino is is air-cured pork loin, a lean cut that cures easily if you follow these directions. It is best served as is, although it makes a great sandwich. You could also dice it as a substitute for any of the Spanish ham recipes that call for diced Serrano ham (and there are a lot of them). It is silky, only a little salty, and you get a hint of the spices that help cure the meat with every bite. This is a subtle meat.
Ingredients
1

length of pork loin,

about 3 pounds

kosher salt

(see above)

sugar

(see above)

InstaCure No. 2

(see above)

10

grams

black pepper

5

grams

garlic powder

5

grams

ground cloves

10

grams

onion powder

8

grams

dried thyme
Instructions
Mix all the dry ingredients. Rub them well into the loin, then put the meat into a plastic bag or wrap with plastic wrap. This is to keep it from drying out. Keep the meat refrigerated for a week to 12 days.

When the meat has firmed up, remove from the wrap, rinse it off and then let it dry on a rack for 2 to 3 hours. I use a portable fan set on low to oscillate over the meat.

Truss the meat with kitchen twine (the white stuff) as you would a roast. Leave a long loop at one end so you can hang the meat. You can also use pre-made sausage netting.

Hang the meat in a cool place to dry. It needs to be humid, about 70 percent humidity. How long? At least another 12 days. It should feel firm throughout and be a pleasing red. How long can you hang it? Up to six months or more, but it will become harder and drier the longer it hangs. If you've found you have dried it too much, let it go all the way to hard-as-a-rock stage. Then use a microplane grater to grate the dried meat over pasta or rice.

To store: Wrap tightly in butcher paper or, better yet, vacuum seal pieces of it – I cut the loin into three chunks – and freeze. Unfrozen, it will last indefinitely in the fridge, but it will continue to dry out.
Notes
NOTE: White mold is your friend. Green mold is no fun, and black mold is dangerous. At the first sight of green or black mold, wipe down the meat with a cloth wetted with vinegar.
Nutrition information is automatically calculated, so should only be used as an approximation.