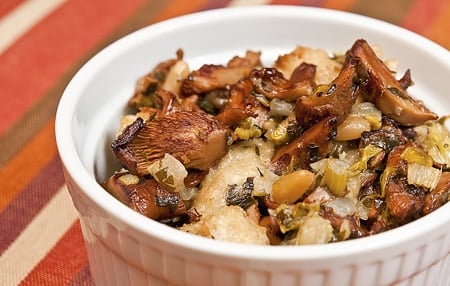 My favorite stuffings (or dressings, depending on your preference) are those with mushrooms and some sort of nut — in this case, chanterelles and pine nuts. These ingredients work well together and form the backbone of this riff off a classic stuffing.
You can buy chanterelles online, or at some farmer's markets; I've also seen them at Whole Foods. If you can find chanterelles, use another mushroom, even button mushrooms will work.
Serves 4
1 pound chanterelles or other fresh mushrooms
4 tablespoons butter
2 celery stalks, chopped
1 medium onion, chopped
2 teaspoons dried thyme
4 garlic cloves, chopped
1/2 cup pine nuts
4 cups bread croutons
2-3 cups pheasant, chicken or vegetable stock
1/2 cup parsley
Salt
______________
Soak the bread croutons in 1 cup of stock. Chop the chanterelles into medium-sized pieces; leave the small ones whole.
Preheat oven to 350°F.
Heat a large saute pan over medium-high heat for a minute or two. Add the chanterelles and dry saute them, shaking and stirring them constantly, until they give up their water.
When most of the mushrooms' water has cooked away, add the butter, celery and onion and toss to combine. Cook for 3-4 minutes, stirring often, until the onions are translucent. Sprinkle them liberally with salt.
Add the garlic, thyme and pine nuts and cook for another 2 minutes.
Pour the contents of the saute pan into a large bowl and mix with the bread croutons and the parsley.
Fill a casserole with the dressing and add enough stock to make the mixture quite moist, about 1 cup. Cover the casserole and bake 30 minutes. Take the cover off and bake for another 10-15 minutes, or until the top browns.