Crispy Fish Skin Chips
October 21, 2013 | Updated June 24, 2022
As an Amazon Associate I earn from qualifying purchases.
If you've ever heard of pork rinds, known in Mexican cuisine as chicharrones, you know. I mean, really. Crispy, light as air, dusted with salt and whatever other flavors you have in mind. Well, these are fish skin chips, essentially the same thing. Properly made, they are so addictive they really ought to be illegal.
Fish skin chips really are every bit as good. They are light, crispy, spicy, and have an oh-so-slight briny thing going on. You know it's fish, but it is not fishy in a bad way.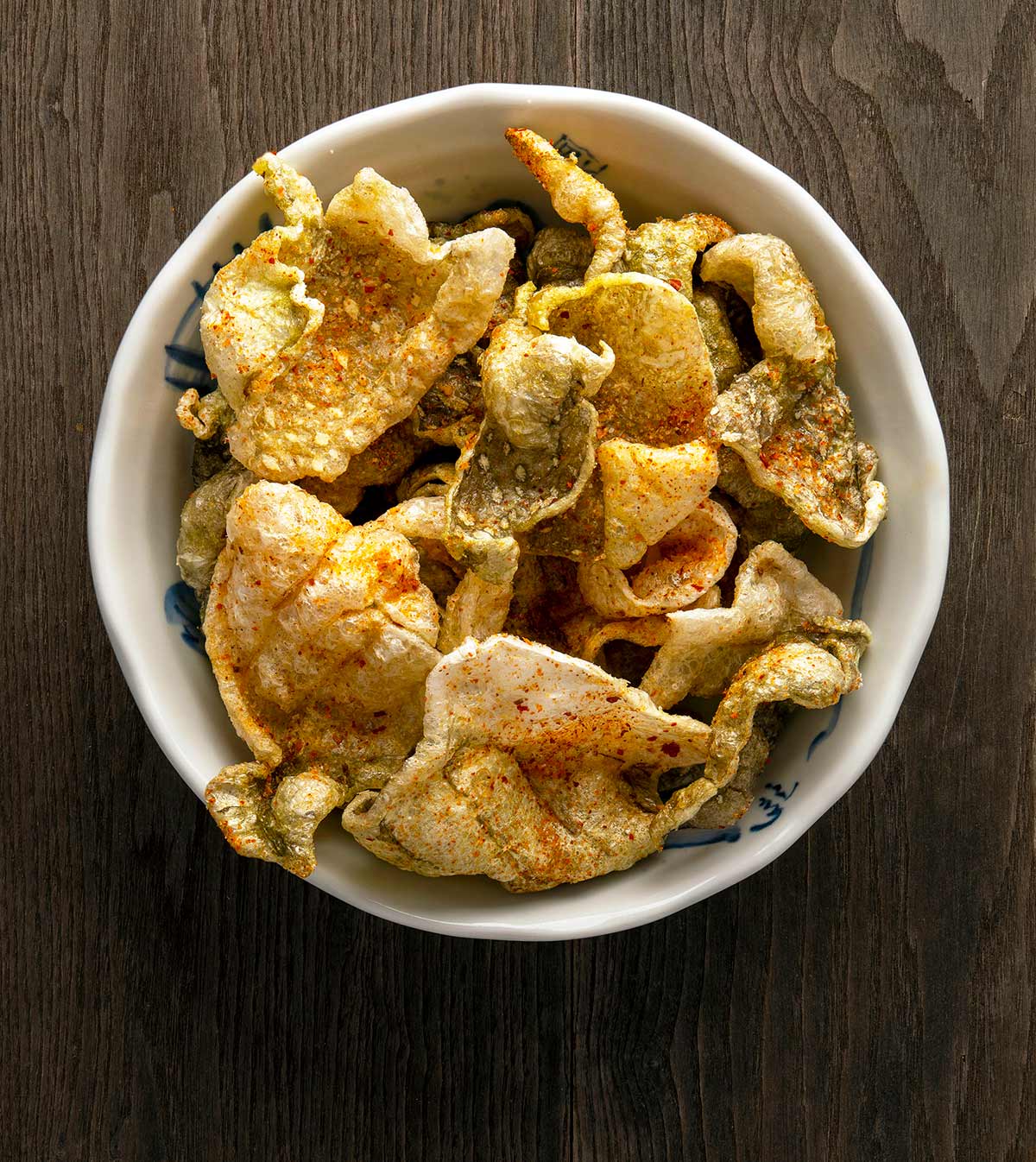 I'd vaguely heard of fish skin chips before, but never really quite knew how to make them. Then I cooked in a big Sacramento food festival called "Have an Offal Day" — yes, we all cooked nasty bits — and at this event Sacramento's greatest sushi chef, Billy Ngo of Kru, made sturgeon skin chicharrones; there are sturgeon farms around our area, so we use sturgeon a lot here.
Billy told me how to make the chicharrones, and I was immediately obsessed. I made them for a fundraising dinner for the California Food Literacy Center and they were a hit. But then it occurred to me: Sturgeon has a thick, largely scaleless skin, and besides, not many people have access to it.
So I began working on other fish skins to see if it would work.
It does. Oh yes, folks. It does.
I am happy to report that I've now made fish skin chips from the skins of a huge variety of fish, from sturgeon to seabass, tripletail to porgies to walleyes. Having done this, I am pretty sure you can make fish skin chips from any skin you can slice off a fillet, meaning that ultra-thin skin like that on a mackerel might not work.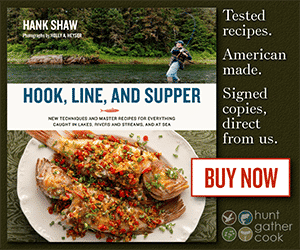 Let me walk you through the process.
Start by scaling your fish if they have scales; sturgeon, eels and sharks don't, so you are good to go there. Scale when the fish is whole, by the way. It's a pain to scale fish once you've filleted them.
Remove the skin from the meat of the fillet. You will notice that you still have some meat and fat attached to the skin. That needs to go. You also need to tenderize the skins of thick-skinned fish, like sturgeon, sharks and fish like salmon and triggerfish. You do this by boiling in salty water; the salt helps season the skins.
Here's what I've found with certain skins:
Sturgeon and leopard shark: Boil for about 3 to 5 minutes.
Salmon I'd boil for 1 or 2 minutes, but you can scrape the skin even without cooking.
Most bass-like fish, i.e., walleyes, rockfish, bass and perch you will only need to boil for a minute or two. They are tender already. (Here is a recipe with walleye skin chips.)
Now you need to carefully remove all the meat and fat from the skins. Gently lift the skins out of the boiling water and lay them meat side up on a cutting board. Now, using a butter knife, carefully lift and remove all the meat and fat. This is fairly tricky, and if you have oven-mitt hands you will tear the skin. Take your time until you get the hang of it.
Once you have all the meat removed, you need to dry the skins. I do this in a dehydrator at 120°F until the skin dries, which isn't too long — about 2 to 4 hours depending on the species of fish. I've also greased a baking sheet and laid the skins down (meat side up) and dried them in an oven set to 170°F. You will need to flip the skins at least once if you do this option.
When the skins are dried you can save them in the freezer indefinitely.
Frying fish skin chips is easy. Heat about 1 inch of high smoke-point oil — I prefer rice bran or grapeseed oil, but canola or other vegetable oil works, too — to between 350°F and 360°F. Get your seasonings nearby, as you will have only seconds to season before the skins' surface dries. Salt is a must, but I've used herbes de Provence, smoked paprika and even lemon pepper.
Drop a couple skins into the hot oil and watch the magic: They will puff up immediately in an amazingly miraculous way. They will be ready in less than a minute. Watch for the sizzling to die down dramatically. Move them to paper towels with a slotted spoon and season immediately. Once fried, fish skin chips will stay crispy for a few hours, depending on the humidity.
All I can say if you are on the fence about fish skin chips is try them. You will never look at the skin on fish in the same way again. Trust me.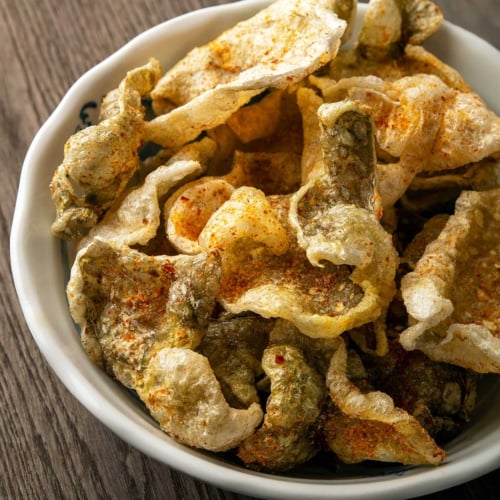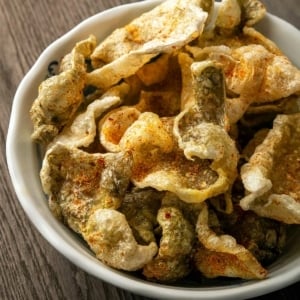 Crispy Fish Skin Chips
These require a little time to make, but are worth the effort. Once the skins are fully dehydrated, they can be frozen indefinitely before thawing and frying.
Equipment
1 Dehydrator

(or you can use your oven)
Ingredients
1

pound

fish skins

(see above)

Oil for frying

Salt
Instructions
Make sure the skins are fully scaled. Pick off any stray scales. Cut the skins into large pieces.

Bring a medium pot of water to a boil and add a few tablespoons of salt. Bring the water back to a boil after adding the skins and boil them for at least 1 minute, and up to 5 minutes for thick skins like sturgeon or shark. Most fish only need a minute or so.

Remove the skins from the boiling water and lay them, meat side up, on a cutting board. Carefully, using a butter knife, scrape away all the meat and fat from the underside of the skin. This is a gentle process. You might rip the skin a few times, and that's OK. When each skin is clean, lay it on a dehydrator rack.

Dehydrate the skins fully. You can do this at a range of temperatures. I go for about 140°F, but you can go higher or lower. You could also use your oven set on low, especially if it is a convection oven.

When the skins are completely dry, so they snap when bent, you can fry them now or store the skin for a couple days in the fridge; you can also freeze them. Fry at 360°F one or two at a time. They will puff up instantaneously. Fry until the bubbles stop, about 30 seconds.

The moment they come out of the fryer, dust with salt and whatever other seasoning you like. I love using Mexican Tajin.
Nutrition
Calories:
411
kcal
|
Protein:
46
g
|
Fat:
23
g
|
Saturated Fat:
8
g
|
Cholesterol:
72
mg
|
Sodium:
1390
mg
|
Vitamin A:
38
IU
|
Vitamin C:
0.5
mg
|
Calcium:
23
mg
|
Iron:
1
mg
Nutrition information is automatically calculated, so should only be used as an approximation.