The Spring Porcini Conundrum
June 12, 2014 | Updated June 24, 2020
As an Amazon Associate I earn from qualifying purchases.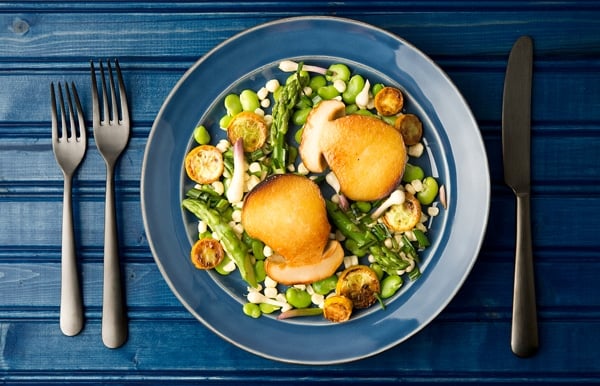 Spring porcini mushrooms are, to most of the world, an oxymoron: Porcini are a fall, even a winter mushroom, right? Look into the recipe archives of the French, the Italians, Germans and Eastern Europeans and virtually every recipe for Boletus edulis involves wintry mixes of cream, stock, red meats, heavy sauces and such.
None of that works here in the West of the United States. Here, from California to Seattle, we get spring porcini, Boletus rex-veris, a springtime butter bolete, B. appendiculatis — and in Colorado and the Rocky Mountain states they get a big flush of a similar bolete after their monsoon rains of late July. Yes, we do get the fall porcino, too, but that's another story.
What's more "spring" porcini hit here right as spring fades into summer, late May through June. So if you are a cook or a forager here, you need to devise your own way of celebrating this harvest. San Franciscans, who buy a lot of spring porcini, can do with them as they would fall porcini because in summer their city is fog-bound and chilly. Here in Sacramento, it was 108ºF two days ago. There will be no stews or braises going on in my kitchen for many months. I need to find another way.
Here's what I've learned over the years: First off, our spring kings, as they are called, are milder and firmer than the fall variety, which on the Pacific Coast is B. grand edulis. So they will not have that deep, rich porcini aroma that the fall mushrooms possess.
This is fitting, considering that deep and earthy isn't exactly what we think about when the temperatures begin to rise. Spring kings are cleaner tasting, a little crisper, too. If you've ever had a king trumpet mushroom, which you can buy in stores, it's pretty close and is a great substitute.
I asked a number of chefs and serious porcini hounds about what they do with their spring kings, and the universal answer was cook them simply with whatever seasonal vegetables happen to by lying around. Grilled porcini were the first choice, followed by searing them or broiling. I've also confited them in duck fat and that was pretty damn, good too.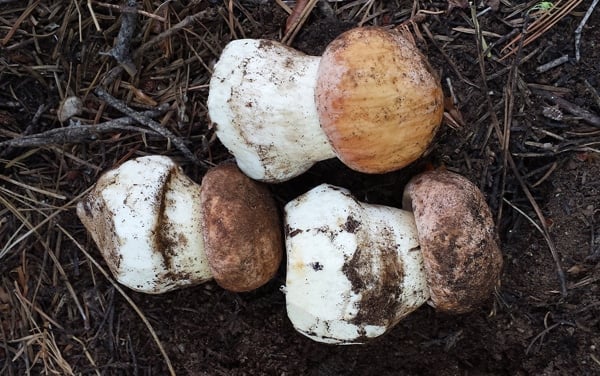 You have two main choices on how to cook your porcini. Sear them hard so that they give up their water, or brown them gently so they retain it. Hard-cooking a porcino will shrink it, make the mushroom denser and concentrate its flavor. But with spring kings the result is more "generic mushroomy" than anything else. These days I prefer to sear them on the cut side to get some nice browning — we all love the Maillard reaction, after all — but only gently cooking the rounded side of the mushroom by basting it with hot clarified butter. The technique is a lot like how you sear fish.
The result is a moister, springier mushroom that retains a bit of the complexity a heavily cooked shroom will lack. I like this method better when the porcini are the star, and the harder cooked method when meat is the star of the plate and the mushrooms the accompaniment.
What to cook spring porcini with? If they are the main event, as they are in the salad I made below, think of spring kings more as a stand-in for white meat poultry or fish. If you are using spring kings as a side dish, again, think about fish or chicken or turkey as the main course. Can you pair a spring king with venison steak or duck? Sure, but morels would be a better choice, or even shiitakes.
Light flavors, a light hand with cooking, light dishes. This is the realm of the spring king, the rex-veris.
Spring Porcini Salad
Since spring and summer collide when spring porcini are in season, I thought the salad should, too. So it combines the last of the asparagus and fava beans with the first of the corn and squash. Feel free to play with the vegetables to suit what's in season where you are. As for the mushrooms, you can substitute the large king trumpet mushrooms you see in supermarkets for the spring porcini. If a pinch, you could also substitute the cap of a really large cremini mushroom. It won't be the same, but it will still be good.
Ingredients
4

porcini buttons,

sliced in half lengthwise

4

tablespoons

clarified butter or olive oil

Salt and black pepper

2

pounds

fresh fava beans,

shelled and blanched, or 1/2 pound shelled peas

1

pound

asparagus,

blanched

12

small green onions,

white parts and green parts separated

2

ears of corn,

shucked and kernels cut off

4

small squash,

sliced into coins

Grated salt-cured egg yolk,

for garnish (optional)

Fennel fronds,

for garnish (optional)
Instructions
Once you have the favas shelled and blanched and the asparagus blanched -- boil both in salty water for 90 seconds to 2 minutes, then plunge into an ice water bath -- toss the favas with a little olive oil and set aside. Slice off the top 1/4 of the asparagus and toss with the fava beans. Use the rest of the asparagus for another use. Or add it to the salad anyway -- it makes no difference. Add the corn kernels to the bowl with the favas and asparagus.

In a large saute pan, heat 2 tablespoons of the clarified butter or olive oil over high heat. When it's hot, sear the squash until you get some nice browning, about 4 minutes. Turn the squash pieces once, and salt them well as soon as you turn them. When they're done, move them to the bowl with the favas, asparagus and corn.

Add the remaining clarified butter or olive oil. When the butter is hot, set the porcini cut side down and sear. You may need to press them down with a spatula; sometimes they will arc upwards and you won't get a good sear unless you do. Sear undisturbed for 5 minutes, or until the cut side is nicely browned. As the porcini cook, toss in the white parts of the green onions so they can cook, too. Use a spoon to baste the mushrooms with the hot butter. Do this pretty much constantly so the round side of the porcini cook. Salt them while they are still in the pan.

To serve, add the green parts of the green onions to the bowl with the rest of the vegetables and toss to combine. Ass salt to taste. Portion some out to everyone on plates. Give everyone 2 halves of a porcino with a little of the onions. Grind some black pepper over everything and garnish with the egg yolk and fennel fronds, if using.
Nutrition
Calories:
482
kcal
|
Carbohydrates:
67
g
|
Protein:
25
g
|
Fat:
16
g
|
Saturated Fat:
2
g
|
Sodium:
31
mg
|
Potassium:
1635
mg
|
Fiber:
19
g
|
Sugar:
15
g
|
Vitamin A:
1726
IU
|
Vitamin C:
51
mg
|
Calcium:
164
mg
|
Iron:
7
mg
Nutrition information is automatically calculated, so should only be used as an approximation.