Roast Chukar
October 20, 2021 | Updated May 28, 2022
As an Amazon Associate I earn from qualifying purchases.
This is a lovely, simple chukar recipe for roast chukar, brined overnight to keep it juicy. This same recipe works with partridge, quail, small grouse and Cornish game hens.
Let me stress that while I designed this as a chukar recipe, a chukar is just another partridge, which is just another small cousin of the chicken. So your experience with chicken will come in handy.
Like chicken, chukars can get dry in a hurry. That's why I advise brining the birds overnight before roasting. It will give you wiggle room in the roasting process without making the bird a desiccated mess.
You will, ideally, serve one chukar or similar bird per person, or two quail or woodcock, or maybe just one pheasant for two people. But a chukar is a great single serving game bird.
Obviously this is for a plucked chukar. If you skin your chukars, I don't advise this recipe. Try using chukars in recipes like my pheasant and dumplings, or pound the breasts out into cutlets for wiener schnitzel, or make chukar stock, and then use the meat shredded off the carcasses to make a batch of chukar taquitos.
Back to this chukar recipe. You don't have to brine, and I don't anymore because I've roasted a lot of small game birds. The tradeoff is crispy skin; it's harder to get that perfectly crisp skin with a brined bird, but an unbrined bird can dry out more easily.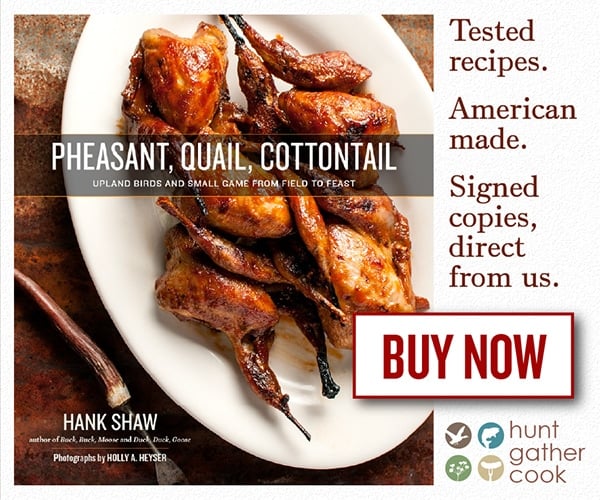 Under no circumstances do you want the breast meat of a chukar or similar bird to get above 155F. This is fully cooked, but with a blush of pink. I prefer 150F. This is perfectly safe with wild birds; no one gets salmonella from wild chukars.
To be perfectly honest, my preferred method of cooking partridges, quail and chukars is to pan roast them. Here is my method for pan roasted chukar.
As for a sauce for this chukar recipe, it's up to you. I really like this apple-based sauce with apple brandy and cider vinegar. But a traditional Cumberland sauce would be nice here, too.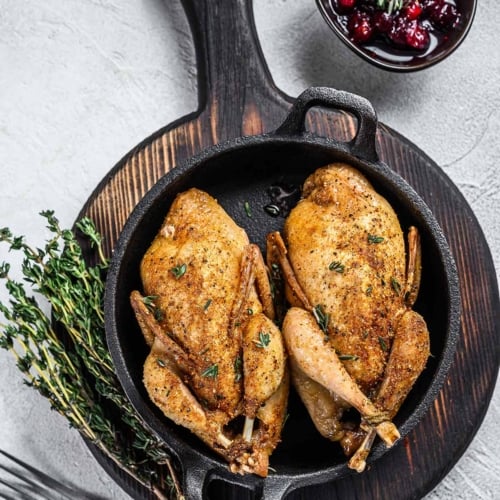 Roast Chukar or Partridge
The sauce I chose to go with this recipe is an apple-based one; I like the combination of "chickeny" birds and apples. You make the sauce at the end, while the chukars are resting, so have everything ready to go before you get to that point. Serve this with polenta or mashed potatoes.
Ingredients
2

chukars or

Hungarian partridges

Kosher salt

Celery stalks
BRINE
1/4

cup

kosher salt

4

cups

water
SAUCE
1

shallot,

minced

2

tablespoons

butter

3

tablespoons

demi-glace, or 1 cup stock,

boiled down by half

3

tablespoons

Calvados or other apple brandy

1

tablespoon

cider vinegar

1/4

teaspoon

cinnamon

Pinch of salt
Instructions
Get your tap water as hot as it'll go and pour 4 cups of it over the salt. Stir to dissolve. Let cool to room temperature. Submerge the birds in the brine, cover and refrigerate for up to 8 hours.

Remove the partridges and pat them dry. Let them sit out at room temperature for 20 minutes, while you preheat the oven to 450°F. Because I often brine overnight, I sit the birds out uncovered in the fridge all day to dry. This helps a lot with crispy skin.

Stick a quarter of a lemon into each bird. Lightly salt the birds; they'll already be a little salty from the brine, so don't go overboard.

Get a cast-iron pan or other oven-proof pan and lay down the celery stalks — these are to keep the partridges up off the bottom of the pan. Roast in the oven for 20 to 25 minutes. Check for doneness with a thermometer. You want the thick part of the breast to be about 150 to 155°F.

Remove the birds to a cutting board to rest, then put the pan on the stove. Turn the heat on to medium and remove the celery. Remember it's hot, so use a mitt!

Melt the butter in the pan and sauté the shallots until the begin to brown. Add the remaining ingredients and stir well to combine. Cook down by half and turn off the heat.

Serve the sauce over mashed potatoes or polenta and under the chukars. I prefer a big white wine with this, like a Chardonnay or a white Cotes du Rhone.
Nutrition
Calories:
1113
kcal
|
Carbohydrates:
2
g
|
Protein:
162
g
|
Fat:
43
g
|
Saturated Fat:
7
g
|
Polyunsaturated Fat:
1
g
|
Monounsaturated Fat:
3
g
|
Trans Fat:
1
g
|
Cholesterol:
30
mg
|
Sodium:
386
mg
|
Potassium:
1897
mg
|
Fiber:
1
g
|
Sugar:
1
g
|
Vitamin A:
351
IU
|
Vitamin C:
1
mg
|
Calcium:
25
mg
|
Iron:
35
mg
Nutrition information is automatically calculated, so should only be used as an approximation.