Braised Venison Shanks with Garlic
November 11, 2012 | Updated May 17, 2020
As an Amazon Associate I earn from qualifying purchases.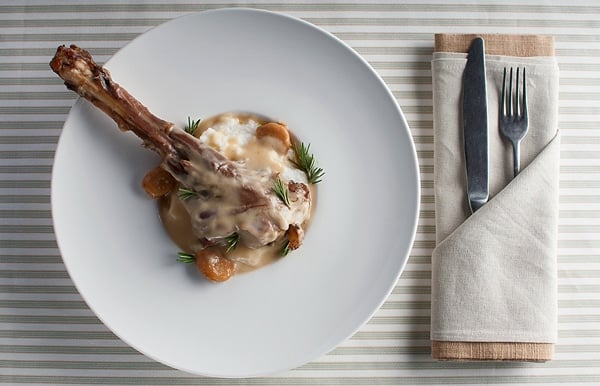 Whenever I come home with a deer, one of the first things I eat are the shanks. Venison shanks are an eater's cut: All that connective tissue is what is essentially the animal's shin and calf melts into a slick, almost sticky gravy. Properly done, a braised shank feels like its loaded with fat, but isn't. It's alchemy.
The key to cooking any shank, wild or domestic, is to cook it slow, moist and low. Take your time, braise or stew the shanks over low heat. Once you figure that out, you're golden.
Hunters out there, if you have never bothered with the shanks from your deer, you really ought to. Ever try to use one for sausage or burger? The same connective tissue that makes braised venison shanks so good will destroy your grinder — or make you homicidal as you try (unsuccessfully) to remove all of it beforehand. Better to go with what nature gives you.
To remove a shank from a deer or pig, you will often need a hacksaw, but if you cut all the tendons just right you can break the shank off by bending it backwards. Shanks from smaller deer, antelope or pigs should be cooked whole, like this recipe, while elk or moose shanks should be cut into cross sections like beef shanks.
Most braised shank recipes are heavy, loaded with dark, brooding ingredients like mushrooms, Port or beef stock. I like those flavors as much as the next guy, but it would not be right for this yearling antelope, whose meat is pale like lamb. So I went with a spring lamb feel for this dish.
I had a lot of garlic lying around the pantry, so I decided to go with a flavor reminiscent of Forty Clove Chicken.
Yes, there are something like 4 heads of garlic in this dish. Worry not: The garlic gets very mellow in the braising process, and if you follow this trick, peeling it all will take you less than a minute. Really.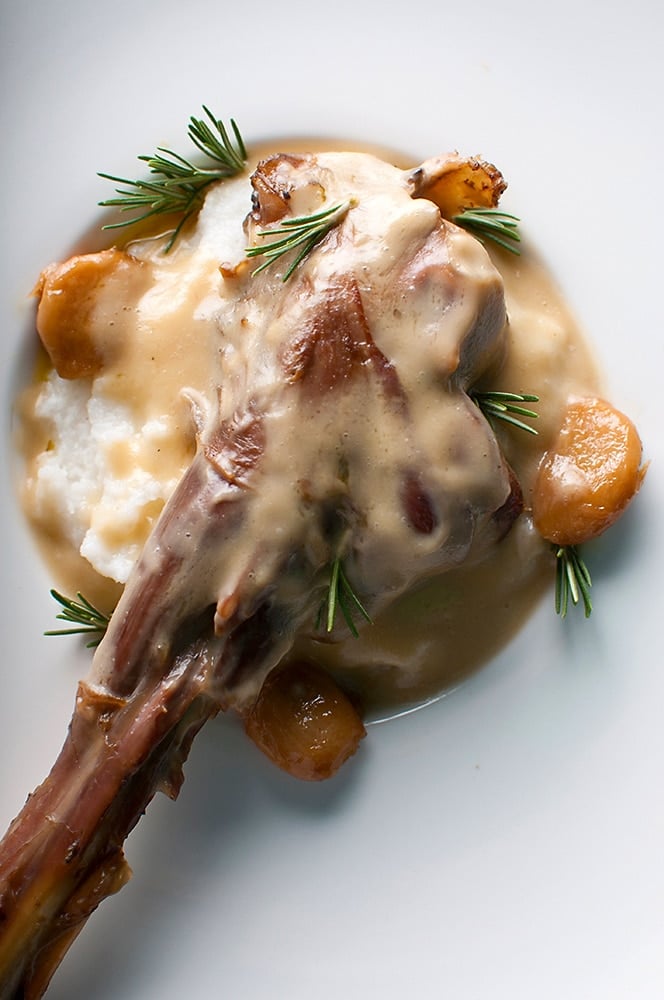 The result is a smooth, silky, mellow (and yes, garlicky, but not offensively so) sauce poured over meat that's so tender it falls off the bone. A little lemon zest and white wine provide some tartness, some rosemary for balance.
Serve this with mashed potatoes, polenta or something else to soak up the sauce, which is so good you will want to save any leftovers; it's great as a pasta sauce the next day.
Try this recipe and you too may find yourself eating the shanks from your deer before you even think about the backstrap…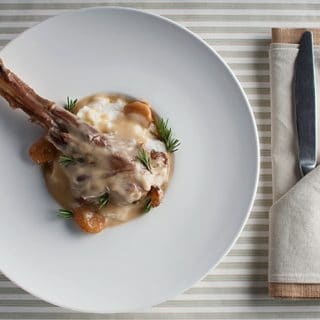 Braised Venison Shanks with Garlic
As I designed this specifically for a young antelope, you will need something like it to really appreciate the dish. In the wild world, use this recipe for shanks from young animals, i.e., yearlings, young does or wild boar. If you make this with older animals, the flavors won't work as well -- use my recipe for Portuguese braised venison shanks instead. In the domesticated world, this recipe is absolutely ideal for lamb shanks.
Ingredients
3

tablespoons

vegetable oil or butter

4

venison shanks

(or lamb)

4

heads of garlic,

peeled

Salt

3/4

cup

white wine

1/2

cup

chicken or other light stock

1

teaspoon

dried thyme

1

tablespoon

chopped fresh rosemary,

plus more for garnish

Zest of a lemon

2

tablespoons

unsalted butter
Instructions
Take the shanks out of the fridge, coat them in a little oil and salt them well. Preheat the oven to 300°F.

Heat the vegetable oil or butter in a Dutch oven (or other ovenproof pan that will fit all the shanks) and brown the shanks on every side but the one with the "shin," where the bone shows clearly -- if you brown this part, the shank is more likely to fall apart before you want it to. Remove the shanks as they brown and set aside.

While the shanks are browning, peel the garlic. Think it's hard to peel 4 heads of garlic? Try this trick: Separate the cloves and put them in a metal bowl. Cover the bowl with one the same size and shake them vigorously for about 10 seconds. All the cloves will be peeled. Here is a video of the process.

Put the garlic in the pot and brown just a little. Pour in the white wine and scrape up any browned bits from the bottom of the pot with a wooden spoon. Bring this to a boil and add the chicken stock, thyme, rosemary and lemon zest. bring to a simmer and add salt to taste. Return the shanks to the pot and arrange "shin" side up with the garlic all around them. Cover the pot and cook in the oven until the meat wants to fall off the bone, anywhere from an hour to 2 hours.

Carefully remove the shanks and arrange on a baking sheet or small roasting pan. Turn the oven to 400°F. Remove about 12 of the nicest garlic cloves and set aside.

Puree the sauce in a blender, swirl in the unsalted butter and pour the sauce into a small pot to keep warm.

Paint the shanks with some of the sauce and put them in the oven. Paint every 5 minutes for 15 minutes, or until there is a nice glaze on the shanks. To serve, give everyone some mashed potatoes or polenta and a shank. Pour some sauce over everything and garnish with the roasted garlic cloves and rosemary.
Notes
I garnish this dish with my preserved garlic, but unless you've already made some, just remove some of the garlic cloves from the pot before you puree the sauce. 
Nutrition
Calories:
410
kcal
|
Carbohydrates:
3
g
|
Protein:
40
g
|
Fat:
22
g
|
Saturated Fat:
14
g
|
Cholesterol:
142
mg
|
Sodium:
158
mg
|
Potassium:
507
mg
|
Fiber:
1
g
|
Sugar:
1
g
|
Vitamin A:
190
IU
|
Vitamin C:
1
mg
|
Calcium:
31
mg
|
Iron:
4
mg
Nutrition information is automatically calculated, so should only be used as an approximation.