Braised Rabbit with Garlic
October 22, 2015 | Updated June 11, 2020
As an Amazon Associate I earn from qualifying purchases.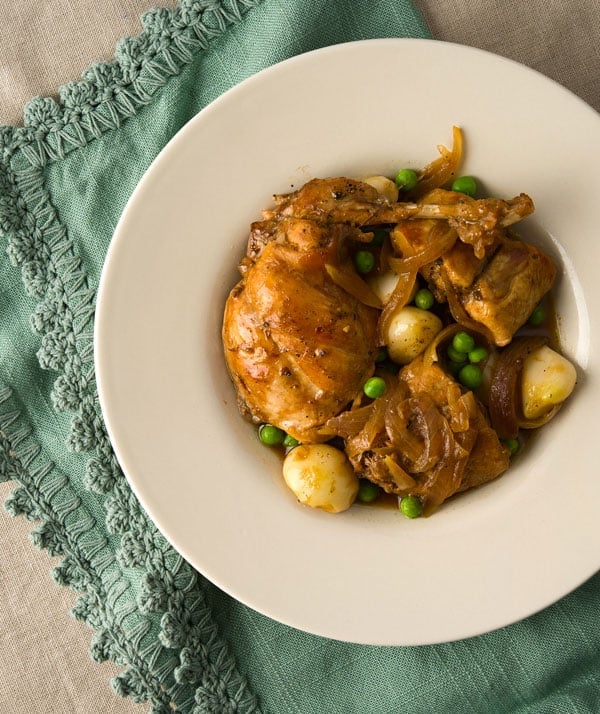 I am indebted to the late, great Penelope Casas for this braised rabbit recipe. Casas, who died in 2013, was one of the foremost experts on Spanish food, and her cookbook The Foods and Wines of Spain, remains an invaluable part of my collection. This dish is from that book.
Spain has all kinds of vinegary-meaty wild game dishes, notably their famous escabeche with partridges or pheasants. The theory is that vinegar can offset any sort of gaminess, while at the same time helping to preserve things for a few days; it's not a bona fide preservation technique, but it will help keep everything nice for a week in the fridge.
It is ridiculously simple.
Rabbit, browned in olive oil, braised with vinegar and lots of garlic and onion, served with some sweet peas right at the end. Everything is in balance, from the zippy sherry vinegar, the warmth of the slow-cooked garlic, the rabbit, which turns luscious after simmering for hours, and even the peas, which really come off as sweet when juxtaposed with everything else in the bowl.
Add good black pepper and you need nothing else — except for maybe a nice white wine.
Chances are you are here looking for a rabbit recipe, but know that you can substitute chicken, turkey, quail, partridge, pheasant, squirrel or grouse here. Basically any white meat.
Once made, this, like many stews will keep for a week in the fridge.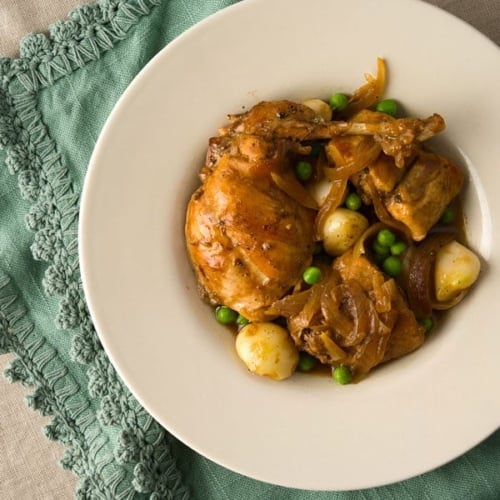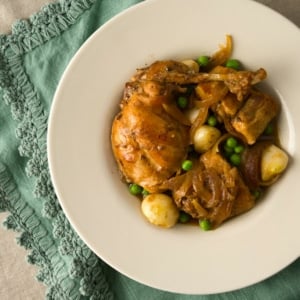 Braised Rabbit with Garlic
Either store-bought or wild rabbits will work with this recipe; if you use wild bunnies, I'd suggest cottontails and snowshoe hares. The quality of the vinegar and garlic matter. I use sherry vinegar, and I urge you to use it if possible, but a good cider, white wine or even malt vinegar would be alternates. Home-grown garlic is best, as it will often be less harsh and have larger cloves than regular garlic, but any garlic will work. 
Ingredients
3

tablespoons

olive oil

1

domestic rabbit or snowshoe hare

or 2 cottontails, cut into serving pieces

1

large yellow onion,

sliced into 1/4" pieces from root to tip

1

head of garlic,

cloves whole but peeled

Salt

1/3

cup

sherry vinegar

1

bay leaf

Black pepper

1

cup

peas
Instructions
Heat the olive oil in a large, lidded pot like a Dutch oven or, if you have one, an earthenware pot. Brown the rabbit pieces well, salting them as you do. Remove them as they brown and set aside. When the rabbit is browned, add the onion and cook, stirring occasionally, until it begins to brown, about 8 to 10 minutes. Add the garlic cloves and cook another minute or two.

Nestle the rabbit back into the pot, sprinkle some salt over everything and add the vinegar and bay leaf. Pour in enough water to get about halfway up the sides of the rabbit. Cover the pot and cook slowly over low heat for about 2 hours.

When the rabbit is tender, add black pepper and mix in the peas. Serve with lots of crusty bread.
Nutrition
Calories:
423
kcal
|
Carbohydrates:
8
g
|
Protein:
57
g
|
Fat:
16
g
|
Saturated Fat:
3
g
|
Cholesterol:
203
mg
|
Sodium:
130
mg
|
Potassium:
1074
mg
|
Fiber:
2
g
|
Sugar:
3
g
|
Vitamin A:
277
IU
|
Vitamin C:
17
mg
|
Calcium:
45
mg
|
Iron:
9
mg
Nutrition information is automatically calculated, so should only be used as an approximation.