Bierocks
December 04, 2017 | Updated August 02, 2022
As an Amazon Associate I earn from qualifying purchases.
I came to bierocks late in life, but this German cousin to a pasty or Chinese bao bun has stolen my heart. Bierocks are possibly the most versatile recipe on this website: You can fill them with any meat, mushrooms, or just vegetables. What follows is a traditional bierocks recipe, with only a few twists. Variations are at the bottom.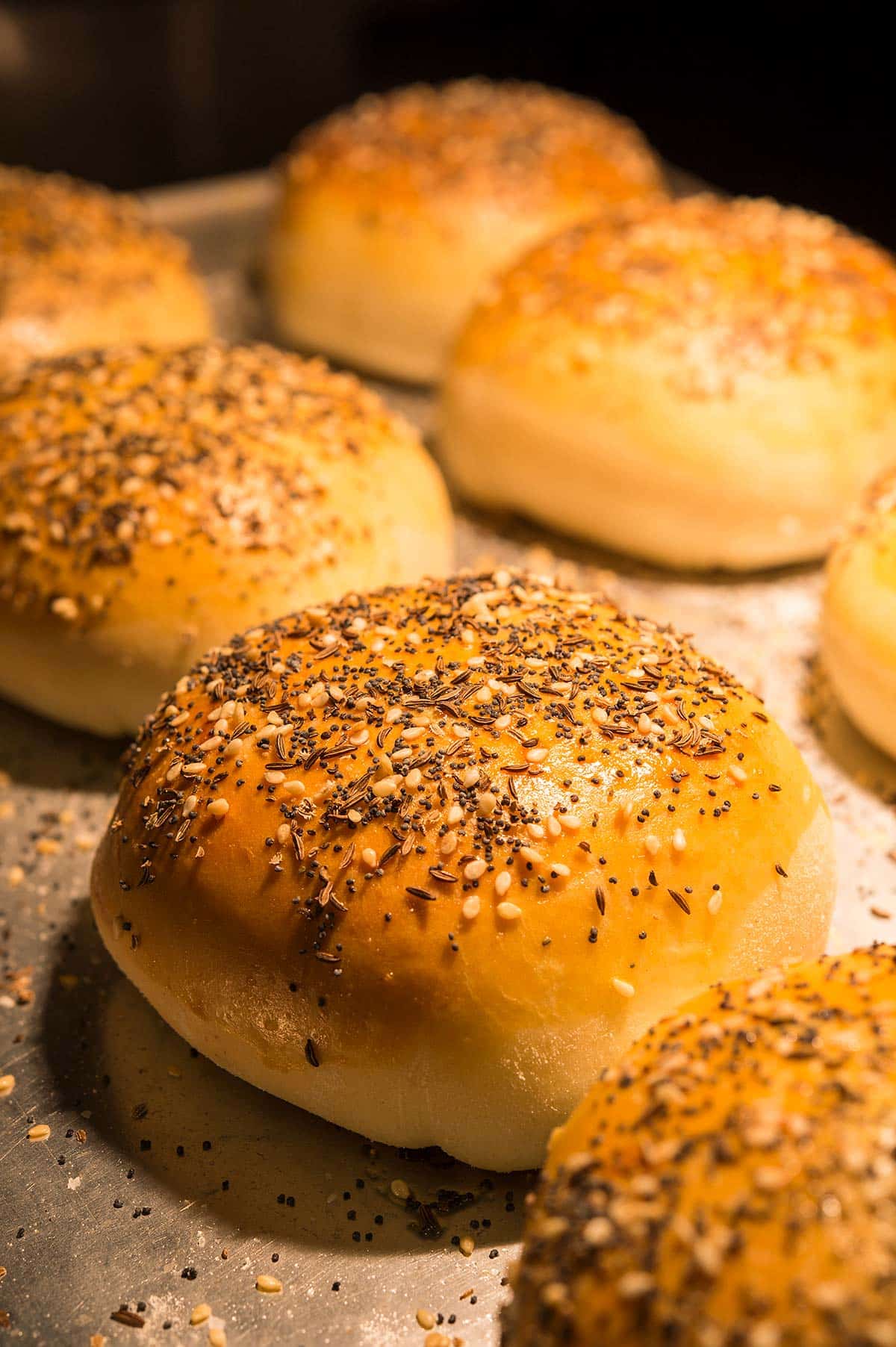 It all started on the side of a logging road at 10,000 feet in Colorado. My friend Jim and I had just climbed down a mountain after a successful ptarmigan hunt. I was starving, so I opened the cooler and saw some sort of bready thing wrapped in plastic wrap. What is that? "They're bierocks," Jim said.
Huh? "Yeah, they're a Kansas thing. Cabbage burgers? Runzas?" Never heard of it.
Jim handed me one. "Cabbage burgers," eh? Didn't sound too appetizing. I hesitated, but like I said, I was starving. I took a bite. It was cold, bready, meaty… and surprisingly good!
I decided then and there I needed to make these strangely awesome bready things. Bierocks have a long history in Eastern Europe. It took me a few tries, but I now have a bierocks recipe I really like. Aren't they pretty?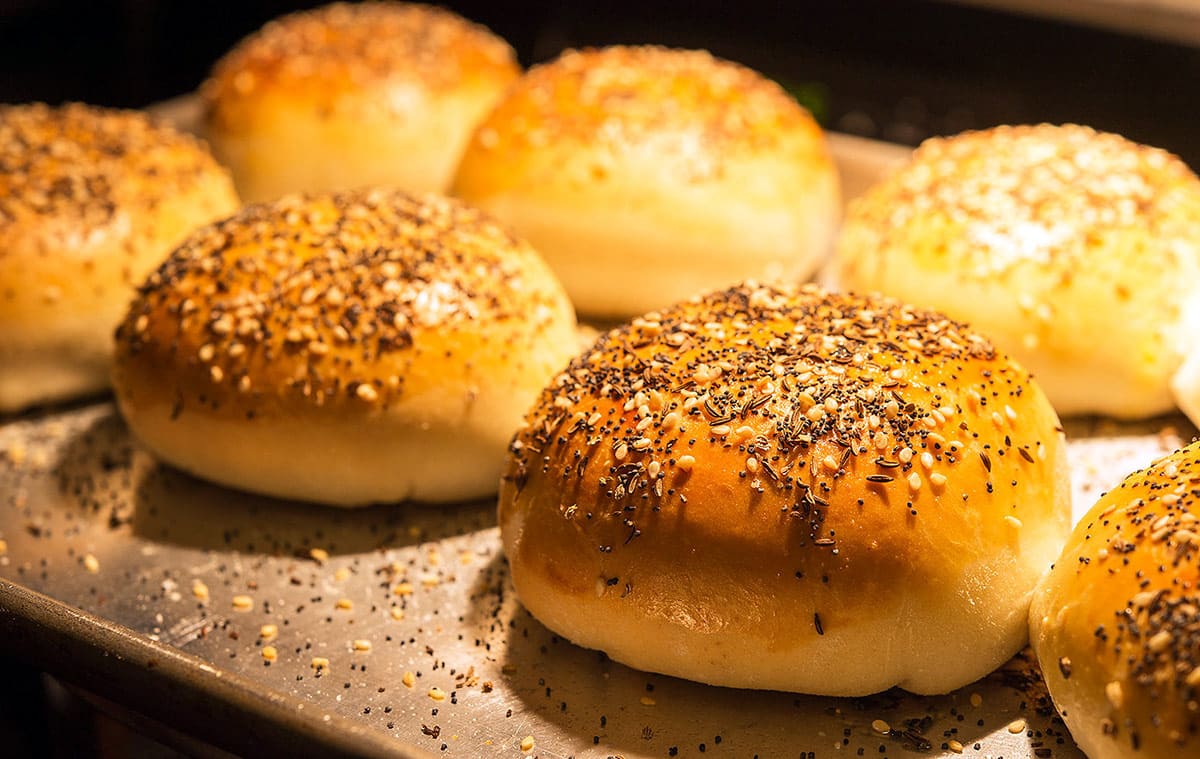 Jim's did not have seeds on top, but I like them. You can really get the flavor, too — it's a bit like the topping on an "everything" bagel. The bread is fantastic, too. Light, pillowy, but strong enough to contain the filling.
Filling for Bierocks
The filling. I realized you could put anything inside these buns, but I stuck with more or less traditional German-Polish bierocks. Cabbage, onion and meat is a must. Sauerkraut factors in, and I like it a lot. I use my own fennel sauerkraut, but any good 'kraut would work.
Most bierocks recipes are super simple in terms of seasoning, but I added some Eastern European touches, like mustard, malt vinegar and thyme.
As for the meat, well… really anything goes. Anything. And if you are a vegetarian reading this, chopped mushrooms work every bit as well. I've made these bierocks with sharp-tailed grouse, sea ducks, regular ducks, venison and wild pork. The one thing you need to decide is whether you're going ground or diced.
When I use bird breasts or another really tender cut, I will dice the meat small and add it raw to the filling; don't worry, it cooks through when you bake the bierocks. Your other option is to add ground meat that you cook with the filling.
Leftover, shredded meat is another excellent option. Make sure you chop it so it's not stringy.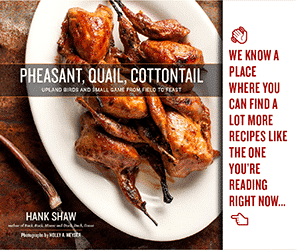 Making Bierocks
You are actually making a simple bread for the bierocks themselves, which sets them apart from cousins like Cornish pasties or empanadas. This means you'll want plenty of time to make this, or any other, bierocks recipe. A weekend is a great time; don't worry, bierocks store and freeze well. More on that later.
For the dough, you will need yeast, regular flour and some time to let it rise. I generally make the dough and let it proof while making the filling. If you want, you can sub in other flours, either in part or whole. I really like adding a little rye, barley, emmer or spelt to the party. It make the bierocks seem more Eastern European.
(If you're in a hurry, you can use canned biscuit dough. It's a cheapy option, but it works. Pop the can and then flatten the dough coins, and move on from there.)
One tip that no other bierocks recipe seems to mention: You need to flatten the outside inch or so of the bread dough much thinner than the center. You actually want the center to be about 1/4 inch thick, so pretty thick. But the rim needs to be very thin.
You put the filling on the center (which become the tops of the bierocks), and then fold up the outside rim to seal it. If you don't flatten the outer part more than the center, you will have a huge glob of bread at the bottom. Doing it this way keeps the bread relatively even. See?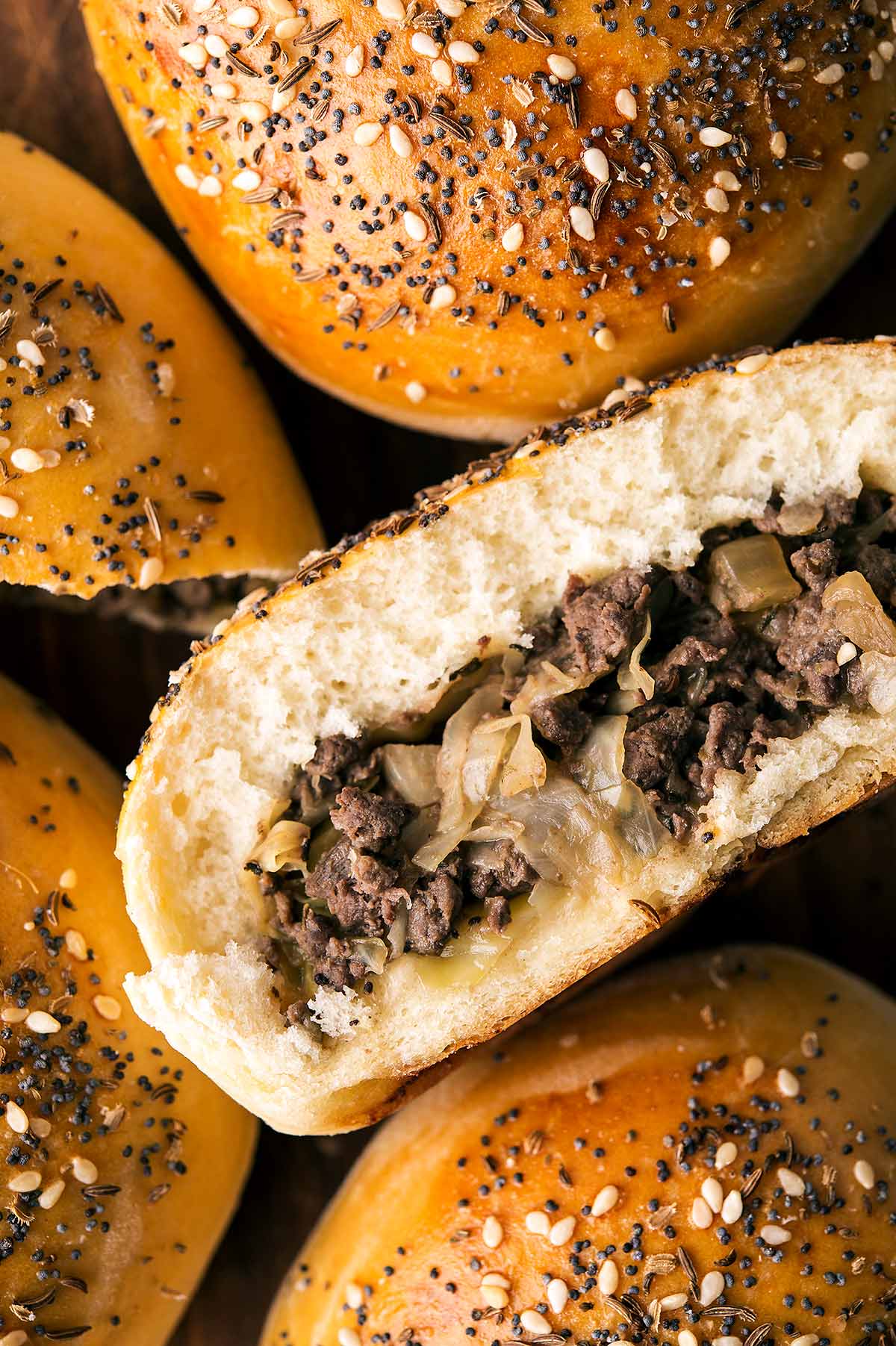 Variations
OK, so this bierocks recipe is traditional Polish/German, but I've found that everything tastes good inside. Leftover barbacoa or carnitas, you could cook down a batch of elk stew or pheasant stew until it was sticky and not soupy, you could add Mexican picadillo, use my mushroom pierogi filling, hell, you could even sub in crab or flaked fish for the meat if you wanted.
The possibilities are limited only by your imagination.
Leftovers
This bierocks recipe makes a fair number, and can be doubled easily. In fact, I always double it because they keep for a week or more in the fridge, and freeze well.
To freeze, let them cool completely, then wrap in plastic wrap. But them all in a freezer bag and you're good.
Reheat your bierocks in a toaster oven at 350°F for 10 to 15 minutes, or use a microwave. Or do what we did on the mountain and eat them cold.
A final note: Bierocks tend to look like these pictures. Their sister pastry, runzas, which are more of a Nebraska thing, are square or rectangular. They taste about the same, though.
I hope you make these, and I'd love to hear about how you make them your own in the comments section!
Other Meat Pies to Try
I have a wide selection of other fantastic meat pies you might want to try. Some are bready, others use pie crust, some use other doughs. Keep in mind the filling meat can really be whatever you have lying around.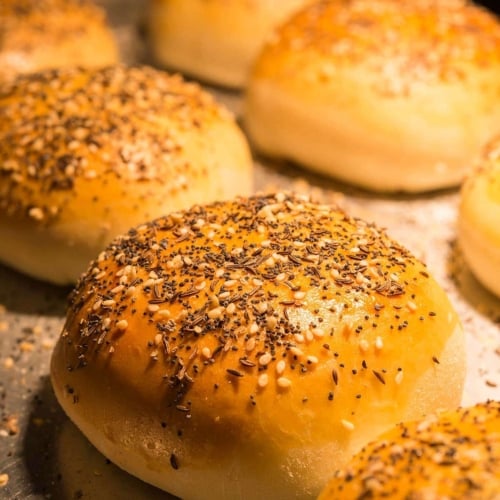 Bierocks or Runzas
You can use any meat for your bierocks, and you can either grind the meat or dice it. I prefer to use both shredded cabbage and sauerkraut here, but you can use one or the other if you like. My seasonings reflect the Eastern European tradition of these buns, but you can play with it if you'd like. Once made, bierocks will keep in the fridge for a week, and are good cold.
Ingredients
DOUGH
1

cup

warm water

1

packet of yeast

¼

cup

sugar

1

teaspoon

salt

1

egg,

lightly beaten

¼

cup

room temperature butter

3 1/2

cups

bread flour,

plus more for dusting
FILLING
1

pound

tender meat,

diced small (see above)

¼

cup

butter

2

cups

shredded cabbage

1

cup

chopped sauerkraut

1

cup

chopped onion

Salt and black pepper

1

teaspoon

dried thyme

1

tablespoon

mustard

2

tablespoons

malt vinegar

¼

cup

beer

(lager or pilsner)
TO FINISH
2

eggs,

lightly beaten, for brushing the bierocks

2

tablespoons

seeds

(poppy, caraway, sesame, etc)
Instructions
Bloom the yeast in the warm water for 10 minutes, then mix all the remaining dough incredient together in a bowl. Knead on a floured surface for 5 minutes, then cover and let rest 1 hour.

Make the filling. Heat the butter in a large pan and cook the cabbage, sauerkraut and onions over medium heat until soft, about 5 minutes. Add salt and black pepper to taste. Stir in the thyme, mustard, vinegar and beer and simmer until the liquid is all gone. Turn off the heat, and, when this is cool, mix well with the uncooked meat. Set in the fridge.

After the first hour has elapsed, punch down the dough, knead a few more times, then roll into a ball, cover and let sit another hour.

When the dough has about 30 minutes to go, take the filling out of the fridge. It is important that it goes into the bierock at room temperature. Preheat the oven to 350°F. Grease a baking sheet well.

Cut the dough into eight pieces. Set the pieces you are not working on under plastic wrap or a damp towel. Divide the filling into eight parts, too.

Roll a piece of dough into a ball, then flatten it to about 1/3 of an inch thick. Roll the outer inch of the dough thinner, to about ¼ inch thick or even thinner if you can – this makes what will become the bottom of the pastry match better with the top. Add some filling and bring the dough up all around it to seal. Set the dough seam side down on a floured surface and gently shape it into a flattened ball with your hands. Set on the greased baking sheet and repeat with the other pieces of dough.

When all your bierocks are made and on the sheet, paint them all with egg and sprinkle with the seeds, plus a little more salt.

Bake for 25 minutes, and cool a bit before serving. These are excellent at room temperature, too.
Nutrition
Calories:
452
kcal
|
Carbohydrates:
50
g
|
Protein:
23
g
|
Fat:
17
g
|
Saturated Fat:
9
g
|
Cholesterol:
140
mg
|
Sodium:
589
mg
|
Potassium:
347
mg
|
Fiber:
3
g
|
Sugar:
8
g
|
Vitamin A:
461
IU
|
Vitamin C:
10
mg
|
Calcium:
43
mg
|
Iron:
3
mg
Nutrition information is automatically calculated, so should only be used as an approximation.