As an Amazon Associate I earn from qualifying purchases.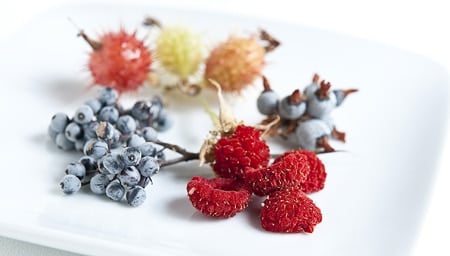 My friend Josh and I recently went up to the Sierra in search of berries. We'd scoped out some Sierra currants and gooseberries earlier this summer, and this was our trip to clean up on these berries. We did, and got a couple of surprises in the process.
High up — 6,500 feet or higher — there are still lots of wildflowers in bloom, and the many permanent mountain springs create little oases of lushness in an otherwise dusty environment. The berries are most often found near these springs. Josh wanted to collect elderberries, which are just now coming on strong up there. Me? I wanted to collect the mysterious Sierra currant and Sierra gooseberry, two fruits I'd never eaten before.
Back in June, we'd found lots of bushes, but they were still in flower.
Those pretty magenta flowers ripen into a deep blue currant, distinguishable by a frosty bloom — and the fact that it seems to have five o'clock shadow.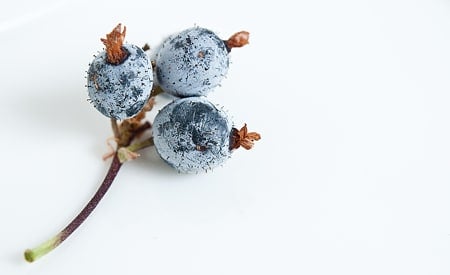 I'd read about these currants, and different authors have different opinions about this berry: Some say they are delicious, others insipid. We tasted some on the bush, and found them,well, OK. Definitely edible, so long as you take the brown corpse of the flower off the end of the berry. A little mealy, no acid to speak of, but reasonably sweet.
All in all, though, the Sierra currant is a dud. I'd happily eat it as a trail nibble, or if I were in trouble, but I will not be picking them again. If you do want to play with these currants, be sure to pick off the dead flower bits first.
Lots of other currant species live in America, however, and I hope to find them soon. There is a Western golden currant out there that is reportedly fantastic — only I've never found a single bush. Anyone ever seen one? What about experience with other wild currants? Let me know.
All was not lost, however. Living among those Sierra currants were low-growing Sierra gooseberries. The plants are cousins, and share a very similar leaf — like a ridged, toothed maple leaf. Big difference between currants and gooseberries? Currants grow in clusters on branches with few or no spines. Gooseberries grow singly, and both the fruit and the bushes are spiky. Some more than others.
You tough enough to eat these bad boys?
Lemme tell ya, picking these gooseberries absolutely requires leather gloves. Those are real spines that really hurt. What you see in the picture above are the three stages you want to pick gooseberries in: Thinking about getting ripe (note the berry is yellow, not green), almost ripe, and full-on zaftig ripe.
We found some plants laden with the spiky fruit, which I collected with gusto. Just the aroma alone was intoxicating. Sierra gooseberries smell sorta like Sweet Tarts candy. Sharp, fruity and very sweet. Josh and I broke open a couple berries to get at the pulp inside. Delicious! Just the like the domestic gooseberries I used to grow when I lived in Fredericksburg, Virginia.
[on_ad]
[/one_ad]
But how to deal with those spines. Boy howdy are they nasty! I thought back to the manzanita berries I'd been playing with recently: They were best briefly boiled, crushed with a potato masher and allowed to steep for a long time.
I did the same with the gooseberries. I covered them with water, boiled it for 2-3 minutes, turned off the heat and mashed them with the potato masher. I let the mash cool to room temperature and then poured it into a plastic container to steep in the fridge for several days — you don't need to wait several days, but I was busy with other things.
I highly recommend you go looking for your native gooseberries — one species or another lives in most every state; I used to collect the Eastern prickly gooseberry when I lived in Minnesota. Once you get them home, if they are too spiny to eat raw, follow these instructions on how to process gooseberries.
What do you do with gooseberries? I am contemplating making a pie filling from the tan pulp you see at the bottom of the jar; it's tasty, if unappealing in color. But the pink juice, which is a brilliant scarlet when you use ripe berries, taste like liquid gold. It will need a little sugar to drink straight, or you can make a syrup from the juice by heating it gently with an equal volume of sugar.
Use the syrup on pancakes, over ice cream, or you could make one helluva Bellini by mixing it with sparkling wine.
Or, you could do as I did, and make gooseberry sorbet. Gooseberries have quite a bit of acid to them, so they did not seem right for ice cream. But they were perfect in sorbet — bright, a pretty pale pink, and refreshing.
Flush with gooseberries and elderberries, We drove around looking for other likely places to forage. "What's that?!" Josh said as we drove by some bushes. I slammed on the brakes and pulled over.
Thimbleberries! Booyah! There is nothing like a thimbleberry. A cousin of the raspberry, it is more delicate, more deeply flavored, more perfect. Raspberry's beauty is mortal. Thimbleberries are the fruit of Aphrodite.
I picked as many as I could, which is not easy. Thimbleberries are so delicate that they crush with even the slightest pressure. Best bet is to pop off the whole end of the plant so you can ease the berry off its base at home.
Yes, I know people make thimbleberry jam. Or cobbler, or whatever. But sometimes something is so wonderful you want to hide in a corner where no one can see you, popping one berry into your mouth after another — your eyes closing involuntarily — savoring every molecule before it's gone. Thimbleberries are like that. Eat them plain.
UP NEXT: Out on the Coastal Range. I'm your huckleberry…