Here it is! The Pheasant, Quail, Cottontail Book Tour Map!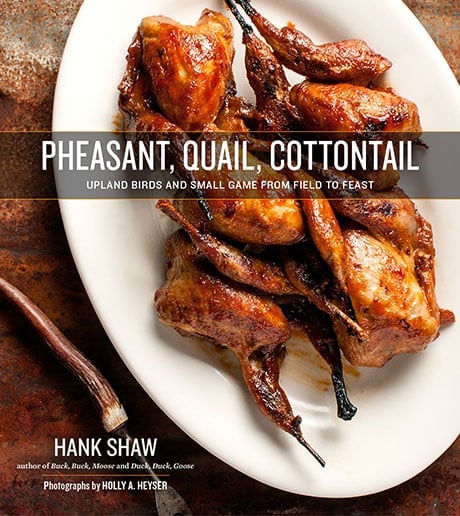 This is where I'll be as I tour the nation and Canada this year for Pheasant, Quail, Cottontail: Upland Birds and Small Game from Field to Feast, the third book in my wild game trilogy. As you can see, I'll be, like Johnny Cash, everywhere. More or less.
I will try to update this page, as well as the map, as well as my Events Page on Facebook, as often as I can.
I should always have some copies of my venison book, Buck, Buck, Moose
, and my duck book, Duck, Duck, Goose
, while on tour, but if you want to ensure that I do, drop me an email at scrbblr AT hotmail DOT com to let me know you are coming and want one of these books.
I am also happy to sign books you've already bought.
Denver Book Dinner
Denver, Colorado
November 14, 2018
I've had such a great time at Old Major in Denver, I had to come back! This time we'll be featuring birds and small game, but expect a few surprises. Everyone's ticket comes with a signed book. Cost is $75 for a four course meal plus the book. Make your reservation (for whatever time is best for you) here.
Kansas Ringneck Classic
Colby, Kansas
November 16, 2018
I'll be hunting, talking small game, and maybe even doing a little cooking at the annual Kansas Ringneck Classic.
Pennsylvania Book Dinner
Reading, Pennsylvania
November 28. 2018
Join me in Reading at Say Cheese, where I'll be teaming up with my friend Jeremy Nolen, recently of Philly's Brahaus Schmitz, for a fantastic game dinner. Details of the dinner, and how to reserve your spot, are HERE.
Maryland Small Game Seminar 
Chestertown, Maryland
November 29, 2018
I will be returning to Washington College on the Eastern Shore to talk about small game, answer any questions you might have on wild game or fish, and of course sign books, which I will be selling at a discount. This is a free event, but further details are HERE.
Washington DC Book Dinner 
Washington, DC
November 30, 2018
I will be teaming up with my friend Liam LaCivita at his new restaurant Via Umbria for a small game feast Italian style! Here are the details and how to reserve your spot.
Richmond Cooking Demo
Richmond, Virginia
December 1, 2018
Love Richmond, the Holy City! Happy to be signing books and demonstrating some of my poultry cooking techniques in Pheasant, Quail, Cottontail at Mise en Place in downtown Richmond. Details on the class are HERE, space is very limited!
Homecoming Book Dinner 
Sacramento, California
December 9, 2018
This is it, the LAST book dinner of the season! I will return home to Sacramento to team up with my friend Chef Oliver Ridgeway at his new restaurant Camden Spit & Larder for a holiday feast! Menu is TBD, but the cost will be $85 for four courses, and that includes a signed copy of the book! Reserve your spot by emailing: events@camdenspitandlarder.com