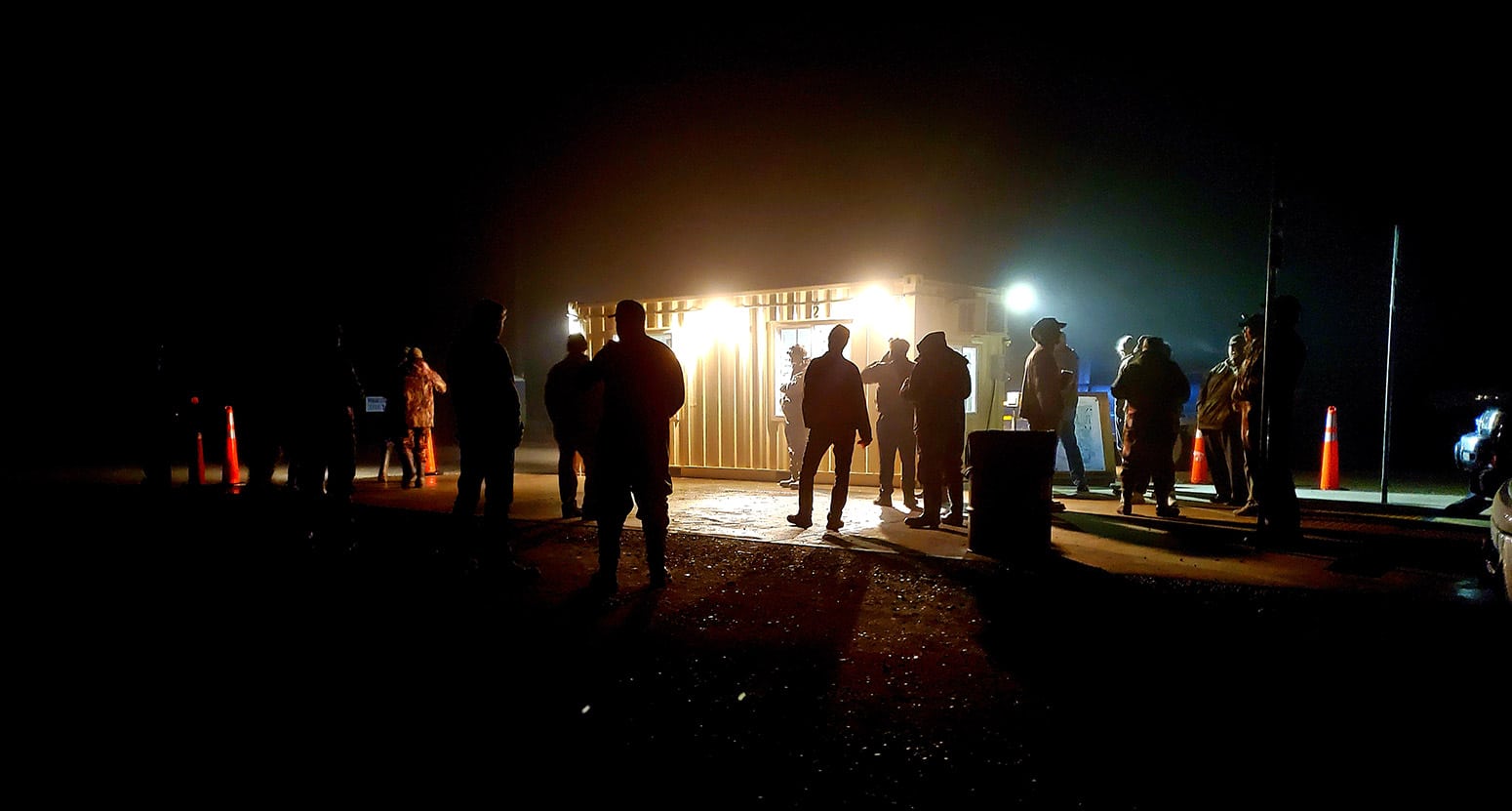 Another duck season is in the books. I sit here, a little achy, a little sad, a little relieved.
The 2019-2020 duck season was not a good one, if I am thinking solely in terms of numbers. And while I don't write down every single bird I shoot, I know that it was not more than about 40 for the year. There have been years where I've shot more than 100.
Part of me is glad for this, because on those bonanza years I found myself giving away a great many birds — even choice birds like fat mallards or (gasp!) drake pintail, which, here, are the prince of ducks. Big, fat, sweet, meaty. Not this year.
This year the sprig, as we call pintails here in NorCal, took on the aspect of the One Ring: They are… my precious. Only Holly has the privilege of sharing them with me.
Holly had a rough season, too, so our freezer does not runneth over. And that's OK. We still have a couple dozen ducks in the freezer between us, enough to eat later in the year when we want to think of this thing that obsesses us for 107 days each year.
Because while my season was relatively lean in birds, it was rich in experience. I sit here feeling smarter as a duck hunter now than when I began the season in October.
It was, let's just say, a season of adversity, leavened with lots of bad luck, sprinkled with just enough good fortune to keep me going.
I shot a limit of ducks exactly one time… only to see my friend's dog destroy three of them. This had never happened to me before, so I was dumbfounded. Apparently it's not unheard of in the duck dog world. (Holly and I don't hunt with a dog, incidentally.)
I scheduled three goose hunts with a great guide who also happens to be my friend, R.J. Waldron, only to see the geese flummox us twice, enough so that we all agreed to cancel the third hunt.
I found myself in the wrong place at the wrong time more often than not, watching others, even my own hunting party, rack up limits while I sat there with a cold shotgun.
Other than the one limit day, I hunted no fancy duck clubs. If you are unfamiliar with this concept, know that the well-to-do have been creating and maintaining private marshes for waterfowl for close to 150 years, and a lux duck hunt, with breakfast made for you, an ATV or boat ride to the blind, sometimes even a submerged gravel walkway to a heavily brushed up blind already supplied with decoys, is a thing. And a lovely thing at that.
But I am OK with not hunting the fancy clubs. Why? Because it sent me back where I belong: to public land.
This season I had the opportunity to hunt public land in Arizona as well as here in California. (Yes, there are ducks in Arizona.) Mostly what you do there is jump cattle tanks, although there are a few "tanks" that are lake-sized. One of these hunts took place near the Mexican border. Very near the Mexican border, in fact. We jumped a pond that had Mexican ducks in it, and got several, along with some mallards, too. So it seemed obligatory to shoot a photo of the birds literally on the border with Mexico.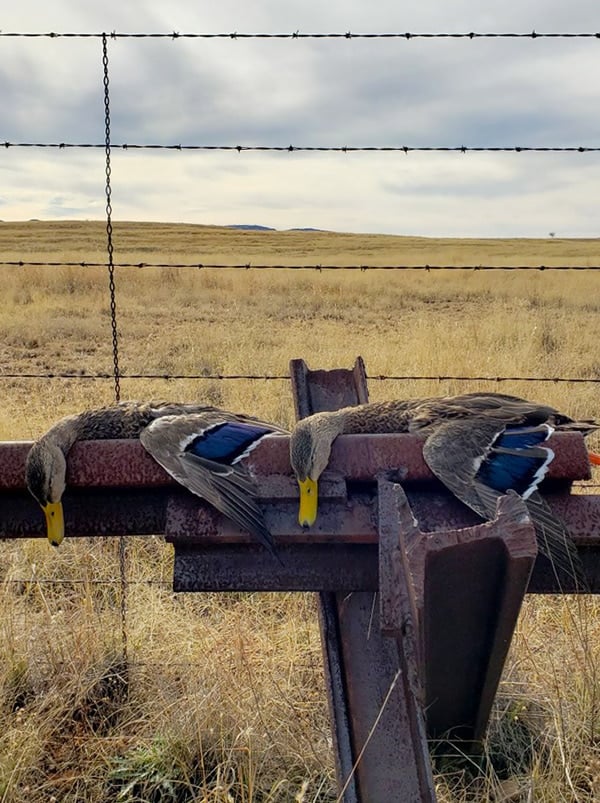 That was definitely a season highlight. Oh, and those ducks will play a starring role in an upcoming recipe here on Hunter Angler Gardener Cook. Stay tuned.
Later on that same trip, we hiked almost two miles in to another tank. We did shoot some more ducks there, but on the walk back I got all chafed up. Bad. Serious case of monkey butt. I tell you that because my friend Joe, who was with us, asked me why I didn't have on merino wool underwear — as if it was the most obvious thing in the world. He'd switched to that years ago and never chafed again. So I bought some, and sure enough, it works.
I tell you this because solving the monkey butt issue opened up a huge world for me: I was able to hike miles into a duck hunting spot now with no issue. And if you can do that, our home refuge system here in NorCal becomes your oyster.
Hi, my name is Hank, and I am a refuge rat.
Yep. Have been, to a greater or lesser degree, for the 16 years I've lived in California. Our public refuge system is huge, varied and productive. It's also byzantine. Getting on in the afternoons is typically easy, but as every duck hunter knows, normally (but not always) you kill more birds in the first hour than the rest of the day.
Mostly you get on in the mornings with a coveted "ressie," a reservation with a number corresponding to what order you are allowed into the marsh. Some refuges are better than others. A number one ressie at Little Dry Creek, for example, is, essentially, Willy Wonka's Gold Ticket. An almost guarantee of limits, usually of mallards and wood ducks. A ressie at Gray Lodge, on the other hand, is… well, watch this video and you'll get the idea.
Our home refuge is the Yolo Bypass Wildlife Area. It's near Sacramento, and is very, very popular with area hunters because it's close, and large. But that makes it super competitive.
If you don't get a ressie (I only got 3 this yer), all refuges have a lottery you can sign up for the night before a hunt (refuges only hunt weekends and Wednesdays). And, if you get a low number, it's almost as good as a ressie because it means you'll get on for first light. Some days it's easy. Others, not so much. I've seen more than 300 people sign up for a Yolo lottery. Consider that the whole 16,600-acre refuge only allows 75 people in free roam, and you can see the odds.
Many times we put in for the lottery, only to get numbers that we knew wouldn't get us on. Or worse, a number that might get you on, meaning you have to get up at 3 a.m. to be there, only to see first light come and go, with you stuck in your truck in the parking lot, smelling your own farts.
When you do get on the refuge, walking long distances can help a lot, but how do you carry dozens of decoys for miles? Neither of us are young enough to carry them in one of those decoy backpacks. So that leaves the cart. I have grown to hate carts. Holly still believes in them.
And this has led to a personal revelation: You don't need so many decoys. I've taken to carrying only a few, often a swimmer so I have motion on still days. And always El Shovito. He's a spoonie hand carved by my friend Brian in Michigan:
I can fit whatever I need in a backpack, sling my gun and a tule seat over my shoulder and go anywhere. Travel light, move to where the birds are. I like this. A lot.
And while Holly generally agrees with me, she still thinks that in many cases you do need several dozen decoys. She might be right. But I am simply not willing to endure the torture of pushing a cart two miles down an often muddy path to get to a spot that might have five other groups in it.
Yes, this is a real thing here on our public refuges. Lots of competition. It's usually civil, but there are legends about fistfights and there's Star Wars, a zone at Gray Lodge were so many people are waving around high-intensity flashlights it looks like light sabers. That sort of thing can scar a person, and is why many spend the money on a rice blind.
But most rice blinds suck. I have a better chance of killing birds on a refuge most days, tule ninjas notwithstanding.
And then there is the matter of limits. This season was the first in which I was truly at peace with less than my allotted seven birds. Yesterday I ended my season with two wigeon, a teal and the coveted bull sprig.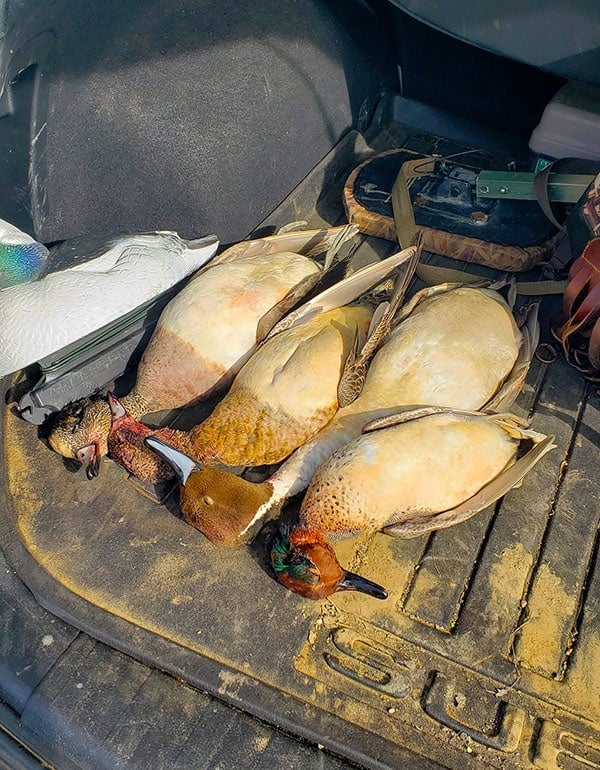 Would I have liked more? Sure, but I was also not ready to sit for many hours in a windy afternoon trying to will those final birds to fly in range. Holly outwaited me for two more hours, and go no more. We were both exhausted at the end of the day.
Now, the morning after, I sit here sore, but happy. I can walk farther, hunt smarter and be content with fewer birds than I could have back in October. And I can do it all on public land, land anyone has access to. I am thankful for that. All of it.