40 Clove Garlic Chicken
November 11, 2019 | Updated September 02, 2021
As an Amazon Associate I earn from qualifying purchases.
French 40 clove garlic chicken is one of the great farmhouse dishes of that country. The long, slow braising process mellows all that garlic into something warm, soft and cozy.
And even better from my perspective? You can absolutely use pheasant, rabbit or other white meats in this recipe.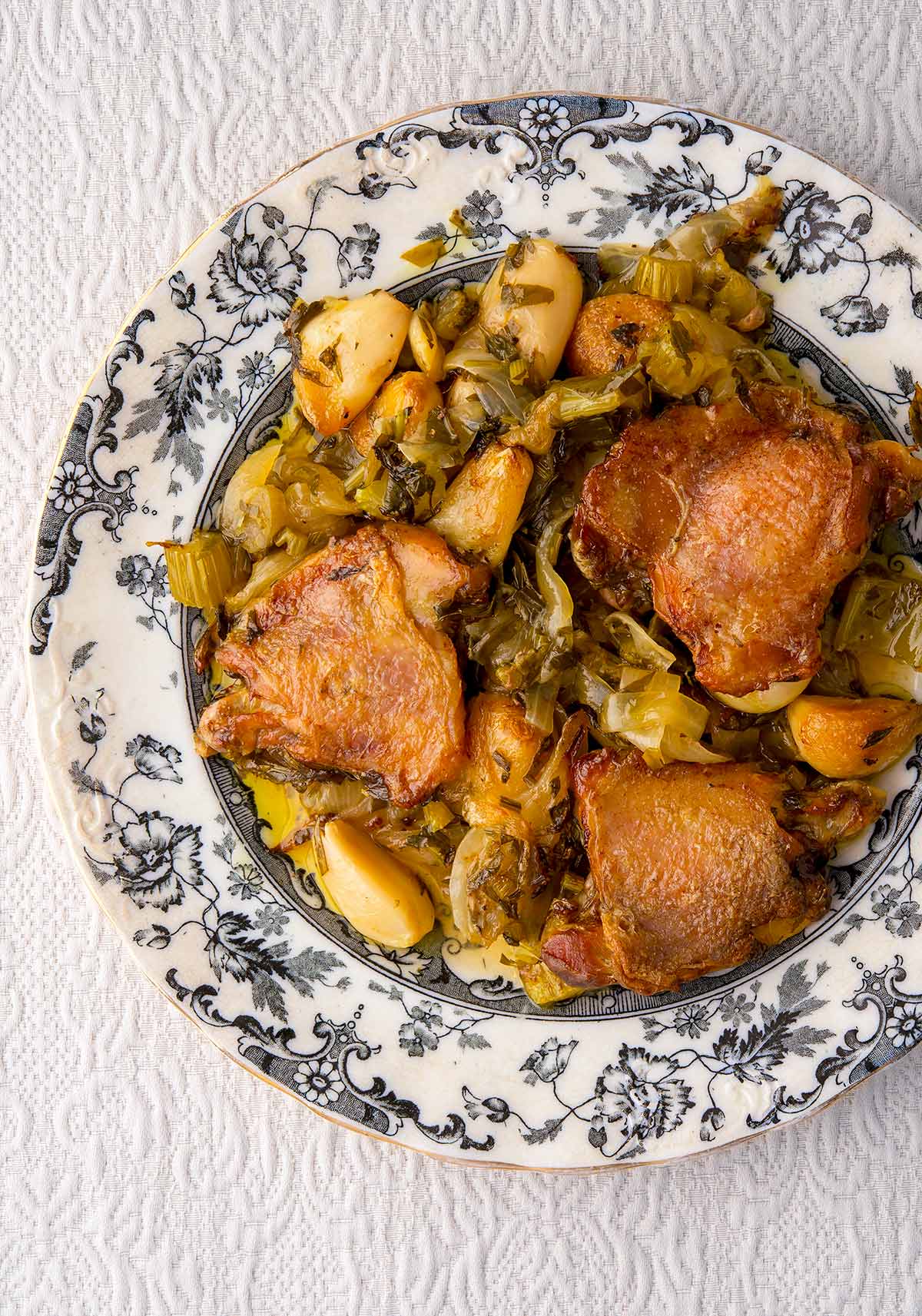 One of the cool things about pheasant is that they are so close to chickens that you can interchange recipes quite often. So you only need to make a few tweaks to make 40 clove garlic chicken with pheasant.
Yes, there are, more or less, 40 cloves of garlic in this recipe. Don't worry, it all gets slow roasted together, which mellows the garlic out considerably. Think roasted garlic spread over toasty bread, and you get the idea.
The great American chef James Beard is credited with bringing 40 clove garlic chicken to the attention of the country, back in the late 1960s and early 1970s. It is of Provencal origin, in southern France, and is super easy to make.
At it's essence, this dish is a slow cooked mix of garlic, chicken pieces, olive oil, a little white wine or vermouth, plus onions, herbs and a few optional vegetables. It's a one pot dish, a homey dinner.
Since it is cooked for an hour or more, you will want to skip breasts here; they'll get too dried out. I stick with pheasant thighs here, skin on. You can make this dish with skinless thighs, too. If you are using store-bought chicken, you can use drumsticks, but skip this if you are using pheasant because the sinews in pheasant legs are too tough.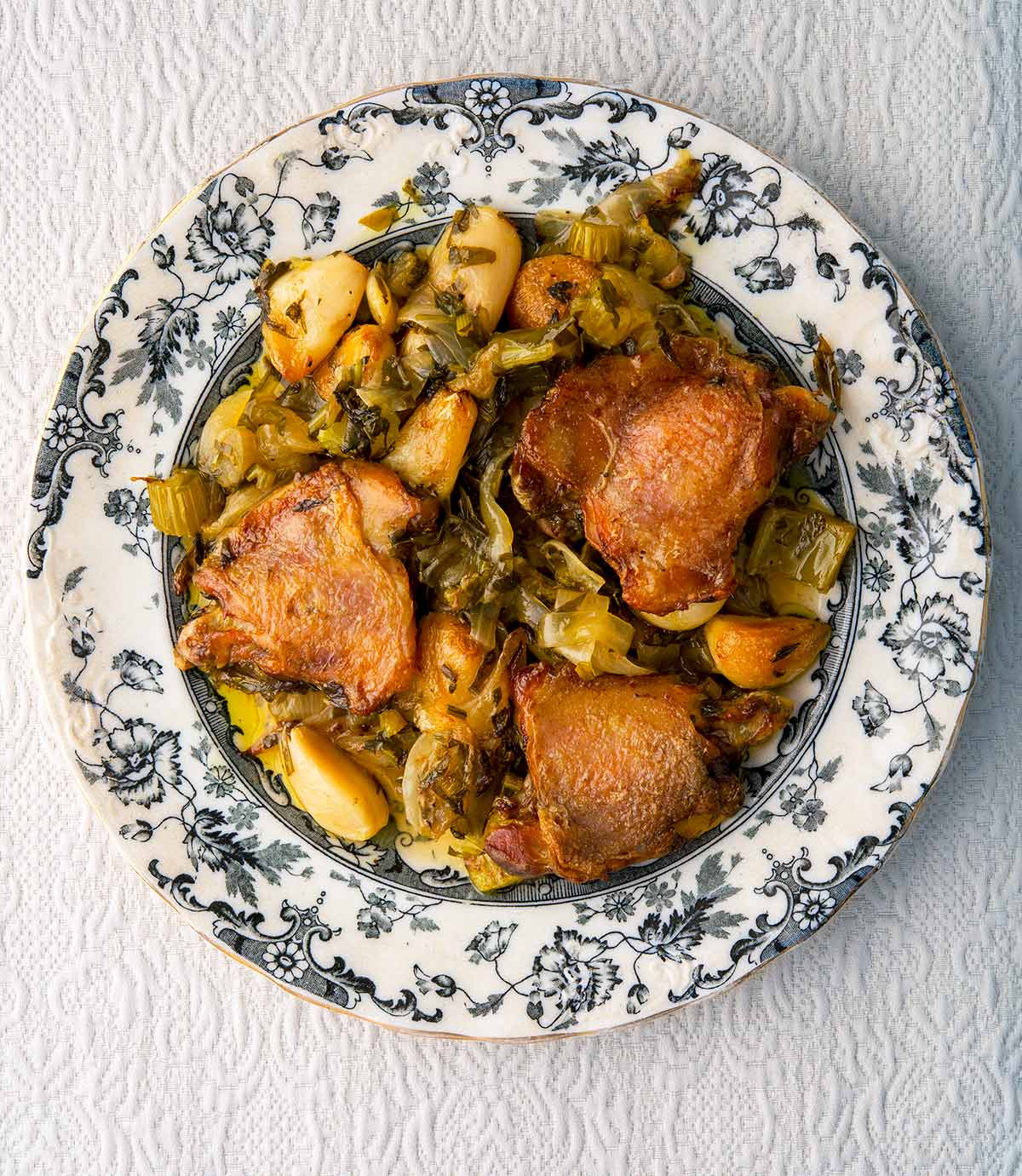 Other than the traditional chicken legs or the pheasant thighs I mention, you can use rabbit, whole quail, halved Cornish game hens, chukars or Hungarian partridges, or even whole squirrels.
OK, I can hear some of you saying, "Hank, this dish sounds amazing, but no way am I peeling 40-plus cloves of garlic." Yes you are, and here's how. Watch this video. It takes like 20 seconds. Or you can cheat and use pre-peeled garlic.
After that, you will want some greenery, like tarragon and parsley or somesuch. Basil's nice in summer, lovage, thyme and savory all work well.
You have a choice. The original recipe does not, inexplicably, crisp the skin. I do. I do this by searing just the skin of the pheasant thighs in olive oil, then, at the end, uncovering the casserole dish for maybe 20 minutes to re-crisp it. Looks and works great.
You'll want some sturdy bread to go with your 40 clove garlic chicken, as it's saucy and you want bread to sop it all up with.
Looking for other great recipes for chicken or pheasant thighs? Try my braised pheasant with root vegetables, or my pheasant legs with mushrooms recipe.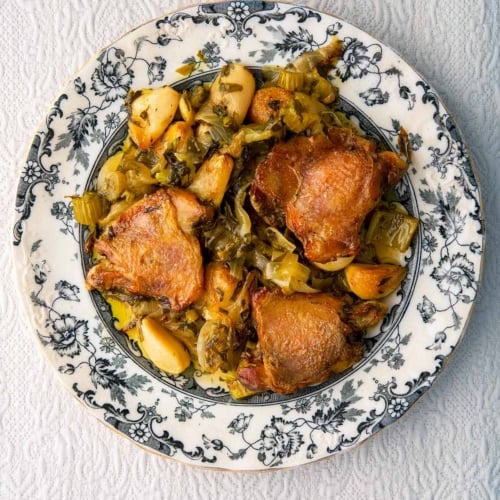 40 Clove Garlic Chicken
See my notes above for using pheasant or other white meats. Once made, this will keep in the fridge for a few days. Reheat it slowly in a 350°F oven until warmed through.
Ingredients
1/2

cup

olive oil

10 to 16

chicken or pheasant thighs,

see above for substitutions

Salt and black pepper

4

celery stalks,

chopped

2

cups

white or yellow onion, sliced from root to tip

40

cloves

garlic,

peeled

1/4

cup

chopped parsley

3

tablespoons

chopped fresh tarragon

(optional)

1

cup

white vermouth or white wine
Instructions
Preheat the oven to 350°F. Heat the olive oil in a Dutch oven or other large, lidded pot over medium-high heat. Sear the skin of the pheasant breasts until nicely browned. If you are using skinless thighs, skip this step. Remove the pheasant pieces as they brown.

Add the celery and onion and sauté, stirring often, until translucent and soft, about 5 minutes. Turn off the heat. Add the garlic cloves, herbs, salt and black pepper and mix well. Pour in the vermouth. Nestle the pheasant thighs into this, skin side up and above the level of the liquid.

Cover the pot and bake in the oven 1 hour. Uncover the pot and continue to cook until the the top of the meat is browned, typically 20 minutes. Serve with lots of good bread.
Notes
In general, you'll want about 3 pounds of bone-in white meat for this recipe, from rabbits to partridges, Cornish hens, grouse or partridges. 
Keys to Success
I definitely recommend skin-on thighs for this recipe, since the crispy skin at the end is one of the stars of the show. 
If you have a choice, find hardneck garlic; it has fewer, larger cloves that are more fun to eat than those little internal cloves of softneck. 
The wine you use in the recipe should be what you drink. A white Cotes du Rhone or even a white Bordeaux would be nice here. 
Nutrition
Calories:
460
kcal
|
Carbohydrates:
16
g
|
Protein:
36
g
|
Fat:
25
g
|
Saturated Fat:
4
g
|
Polyunsaturated Fat:
4
g
|
Monounsaturated Fat:
16
g
|
Trans Fat:
1
g
|
Cholesterol:
162
mg
|
Sodium:
182
mg
|
Potassium:
764
mg
|
Fiber:
2
g
|
Sugar:
3
g
|
Vitamin A:
521
IU
|
Vitamin C:
16
mg
|
Calcium:
118
mg
|
Iron:
3
mg
Nutrition information is automatically calculated, so should only be used as an approximation.