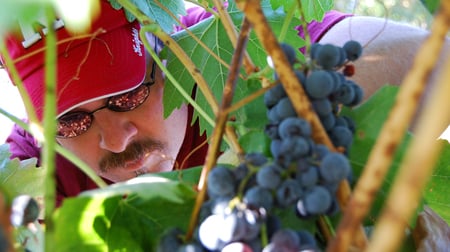 I've been putting off this post for a long time. Part of it is that I have been searching for a way to write about wine that is neither insipid nor pretentious, and quite frankly I have yet to find a formula that fits me. But part of the reason is because winemaking requires patience. And patience I have in spades.
I was a distance runner a million years ago, and my Grand Plan in those years was to run the 2008 Olympic marathon; this would have been my hour. I got very good at the sport, but life — and the need to eat regularly — interfered and I let my fitness and that lifestyle slip away. I miss it. The point is that in distance running, you must work hard and plan harder to realize success somewhere down the road. And even then, in races such as the marathon, Fate or her sister Chance can interfere and toss all your plans aside with a careless gesture.
It is the same with wine. I never planned to make my own grape wine. Oh sure, I'd made mead and fruit wines before. I even made some good ones, and a few — like that dandelion wine I made in Virginia — that I would give a great deal to drink one more time. But making grape wine, in California, seemed like an act of arrogance.
Arrogance is one of my many character flaws, so it was merely a matter of time before I decided to make grape wine. Here, in California. Now I may be many things, but stupid isn't among them. So I studied winemaking. I read as many books on the subject as I could find. I talked to professional vintners. I watched them conjure magic from grapes and yeast and time. I learned.
And so one day, a year ago, Holly and I drove to a dentist's home south of Elk Grove. He had a long row of tempranillo grapes and I'd bought some. This was the day to pick; the sugar levels of the grapes were about 23.5 brix, which is what I wanted. Done right, this would make a lighter-alcohol, food-friendly wine a bit more like the way the Spanish make their tempranillo wines.
We picked a little more than 200 pounds, which we hauled back and let ferment in our living room. Several times each day I punched down the rising cap of grape skins and seeds, swirling the mash to aerate it.
The ferment came along nicely, and because I wanted to make a deep Rioja-like wine, I let the wine sit on the skins for a week after the fermentation ended. This was my first mistake, and my first introduction into the alchemy of winemaking. Wine does indeed get darker and more tannic when left on the skins and seeds after the initial bubbling subsides. But it does so only after a long soak: The six days I gave it actually stole color and body from the wine.
So I wound up making a light summery red that is at once inconsequential and gulpable. It's not a bad wine. It's just not what I meant it to be. Another lesson. Take what the grapes give you and go with it. Still, I named this wine Tempra Mental, because it drove me nuts.
Holly, who took all these lovely pictures, joined me for a second harvest up at Georgetown, a flyspeck town 3,000 feet into the Sierra Nevada in neighboring El Dorado County. This time the wine would be sangiovese, the primary grape in Chianti's wines. The two old men who ran the vineyard were two of the nicest guys I've yet met. They were living the life I coveted. As we picked, a soft drizzle began.
So, naturally, this wine would be Rainy Sunday. This time I let the grapes ferment at a cooler temperature, took it off right as the initial ferment ceased, and generally made sure everything was just so. I chose not to add oak, which is a controversial choice for red wines. I'd added oak with the tempranillo, so I wanted to see if there would be a difference.
Then, over the months that followed, I let the wine sit on the fine lees — minute particles of grape and yeast that fall to the bottom of the cask and form a crystalline crust. This, it is said, adds character to wine.
Later I racked the wine several times to clear it. Four rounds of siphoning and clearing, but no filtering; filtered wine loses much of that character I was trying to build. So much to know, so much to mind. These myriad details make each wine unique. When to do the siphoning? What temperature does the wine rest at? How sugary was it when I picked the fruit? How hot did I let it get when it fermented? Endless variables. Endlessly frustrating if you try to homogenize your results.
With each passing month I wondered what would become of this wine. Like a marathon, I'd planned and performed as best I could — but we had a heat wave in late spring that caused the temperature in the house to spike to 80 degrees. Not ideal. Would this be Chance's careless gesture?
No. I was spared. I bottled the wine two weeks ago, roughly 10 months after Holly and I picked the grapes. I could tell this was more like it when I had a glass during the bottling. It tasted like a young sangiovese should: Ruby red and juicy, with black cherry flavors and enough of a felty back end to coat your mouth and make you want another sip.
It is a nice wine, and I am proud of it. Yet this is still just a glass of wine, still just a drink to relax with at the end of the day. This is not alchemy. Which brings me to the writing. I am left cold by the purple I read in places such as Wine Spectator, or the breathless blurbs I see at BevMo. I know the lingo, but still find myself grasping for words and concepts to characterize this wine or that. What gnaws at me is that what I find lovely you may think of as dreck. Taste is that complex.
In the end, I am left with the fact that every wine is different from every other wine — even the same wine from the same winemaker from year to year will have noticeable differences. With so many variables, there is really no honest way to judge most wines you will buy in a reputable wine shop, which all will be sound at a fundamental level.
One day I ran a mile race and felt outside myself; everything was perfect — the weather, the competition, the pace of the race, everything. I ran that race without conscious effort, and won it smiling. Such moments are rare and are to be savored. Maybe you've had a wine in a similarly wonderful moment. Perhaps it was a time when all was right with the world, or when you were so deeply in love all else blurred into incomprehension. That wine was a marker for that time, and now you see that bottle on a shelf and want to recreate it. You buy the wine, you drink it, yet you are disappointed. It happens. A lot.
Enjoying a glass of wine is something you can only do in the Now. Just as there are ten thousand variables in the making that make a wine what it is, there are ten thousand more that make the drinking of that wine the moment that it is.
I will not be running in the Olympic marathon. The reasons have to do with frailties of body and will, and to Chance. But when the starting gun goes off in Beijing, I will be there in spirit. I will watch every stride and think of what might have been. And then I will lift a glass of homemade wine to the winner, whoever he may be.